California is undoubtedly one of the states that benefit most from the AC part of HVAC. The state has over 32,000 HVAC technicians working to keep California residents cool and comfortable.
The average annual salary for HVAC mechanics and installers in California is well above the mean annual wage for these contractors nationwide.1 Not bad for a profession that's based on technology originally called "an apparatus for treating the air."2
To become an HVAC contractor in California, you'll need to get a license from the Department of Consumer Affairs' Contractors State License Board.3 This license is proof of your professional training, so potential employers and clients know that you can do the job.
The California HVAC license application requires verification of your work history and passing scores on two exams. You'll also need adequate bond and insurance coverage to protect your business.
In this guide, we'll walk you through each step to make sure you fulfill all the requirements to start working as a licensed HVAC technician in California, including answers to these common questions:
Do you need a license to be an HVAC contractor?
So who exactly needs to get a license to be an HVAC technician? The California Code of Regulations requires anyone who "fabricates, installs, maintains, services and repairs" HVAC systems to have a contractor license to complete any job priced at $500 or more in labor and material combined.
California HVAC license classifications
The Department of Consumer Affairs' Contractors State License Board issues a different license classification for each type of contractor. As an HVAC technician, you'll apply for the C-20: Warm-Air Heating, Ventilating and Air-Conditioning Contractor license classification.
EPA license
If you work on equipment that has the potential to release refrigerants, you'll also need to obtain a license from the Environmental Protection Agency (EPA). This license will demonstrate that you have the proper training to handle refrigerants responsibly to minimize their environmental impact.
There are four types of EPA licenses for HVAC contractors:4
Type I: Servicing small appliances
Type II: Servicing/disposing of high or very high-pressure appliances
Type III: Servicing/disposing of low-pressure appliances
Universal: Servicing all types of equipment
NATE Certification
Some HVAC contractors also pursue a North American Technical Excellence (NATE) certification.5 NATE is the country's largest non-profit organization offering HVAC certification. NATE certifications are widely recognized throughout the U.S. HVAC industry. Although this professional certification is optional rather than a requirement, it may improve your earning prospects and make you a more attractive candidate to potential employers.
How do you get an HVAC license in California?
Here are the main steps for how to get an HVAC license in California. Your experience, application and exams demonstrate your professional proficiency as an HVAC contractor. The C-20 license fees, bond and insurance provide financial protection for your HVAC business.
Get professional experience in the field
Applicants must have a minimum of four years of HVAC experience within the last ten years in one or more of the following roles:
Journeyman
Foreperson
Supervising employee
Contractor
In some cases, the CSLB will apply HVAC certification or completion of an apprenticeship program as credit toward the work experience requirement.
Submit your application
Fill out the application form provided by the Department of Consumer Affairs' Contractors State License Board (CSLB). You'll need to print out the form and mail it to the CSLB along with your license fees.
Pay the required license fees
Currently, California HVAC license fees are $530. This includes a $330 application fee and a two-year initial license fee of $200.
Schedule (and pass) two exams
You need to pass two license exams — a trade exam and a law and business exam — with a score of at least 72%. Both exams are multiple-choice, closed-book exams taken at an official testing site. You'll also need to take an open-book asbestos exam through the CSLB website.
Submit fingerprints
All applicants need to submit fingerprints for a mandatory criminal background check. The CSLB will provide instructions on how to fulfill this requirement once your application has been accepted.
Obtain a bond
All California HVAC license applicants must file a $15,000 bond with the CSLB. Your contractor bond must fulfill these requirements:
Include your business name and license number
Written by a surety company licensed through the California Department of Insurance
Have the surety company's attorney-in-fact signature
Written on a form approved by the Attorney General's Office
Submitted to the CSLB within 90 days of the effective bond date
What are the California HVAC license requirements?
In order to apply, you'll need to fulfill the following California HVAC license requirements:
Be at least 18 years old
Have a Social Security number or Individual Taxpayer Identification Number (ITIN)
Complete at least four years of journey-level work experience in the last 10 years
Your application must include details of your professional experience. Additionally, a certifier (such as an employer, foreman or supervisor) will have to fill out a section of the application to verify your work experience.
How long does it take to get your HVAC license in California?
The wait times for applications vary based on a number of factors. It often takes several months for the California Contractors State License Board to process new applications.
You can check your application status online on the CSLB website. You'll receive a "Notice to Appear for Examination" after your application has been reviewed and accepted.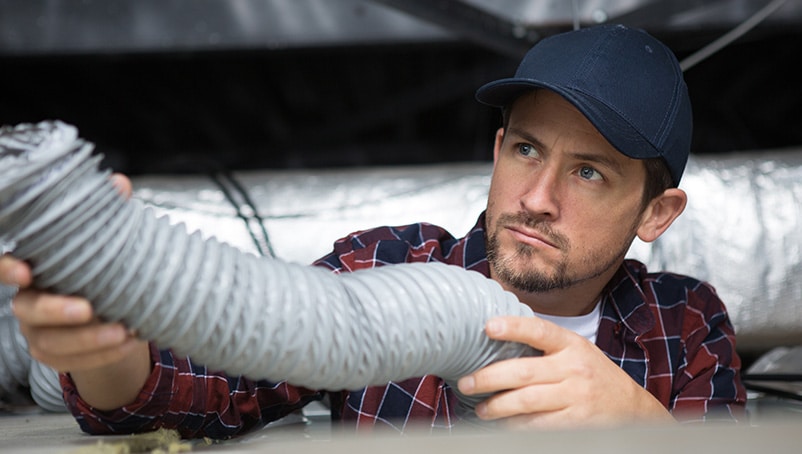 What are HVAC license renewal requirements?
California HVAC licenses are valid for two years. You'll receive a notification from the CSLB about 60 days before the expiration date, including instructions on renewing your license. Currently, the cost of California HVAC license renewal is $450.
Is California HVAC license reciprocity available?
If you have an active HVAC license in Arizona, Louisiana, Nevada or Utah, you may be eligible for HVAC license reciprocity in California.
If you qualify for reciprocity, the CSLB will waive the trade exam requirement. However, you'll still need to submit verification of your work experience and pass the CSLB law and business exam.
What kind of insurance does an HVAC need in California?
Depending on the nature of your business, you'll need business insurance in California to maintain your license. The following are the key types of HVAC insurance to consider.
Workers' Compensation insurance
As a licensed HVAC contractor in California, you must have workers' compensation insurance regardless of whether or not you have employees.6 Workers' comp coverage can help provide wage protection and other benefits if you or your employees get hurt on the job.
General Liability insurance
If you own an LLC, you're required to obtain general liability insurance in California for your HVAC business. This insurance can help provide coverage for some of the most common accidents at a business, including if someone other than an employee gets hurt and property damage.
Tools and Equipment insurance
Tools and equipment insurance can help provide repair and replacement coverage if something happens to your work gear, like damage or theft.
Commercial Auto insurance
Commercial auto insurance can help cover costs related to accidents involving your work vehicle, such as property damage or medical expenses.
Commercial Property insurance
Commercial property insurance in California can help cover costs related to damage or vandalism affecting property you own or rent for your business.
What is the certificate of insurance requirement for HVAC contractors?
Licensed contractors in California must submit a certificate of insurance as proof of their workers' compensation coverage. The certificate must include the following:
Name and contact information of the submitting contractor
Contractor's business name
Insurance company name
Policy number
Policy effective date and expiration date
Contractor's CSLB-issued license number
CSLB listed as the certificate holder
Handwritten or stamped signature
How NEXT supports California HVAC contractors
NEXT is here to help you keep your cool when applying for your HVAC license in the state of California. As an HVAC technician, you can turn to NEXT to make sure you get the correct insurance to fulfill state requirements, get your license and protect your business.
Because we're completely online, it's easy to apply for coverage and get a certificate of insurance in minutes. You can even get insurance from your cell phone on a jobsite, and you can share unlimited digital certificates at no additional charge.
We're 100% dedicated to helping small businesses and self-employed workers by creating customized insurance packages at affordable rates. Our online services are available 24/7, which means we're here to help anytime, anywhere.
Ready to get started? Get an instant quote online today.
Wondering what states require HVAC licenses? Check out our summary of HVAC contractor license requirements in every state.

Sources
1 Occupational Employment and Wage Statistics
3 Department of Consumer Affairs' Contractors State License Board
4 Environmental Protection Agency
5 North American Technical Excellence (NATE)