Wondering how to start a window washing business?
As a window washing business owner, you'll have the ability to control your day-to-day schedule, set your priorities to align with your goals and make decisions related to how and when to expand your operations. Starting a business means taking financial risks, but for many entrepreneurs, the potential benefits far outweigh the risk of losing money.
In a nutshell
Here are the main steps to starting your window cleaning business:
Create a business plan, including: a list of equipment and operational costs, short and long-term income goals, evaluation of competitors, local project opportunities
Select a business name and claim it in Google My Business
Create a marketing plan - meet local businesses, establish your online visibility
Get a business license - find out what permits are required in your state
Get business insurance - protect your business and provide proof of insurance to potential customers
Is This Business Profitable?
Most communities have a multitude of opportunities for people starting a window cleaning business, so if you have concerns about profits from your window washing business income, make a plan to start small and expand your operations over time. Research your competition and set up your business with an online presence to gain a better understanding of your community's needs.
Professional window washing businesses working on the outside of large buildings may have expensive equipment, but you don't need to work on big projects to operate a profitable window cleaning business. Basic window cleaning equipment, like a squeegee, cleaning solution, scrubber, pole, and window cleaning solution are inexpensive and readily available at any home improvement or hardware store.
How to Market Your Window Cleaning Business
To land new clients, you'll have to meet local business owners in person. Your pitch can be as simple as, "I own a local cleaning window business. I'm expanding in this area and I'd like to clean your windows for $50." You'll get a "yes", "no", or "maybe". This is a crucial part of expanding your business, and it's not for the faint of heart. Cold calling doesn't come naturally to most people, but it's the fastest way to build your client base.
Be sure to let anyone you know who manages or owns a local company or business about your new window washing business to receive referrals from friends and family, as well.
Claim your business name with Google My Business, which allows your current and past customers to leave reviews to help you build a good reputation. You may also want to establish a social media presence, but this is optional in the beginning.
"What do I need to start a window cleaning business?"
You may not understand how to start a window cleaning business when you decide to research your options. As with most new businesses, you'll start with a window cleaning business plan. There are a lot of free business plan formats available online, but keep in mind that writing your own window cleaning business plan shouldn't take long.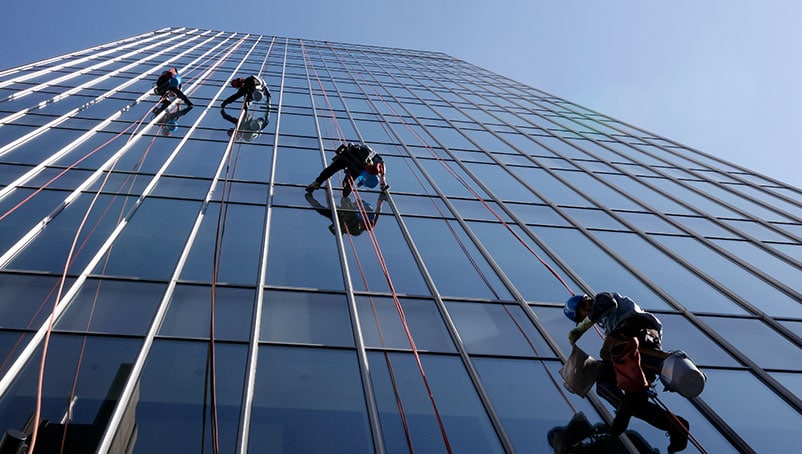 In fact, if you get stuck writing a business plan, you may be permanently sidetracked and never see your window cleaning business get off the ground. It's more important to learn lessons as you go than to spend a great deal of time anticipating issues that may arise in the course of your day-to-day window washing business operations.
A business plan should also be a business map. It's a useful document that you can use for reference as you move through the first steps of starting a window cleaning business.
What to Include in Your Window Cleaning Business Plan
Make a list of supplies and equipment you have on hand and a list of supplies and equipment you need to purchase before you can serve customers.
Estimate where you'll be in three months, six months, and one year. How many customers will you have? How much money will your business generate in a week or month? Are there seasonal fluctuations? If so, how will you cope with downtime and keep up during busy times?
List your main competitors in the area where you want to start your business. You can better calibrate your goals if you understand what sets your competitors apart, where they advertise, and their areas of weakness.
Get specific about your income goals. A simple window cleaning business has low startup costs, especially if you don't have employees. For example, if you want to make $5,000 per month, you could break that goal down to $1,250 per week which is about $210 per day if you work Monday through Saturday. If you want a five-day workweek, you'll need to make $250 per day. If you have five accounts each day paying $50 per window cleaning session, you've met your goal.
Marketing and Business Development
First, apply for a free Employer Identification Number (EIN) from the IRS. This allows you to receive payment from a business without providing your personal social security number. It also gives your business an official identity with the IRS. Then, research the requirements for getting a business bank account. Talk to your current bank or credit union and find out if they offer a no-fee small business checking account.
Consider whether to operate your business as a sole proprietorship or limited liability corporation (LLC). Establishing an LLC will allow you to keep your business and personal finances separate, and may protect your personal assets if a customer sues your business.
Licenses, Permits, and Insurance
Learn about the rules in your city about licensing or whether you need a permit to operate your small business. You may need business insurance to run a window washing business. Research your options and get multiple quotes for business insurance. Take time to learn about additional types of window washing insurance that may benefit your window cleaning business.
Commercial auto insurance protects your assets if you are in an accident while working. It covers damages and injury costs so you can keep your window cleaning business on track. Window cleaning insurance offers protection from financial harm if someone trips over your equipment and hurts themselves, if you break something while working, or if your client is unhappy with your work and sues your company.
Clients may want to see proof that you have the right types of insurance, so choose a company like Next Insurance that offers 24/7 online access to your live certificate.
Starting a new business is exciting and scary, but with the right kind of business insurance and a solid plan, you'll feel great about your new venture.