Wondering how to start a window cleaning business? We can see the appeal: low startup costs, time outdoors and quite lucrative depending on your market.
Like starting any other business, a new window washing business means taking financial risks. But for many entrepreneurs, the potential benefits far outweigh the risk of losing money.
As a window-washing business owner, you'll have the ability to control your day-to-day schedule, set your priorities to align with your goals and make decisions related to how and when to expand your operations.
Here are the main steps to starting your own window cleaning business:
If you start a window cleaning business, will it be profitable?
You may think you need to work on large buildings like some professional window washing businesses to turn a profit. But you don't need to work on big projects to operate a profitable business.
Most communities have many opportunities for people to start a window cleaning business. If you have concerns about profits, it's best to make a plan to start small and expand your operations over time.
It's smart to research your competition and ask your potential customers what kind of services and expectations they have. This helps you understand your community's needs better.
What to include in your window cleaning business plan
Creating a small business plan may seem daunting at first, but it doesn't have to be. It helps you organize your thoughts on what you want to accomplish.
Later, if you're looking to grow your business, a more detailed and compelling new business plan will be essential. Most banks and lenders will want to see your game plan before providing funding for a business.
Your plan should include a list of equipment and operational costs, short and long-term income goals, evaluation of competitors, local project opportunities and more. You might include:
Company background and vision
Write down why you want to offer window cleaning services and any relevant qualifications or experience.
Estimate where you'll be in three months, six months, and one year. How many customers will you have? How much money will your business generate in a week or month? Are there seasonal fluctuations? If so, how will you cope with downtime and keep up during busy times?
Market and competitive analysis
Your business has a better chance of long-term success if you have a target market in mind. Determine who your ideal customer is and if that market is viable for your business.
List your main competitors in the area where you want to start your business. You can better calibrate your goals if you understand what sets your competitors apart, where they advertise, and their areas of weakness.
Description of your services and equipment needed
Describe what kind of services you'll offer and if you'll have any specializations. For example, will you focus on ground-floor commercial spaces like storefronts, or do high-rise window cleaning? Maybe you prefer to work with homeowners and residential windows instead. Whatever the case, describe your business model.
Make a list of cleaning supplies and equipment you need to purchase before serving customers. Supplies like a squeegee, cleaning solution, scrubber and extension poles are inexpensive and readily available at any home improvement or hardware store.
Don't forget to include any non-cleaning tools you may use to run your business, such as accounting software for invoicing and bookkeeping.
Financial analysis
Get specific about your income goals and your projected costs. A simple window cleaning business has low startup costs, especially if you don't have employees.
For example, if you want to make $5,000 per month, you could break that goal down to $1,250 per week, which is about $210 per day if you work Monday through Saturday.
If you want a five-day workweek, you'll need to make $250 per day. If you have five accounts each day paying $50 per window cleaning job, you've met your goal.
You'll also want to think about how you'll accept payments and factor in any transaction fees involved, for instance, if you decide to accept credit cards or peer-to-peer payments.
Sales and marketing
What is your strategy for getting new clients? What kind of advertising or promotions will you use? Will you offer discounts for referrals? Will you open social media accounts? Take some time to make a plan for your long-term success.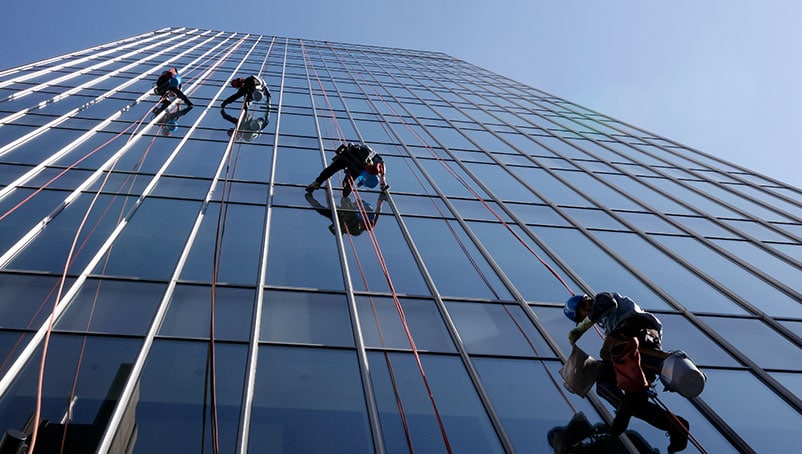 How to set up your business as a window cleaner
There's often a lot of paperwork involved in setting up your own business.
First, apply for a free Employer Identification Number (EIN) from the IRS. This allows you to receive payment from a business without providing your personal social security number. It also gives your business an official identity with the IRS.
Consider whether to operate your business as a sole proprietorship or limited liability corporation (LLC). A sole proprietorship is less complex, but establishing an LLC will allow you to keep your business and personal finances separate, and protects your personal assets if a customer sues your business. Consult with a lawyer to understand what's right for your business.
You will also want to research the requirements for getting a business bank account. Talk to your current bank or credit union and find out if they offer a no-fee small business checking account.
Licenses and permits
Learn about your city and states' rules about licensing or whether you need a permit to operate your small business. You'll most likely need to get a business license and register your business to pay all applicable taxes.
Currently, there are no official window washer licenses or certificates you'll need when starting your business.
Insurance
Even if you take all necessary precautions, unexpected accidents and damage can occur. You may need business insurance to run a window-washing business. Insurance can protect your business from various risks and help you save money to grow your business.
Take time to learn about additional types of window cleaning insurance that may benefit your business. We recommend the following types of coverage:
So if a piece of your scaffolding falls and cracks a window below, or an employee falls off a 10-foot ladder and injures their ankle, insurance can help protect you against significant financial losses.
Create a marketing plan for your window cleaning business
To land new customers, it's crucial to meet local business owners in person or cold call.
Your pitch can be as simple as, "I own a local cleaning window business. I'm expanding in this area, and I'd like to clean your windows for $50."
Even if you get a "no" or "maybe," you'll have made a connection with potential clients, which helps you become more recognizable in your community. Networking is a crucial part of expanding your business. While it doesn't come naturally to most people, it's the fastest way to build your client base.
Be sure to let anyone who manages or owns a local business know about your new window washing business. Friends and family could become a source for referrals. Get some business cards printed and distribute them so people can pass them on or contact you.
Don't forget about the digital side of promotions and marketing. Claim your business name with Google My Business or Yelp, which allows your past customers to leave reviews to help you build a good reputation. You may also want to establish a social media presence, but this is optional initially.
NEXT Insurance helps protect your new cleaning business
Starting a window cleaning company could be your ticket to being your own boss. With NEXT Insurance, you can easily get affordable, customizable coverage.
We're 100% online, and we make getting small business insurance easier than ever. IT only takes about 10 minutes to go from quote to coverage. Everything you need — including your certificate of insurance — is available online.
Our licensed U.S.-based insurance professionals can help if you want to discuss options.