To join the ranks of more than 8,000 certified air conditioning contractors in Florida, you'll need to meet several requirements. However, the requirements vary depending on where you want to work and the type of HVAC services you want to offer.
In this article, learn all you need to know about how to get a Florida HVAC contractor's licenses.
Need an HVAC license in another state? Check out our state-by-state HVAC license requirements guide.
Florida HVAC license requirements
The first step in structuring your HVAC business is to get a Florida HVAC license. Florida offers three licensing options:
Class A certified air-conditioning contractor: This license allows a contractor to install, maintain and repair heating and cooling systems of any size, and it allows the contractor to work anywhere in the state.
Class B certified air-conditioning contractor: This license allows a contractor to install, maintain and repair heating systems if the heating capacity per unit is below 500,000 BTUs and cooling systems if the cooling capacity per unit is less than 25 tons. Contractors with a Class B certified license are also allowed to work anywhere in the state.
Registered air-conditioning contractor (Class A or B): This license allows a contractor to work on heating and cooling systems in a designated local area only.
Class A and B HVAC contractor licenses in Florida
Class A and Class B certified licenses in Florida have the same requirements, with one exception. Although both licenses require a state licensing exam, the trade knowledge portion of a Class A license exam is longer and tests more industry knowledge than the Class B exam.
All other requirements for Class A and B certified licenses are the same. Contractors must have:
Have a combination of education and experience totaling at least four years. Applicants with a four-year degree must have at least one year of experience, while applicants with no education experience must have at least one year of working as a foreman.
Take and pass both sections of the Florida HVAC certification exam.
Submit the application fee of $249 or $149, depending on the time of year you are applying.
Submit an electronic copy of your fingerprints for a background check.
Demonstrate financial responsibility through an official credit report with a FICO credit score above 660, or a construction license bond or irrevocable letter of credit.
Provide proof that you have resolved any liens, judgments or bankruptcies, if applicable.
Carry HVAC business insurance policies that meet the state minimum requirements (learn more below).
HVAC registered contractor requirements in Florida
HVAC contractors who only want to work in one city may prefer to get a registered Florida contractor's license. Registered contractors are not required to meet the education and experience requirements of Class A and Class B contractors. They don't need to take the state HVAC license exam, but there could be an exam administered by local officials. However, they must:
Submit a copy of the current local competency card provided by the local licensing authority.
Complete and sign the appropriate state license application for registered state licenses.
Submit the application fee of $309 or $209, depending on the time of year the application is filed.
The requirements for the local competency card will vary based on the local licensing authority. In Miami, for example, the Miami-Dade Department of Regulatory and Economic Resources sets the following requirements for an initial Journeyman license:
Combined education and experience totaling three years.
Letters from previous employers demonstrating work history.
A licensing fee of $240.
Passing scores of 75% or above on the local trade exam, which is open book and different from the two-part state licensing exam.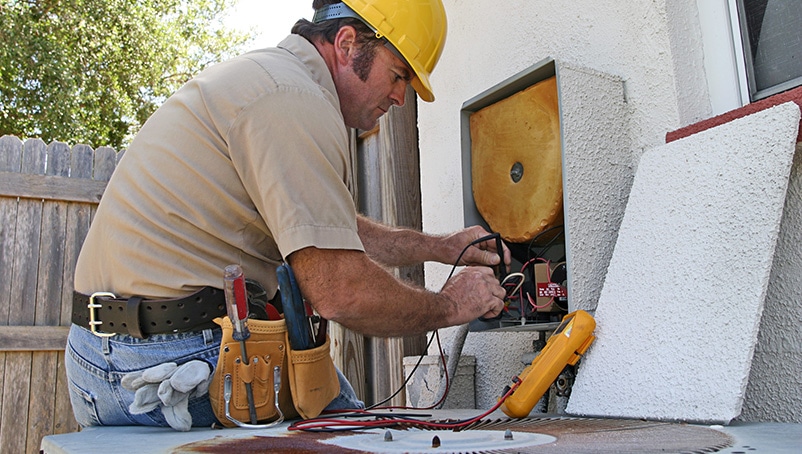 How long does it take to get an HVAC license in Florida?
HVAC contractors should expect the licensing process to take approximately three months, not including the time required to meet any experience or education requirements. An estimated timeline for the licensing process may look like this:
Register, study for and take the appropriate license exam: 2-6 weeks.
Gather proof of experience and other documentation requirements: 1-2 weeks.
Get fingerprinted at an approved Livescan Service Provider: Within 5 days of the application.
Submit an application for processing and assignment to a board review meeting: 2-4 weeks.
Prepare for a board review meeting: 2-3 weeks.
Upon approval, the license is issued: Within 2 weeks.
The total time for licensing will vary based on what type of license you are applying for, how many applications are currently being processed by the board and whether your documentation is complete at the time of application.
The licensing process is slowed considerably if the licensing board has to ask you for additional supporting documentation, so be sure to understand the application process and requirements thoroughly before you begin.
What to expect with the HVAC license exam
A certified HVAC license is considered a division two contractor's license. Exams for division two licenses consist of a business and finance test and a trade knowledge test. There are also different trade knowledge tests for Class A vs. Class B licenses.
Applicants with a four-year accredited degree in construction or a trade-related degree approved by the licensing board are exempt from taking the trade knowledge test.
All applicants must take the business and finance portion of the test. If you need to take the Class A air conditioning trade exam, you should expect 130 questions and 7.5 hours of testing time. The Class B HVAC trade exam has 80 questions and takes about 5 hours.
Expect to pay an $80 testing fee for the business and finance portion and an $80 testing fee for the applicable trade knowledge test.
Registered contractor exams
Since the requirements for registered HVAC contractors vary by location, they may also have to pass a trade knowledge exam. The local licensing authorities set these requirements based on local building codes and other factors, so the specifics for exams will vary by jurisdiction.
HVAC business insurance requirements
The Florida Department of Business and Professional Regulation requires that all license holders in the construction industry carry certain levels of business insurance in Florida.
All division two license holders, including specialists like certified and registered HVAC contractors, are required to carry $100,000 in liability insurance and $25,000 in property damage insurance.
These limits are significantly less than Florida general contractors, who are required to carry $300,000 in liability insurance and $50,000 in property damage coverage.
All license holders must carry workers' compensation coverage and commercial auto insurance if they have company-owned vehicles. The amount of the policy will vary based on the number and types of vehicles owned. 
How Next Insurance helps HVAC businesses in Florida
Next Insurance can help you quickly find the right insurance at an affordable price so you can get your HVAC contractor license and protect your business.
100% dedicated to self-employed workers and small businesses, which allows us to create customized insurance packages — often at 30% less than other options.
You can get a quote, explore options, purchase coverage and have your certificates of insurance in a few minutes with our painless and seamless online option. All you need to do is answer a few simple questions with our online application.
Get your free instant quote today.