Being a barber demands a unique combination of technical and personal skills, along with a form of artistry. That makes it a great fit for a wide range of personalities. Most importantly, being a barber is a job that will never go out of style. People will always need to get their hair cut, so you will always have work, whether you choose a job as an employee, rent a chair in someone else's barbershop, or take the leap and open up your own business. Opening your own shop is a great opportunity to express yourself and your personal style, attracting customers who are looking for exactly what you offer. But before you can get to that point, you'll need to figure out how to get a barber license and all the steps that go along with it. That's why we wrote this guide for how to get a barber license.
Barber License Eligibility
In most states, you need to have a high school diploma or GED and have reached a certain age to be eligible to become a barber. The minimum age ranges from 16 to 21, depending on the state. But in practice, you also have to be physically up for the job. Being a barber requires good hand-eye coordination, a lot of focus, and the ability to work on your feet most of the day.
Training
Cutting hair and giving a close shave is not something you want to learn on the job; it requires serious training and study. In order to be a barber, you'll have to do a full training course. Many people want to know "how long does it take to get a barber license" and the answer is that it depends. There's no way to get a barber license without schooling of some kind and the fastest way to get a barber license may not necessarily be the best one for you. Barber training courses are offered in a variety of formats. The best thing is to do some research, and you should be able to find one that works for your lifestyle. Most barber training programs are offered through technical colleges or cosmetology schools, although there are also a few independent barber schools. Some courses to become a professional barber require full-time study, while others are set up for students who are already in the workforce, and can be fit into your life in evenings or weekends. You may even be able to do some of your classwork for a barber license online, although most of it will have to be hands-on. Just make sure that you choose a training program that is nationally or state-accredited.
What You'll Learn
The specific coursework you need in order to get your barber license will vary from state to state and school to school. Most states' barber license requirements demand more than the technical skills: you can expect to study some basic anatomy (useful, when you're using a sharp razor around someone's neck), sanitation, and the correct use of chemicals, as well as business topics like marketing, financial management, and state laws that regulate barbers.
Certification and Licensing
Once you've finished your training program, you'll have to pass a state licensing exam. Some states use a standardized national exam created by the
National-Interstate Council of State Boards of Cosmetology (NIC)
, while others add their own portion to it, or create their own exam altogether. In part, that's because some states have a single license to become a barber or a cosmetologist, while others have kept them separate. A lot of the written test will focus on health, hygiene, safety, and protecting against the spread of infections. There may also be a hands-on portion that tests your technical hair cutting and treatment skills. You will also be expected to pay a licensing and testing fee.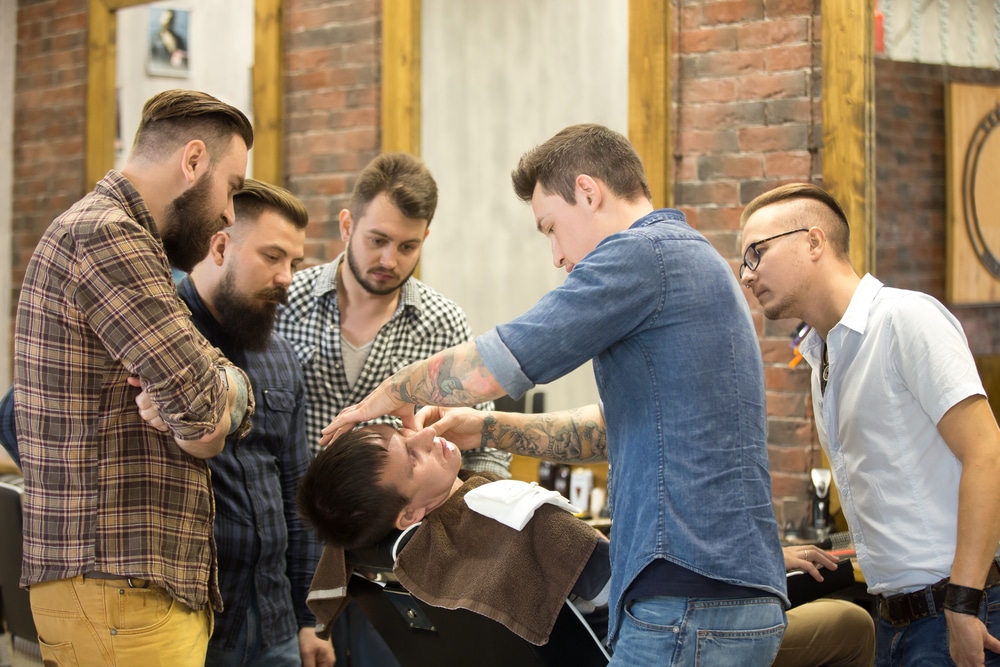 Maintaining Your Barber License
Even after you've earned your license, you'll have to think about the barber license renewal process approximately every two years. Like all regulations, however, this varies state by state. Renewing your license is usually a simple process of paying a licensing fee and filling out a form. Most states will even let you complete the process through the mail or online.
Opening Your Own Barbershop
There will be a few more steps you'll have to take when you're ready to open your own shop. In many states, a barber license isn't enough to open a barber shop. You'll need to get a business license and make sure you understand your state's particular regulations about safety, employees, and insurance. Once you're the owner, it's your responsibility to make sure that you, your employees, and your customers are protected. To do this, most business owners of any kind use
general liability insurance
. Whether or not you run your own shop, you may want to consider
barber insurance
, which is
tailored for your particular needs
and includes
professional liability insurance
. General liability insurance covers you if a customer accidentally trips on a wet floor on his way in for a haircut, while professional liability covers you if a customer claims you didn't cut his hair properly. Most states won't give you a choice in the matter and require barbershops to be fully insured. As you can see, there are a few ways to go about getting your barber license and a few directions to go once you have it. Take some time to speak to working barbers to help figure out the best choices for you.