Architects help design and build everything from government buildings and hospitals to airports and neighborhoods. It's a fulfilling and fascinating field, not to mention essential for society.
If you've ever wondered how to become an architect, here's what you need to know before you dive in.


What does an architect do?
If you boil it down to the basics, architects design buildings and structures. However, there's a lot of meticulous work that needs to go into that process.
Before the first hole is dug or a nail is hammered in with any construction project, an architect needs to create a design that matches the client's needs. That will need to work at the property location and meet government zoning requirements.
Here are just a few of the things architects need to consider before they start a project:
Building use: An architect needs to account for what's going to be happening inside the building and how people are going to use it. The design for an office building is a lot different than an apartment building.
Site selection: Where is the building going to be located? Special zoning rules and regulations, such as height, can have an impact on how a building gets constructed.
Environmental impact: Architects need to consider how the construction process and the building will impact the area.
Building requirements: Before coming up with a design, architects need to consider safety requirements, such as the Americans with Disabilities Act (ADA).
Once all of that is taken care of, an architect will get to work designing detailed drawings to scale. They will present their work to their client and work with a construction project manager to estimate the cost and time to complete the project.
As the project gets underway, the architect is still heavily involved. They will go to the site to make sure everything is going according to plan and will help troubleshoot any potential roadblocks. Some architects also give guidance on landscape designs.

What are the steps to becoming an architect?
Becoming an architect requires a significant amount of training. There are a number of steps any aspiring architect must take before they can start designing buildings.
Here's the typical path:
Architecture education: Attend a higher education program (bachelors or masters) with an architecture program accredited by the National Architectural Accrediting Board (NAAB).
Get real-world experience through a training program, such as the Architectural Experience Program (AXP) or an Intern Development Program (IDP). Approximately 5,600 hours of training are required.
Pass the Architect Registration Examination (ARE).
Get licensed in your state. Each state and jurisdiction have different requirements.
How long does it take to be an architect?
Becoming an architect can take anywhere from seven to 10 years, sometimes longer. With at least four years going toward an undergraduate degree and another two to three years of real-world experience under a professional architect, plus time studying for exams and licenses.
According to the United States Bureau of Labor Statistics (BLS), the median pay is nearly $81,000 a year and this job has a good projected growth outlook.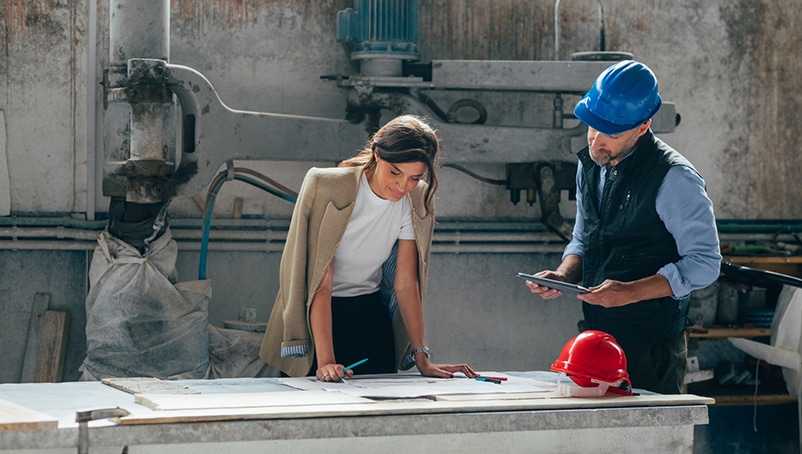 How to get an architect license
Wondering how to become a licensed architect? The first step in getting an architect license is passing the Architect Registration Examination.
This exam is required in most states. Within the exam, there are six sections:
Practice management

Project management

Programming and analysis

Project planning and design

Project development and documentation

Construction and evaluation
These practice areas are set up to cover the progression of an architect's role during the planning and building process.
The National Council of Architectural Registration Boards (NCARB) administers the test and offers training resources and tools designed to help you pass.
Once the exam is passed, architects will need to meets any additional architect requirements in the jurisdiction where they live. The NCARB also offers a national certification, which can help make things easier if you want to apply for licenses in multiple states.
The site has a helpful tool that lists the state licensure requirements and continuing education requirements required to renew an architect license.


Types of architects
When it comes to architects, there isn't a one-size-fits-all role. Many will choose to specialize in certain areas. Here are a few of the most common:
Residential: Focuses on building individual homes
Commercial: Designs buildings for non-residential use
Restoration: Conserves and preserves older or historic buildings and structures
Interior design: Focuses on designing a space from the inside
Landscape: Works on design and planning for outdoor spaces


Setting up an architectural firm
Many architects choose to start their own architectural firm. This allows for more freedom and flexibility to work on projects that you wouldn't have access as an employee at another firm.
However, before jumping into running your own firm, there are a few considerations to keep in mind:
Decide what type of firm you'll create. What type of projects will you work on?
Determine the clients you want to work for. Maybe you want to focus on smaller projects versus having large corporations as clients.
Set up your organizational structure. Will you work independently or have partners?
Create a business plan. A business plan is essential in establishing your goals and the long-term outlook of your firm.
Once you have the basics down, it's time to let people know you're open for business.


How to find clients for your architectural business
Finding clients can often be a lot easier when you've answered some of the questions above. From there, it's all about casting a wide net to find potential clients. Here are some approaches you can take:
Tap into your network and see if there are people or brands looking to start a new project.

Connect with a mentor who is willing to refer and pass work onto you.

Team up with bigger firms on specific projects so you can start building your portfolio.

Enter design contests to promote your work.

Become a speaker and give talks in your area.

Create a website and use it to publish articles and seek out other sites to guest post.
You'll likely need to use a mix of all of these ideas to start getting some traction. Always be on the lookout for potential opportunities where you can promote your firm and grow your network. Over time, it can pay off.


Avoiding risks and protecting your business
Architecture is often seen as a blend of art and science. While a home or building can look beautiful, it's also just as important that it's functional and safe.
In the rare case that something does go wrong and you're held liable by a client, vendor or another party, it's important to understand how architect insurance can help protect you from the costs associated with property damage and accidental injuries.
With a job that involves as much risk as architecture, you want to find the right coverage that helps to protect your livelihood.
Learn more about business insurance for architects.
How Next Insurance helps architects
Next Insurance can help you find a customized insurance package for your architecture practice. We offer affordable plans with tailored coverage for your business needs that can help you stay protected. Get an online quote in just a few minutes.