Are you a regular at indoor cycling classes in your local gym? Do you love the thrill of this heart-pounding, super-sweaty sport?  Do you find yourself wishing you could choose the music and the moves as you're pedaling away? If this sounds like you, then you may want to become a certified indoor cycling instructor.
In a nutshell
Here are the main steps to becoming an indoor cycling instructor:
Get certified - choose a certification course for indoor cycling instructors
Keep practicing - maintain a practicing routine to keep you fit
Get insured - after getting certified, you'll likely need indoor cycling instructor insurance to find work.
Choosing a Course Indoor Cycling Instructor Course
To get started as a indoor cycling instructor, it's a good idea to get certified. A good certification course will cover a wide range of relevant topics including:
Setting up the bike for yourself and your students
Biomechanics of cycling
Different drills from intervals to climbing hills
Coaching and teaching methods
Anatomy basics
Heart rate monitoring
Other important skills you may acquire as you're learning how to become a indoor cycling instructor include: building a play list, motivational techniques, and working with particular populations like the elderly.
Your Options
When it comes to choosing a indoor cycling certification program, there isn't really any one go-to certification program. The one that bills itself as the leader in this realm – with more than 250,000 graduates to-date – is the aptly named Spinning®. The company offers a range of options starting with live, 1-2 day courses that cover both practice and theory, through to continuing education and recertification programs available online. Some gyms may even offer their own courses, to groom instructors in their own style. For example,
SoulCycle
, which operates more than 80 studios across the US and Canada, has its own grueling 10-week training program, with a very selective audition process.
Online vs. Offline Education Options for Indoor Cycling Teachers
When exploring which indoor cycling instructor course works for you, one parameter you may consider is the online vs. offline options. Generally speaking, if possible, it's always a plus to take an offline course, where you can get hands-on training from a pro. That being said, there are plenty of options for getting indoor cycling certification online. For example,
Cycling Fusion
offers the opportunity to learn to be a indoor cycling teacher entirely online, with video courses plus a manual. You can then submit a video of yourself for your final exam. Similarly,
American Fitness Professionals & Associates
offers self-paced indoor cycling instructor certification online, that's nationally recognized.
Indoor Cycling Certification Requirements
To become a certified indoor cycling instructor mostly takes determination and a certain level of physical fitness. In other words, there are no real prerequisites. By way of experience, many indoor cycling teachers come from either a general fitness background – having taught aerobics, step class or TRX before. But many others are simply indoor indoor cycling class lovers looking for either a new career path, or to do some teaching on the side. In general, if you're interested in pursuing indoor cycling certification, you should stay fit, buy proper indoor cycling shoes, and invest in a good workout wardrobe. Other characteristics that help include an upbeat personality, sense of rhythm and pacing, love of people, and the ability to command a room.
Where and How to Practice While Studying
While you're studying to become a indoor cycling teacher, it's a good idea to practice as much as you can. This can be interpreted in two main ways:
Teaching indoor cycling classes requires endurance. You want to be as fit as possible to meet the challenge. As such, in addition to indoor cycling, you should be doing cross training and other forms of endurance exercise. In particular, you'll want to add building upper-body strength  into your fitness routine, as indoor cycling mostly works your legs.
As a indoor cycling teacher, you'll eventually develop your own style. To help you prepare, go to as many classes as you can with different teachers in different studios and gyms. You will learn a lot this way, including things you like about their class, as well as techniques you'd like to avoid.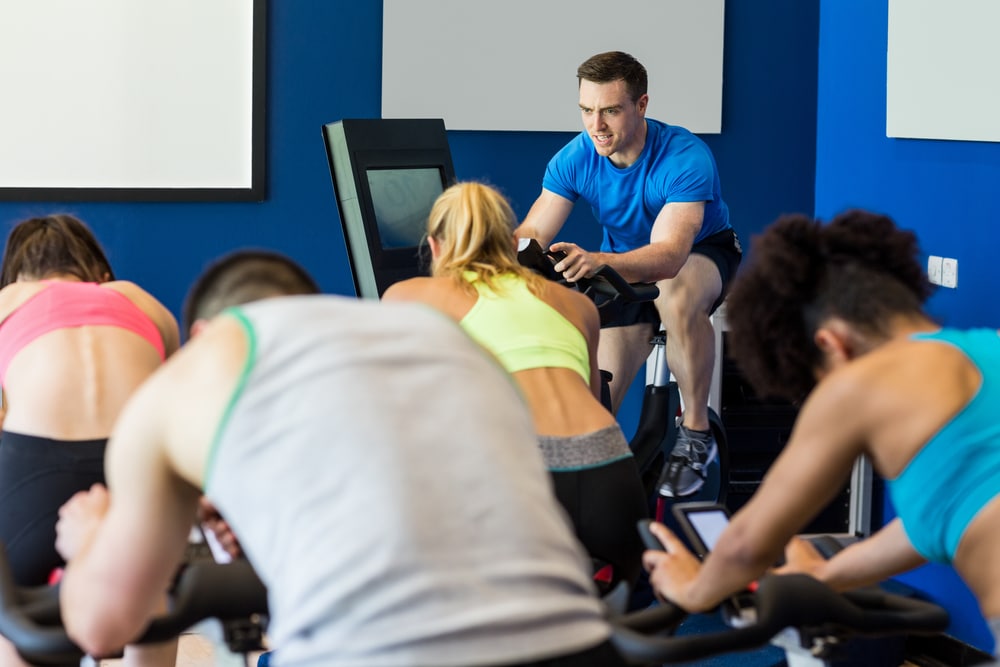 What's Next After You've Become a Certified Indoor Cycling Instructor?
Remember that getting certification is only the beginning. On your journey to become a indoor cycling instructor you'll need to do a number of things in order to build your indoor cycling teacher credentials, and fill your schedule with classes. So what do you need to consider? First and foremost, once you've become a certified indoor cycling instructor,  you'll likely need
indoor cycling instructor insurance
to find work. In fact, many gyms and studios will require a
certificate of insurance
as a starting point. After that, there's going to be a fair bit of door-knocking involved. If you trained to become an instructor at a certain cycling studio, then that's a good place to start looking for a position. If that's not the case, but you're a regular indoor cycling at a different gym, try looking for a job there. In all likelihood, you may find that it takes you time to get classes and build your customer base. In the meantime, you may need to teach during less desirable time slots like very early mornings. You should also be open to subbing for absent teachers (often with little warning). Once you've proven yourself, and built a loyal following, landing classes should get easier over time. That being said, you'll still need to keep an eye on your future for long-term success, now that you've become a certified indoor cycling instructor. Help make your indoor cycling career a smoother ride by keeping up with music and fitness trends, and taking upgrade and refresher courses accordingly.