The child daycare industry in the U.S. made a total of $56 billion in 2019, according to IbisWorld Reports. In 2019, the U.S. had over 670,000 individual childcare businesses, and the industry is growing at a rate of 3.5% each year.
Daycare businesses can range from small, home-based businesses to child care centers serving 50 to 100 children, and sometimes more. If you're a child care teacher and would like to start your own childcare business, the process can be challenging, but also rewarding.
How Much Does it Cost to Run a Daycare?
The size of your daycare business will influence your costs, but it isn't quite as simple as "smaller businesses cost less and larger ones cost more." Determining the age of children you'll be caring for is one of the challenges of running a daycare. Caring for infants as opposed to preschool or school-aged children will influence your budget, as well as other factors, including hours and location.
Your business will probably have higher costs for assistants if you're caring for babies, as one example. Each state has requirements for adult-child ratios at different ages. If you're caring for babies in California, you can have no more than three babies per adult caregiver.
If you're starting a home-based childcare business on your own, you may not have to pay full-time salaries right away, but you will probably need to hire and pay substitute teachers and part-time assistants.
Small, Medium, and Large Payroll Costs for Daycare Businesses
So, how much should daycare salaries and payroll be? According to U.S. Census Bureau data, in 2017, there were 12,829 individual proprietor child daycare businesses in the U.S., and they had an average payroll of about $25,000.
The 5,500 small incorporated child daycare businesses in the U.S. had average annual payrolls of about $50,000. The overall average annual payroll of U.S. child daycare centers was a little more than $262,100.
Salaries and wages are the start of your costs of running a daycare center. You also have fixed expenses like occupancy and daycare insurance cost, one-time costs like furnishings, and costs that will go up and down, like your utilities, transportation, food, and supplies.
Additional Daycare Expenses List and Budget Categories
You'll have some start-up costs with your daycare business, including furniture and equipment.
Even with a home-based daycare business, you'll need to buy safety equipment and "childproof" interior and exterior spaces. Educational toys and equipment are another start-up cost. These days, digital materials like sturdy early childhood tablets could join child-sized drawing tables and small stools and chairs as start-up equipment.
Here is an average budget for home daycare expenses for a home-based childcare business serving four to six children:
Furnishings: $ 2,500
Equipment: $ 2,500
Supplies: ($50 per child per month): $ 2,400 to $3,600
Water and Trash: $ 1,800
Phone and Electric: $ 4,000
Business licenses and fees: $ 1,200
Food and beverages: $ 4,800
Transportation: $ 3,600
Part-time aides/substitutes: $10,000
Advertising and marketing: $ 4,000
Total: $36,800 to $38,000
Some amounts will vary depending on your area and local costs. You can see from this sample budget that if you're caring for four children, your cost per-child is about $770 a month. If you can care for six children, your cost is a little over $525.00 a month.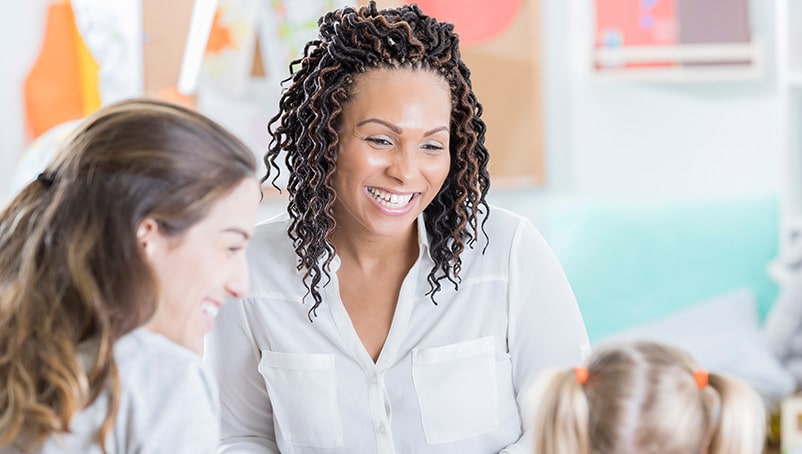 According to Care.com, in 2019, the average cost of weekly childcare for an infant at a family-based childcare was $199, or about $800 a month. Looking at this basic, bare-bones budget for a home-based daycare, it's obvious that the more children you're able to care for while remaining within your state's guidelines for licensing, the more profit your child daycare business can make.
How Much are Daycare Expenses for a Community-Based Daycare Center?
If you're not going to be operating your daycare business out of your home, you'll need to add rental or leasing costs to the list.
As a small business, you'll be asked to sign a lease for at least 12 months, and you'll find that most commercial leases are a little more complex than residential home or apartment leases. You'll also find that you need small business insurance to comply with lease requirements as well as childcare licensing regulations.
Center-based daycare businesses accommodate more than six children, and even if they're in a small space, they can typically have at least two to three classes of different ages, with eight to 12 children in each. Triple the above budget for a small center-based daycare with 16 children and add at least $24,000 to the total for your leasing costs ($2,000 a month). Most centers have higher occupancy costs. Daycare center space with leasehold improvements (child-safe areas, bathrooms, adequate water/kitchen space) will cost anywhere from $.60 a square foot up to $2.50 a square foot.
Claiming Daycare Expenses on Taxes
If your business is incorporated, you should ask an accountant or registered tax agent to prepare your taxes. All of your operating expenses, including salaries and wages, are deductible as business costs. You will pay corporate tax based on the profit your business has earned at the end of each tax year.
If you're operating as a sole proprietor, you will be able to deduct your expenses on Schedule C of your individual income tax return. State laws regarding what you can deduct will vary, but the Internal Revenue Service provides guidance regarding home-based business expense deductions. If one portion of your home is used exclusively for your child daycare business, you can deduct the cost of that part of your home, including a portion of your mortgage or rent payment.
Items that you cannot deduct on your income taxes for business or as an individual (Schedule C) include food and supplies where you received reimbursement, or parts of your home that aren't used for your daycare business.
Insurance Payments and Legal Considerations
If you're operating your home-based daycare business and an accident occurs, you and your business could be named in a lawsuit.
If you've followed all the rules and have business insurance, your daycare insurance policy will provide you with coverage in case of the lawsuit. However, any legal fees you pay may not be tax-deductible. A liability claim from a lawsuit may also not be tax-deductible if you are a sole proprietor, but it may be if you are an incorporated business. Learn more about the cost and coverage of daycare insurance.