If you're a
licensed handyman
, or starting a handyman business, you know that growing your business and taking your handyman marketing to the next level isn't simple; you have to figure out how
stay ahead of the competition
, what your expertise is, and even in some cases, how you can successfully
raise your prices
without losing customers.
Moving Ahead with Your Handyman Business
As a refresher, it's important to start by taking the first steps needed to help your handyman business succeed. This means, you need to: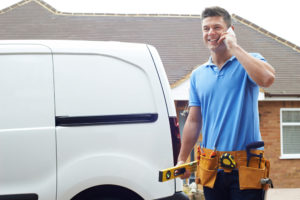 Choose an official name for your business.  You can go with something simple like your name: John Smith Handyman Services. Or you can choose something more creative. If you need help getting started on handyman business name ideas, start by making a list. Think of all the words you associate with your business, your services, and your customer value, and work from there.
Make sure to register your handyman business on the federal level, and in your state, if required.
Write up a contract. Or better yet, have a lawyer write up the contract for you. This is crucial in the long-term for protecting yourself and your customers.
Be sure to buy solid handyman business insurance. Besides safeguarding your business and customers, you simply won't be able to land jobs without it.
Write a business plan. In addition to covering handyman business ideas, it needs to detail your goals, budget, and growth plan. It's best to write it in a number of sections. For example: your launch plan, one-year plan, and five-year plan. This makes it clear where you'd like your business to be at different points along the way.
Marketing Your Handyman Services
Once your business is up and running, or you've taken care of steps you may not have taken when your business was more of a hobby,  it's time to start advertising handyman services. This is often the hardest part for business owners. But handyman marketing is actually quite easy once you get started. And this begins with handyman advertising ideas. Here are some of our best ideas for one or more handyman advertisements:
1. Generate word of mouth.
While you can't rely entirely on your friends, family or past customers to build your business, a first-person account of your services is your best marketing tool. So make sure to tell everyone you know you've opened a handyman business. And of course, make sure you're always on-time, polite, and thorough when getting a job done. A happy customer is a walking advertisement.
2. Print business cards.
As old-fashioned as this may sound, business cards are an essential part of handyman marketing. You can choose between a paper format or a magnet. Then decide on the graphics, colors and wording. There are creative handyman business card ideas that can help your business stand out from the competition.
Pinterest
is a good place to look online for a little inspiration.
3. Create a catchy slogan.
A catchy slogan lasts a lifetime.  Think of Nike's "Just do it", McDonalds' "I'm lovin' it" or Skittles' "Taste the Rainbow". Without much thought you know who they belong to, even before you see the company name. Handyman advertising slogans should likewise be short, clear and to the point. You can think of something on your own, or hire a professional copywriter to help you out. Sites like Fiverr make hiring a copywriter incredibly affordable.
4. Build an online presence.
You've probably heard people talking about the need to build an online presence for your business. This is a really popular term these days. And basically, it means you need to be easily found, online, especially by Google. How can you accomplish this? You can start with a simple website, even one page, and build it over time. You may want to consider social media like Twitter, Instagram and Facebook as well. Just remember: if you create a social media account, you'll need to keep it active, so it may be better to start with one like Facebook, rather than starting out with several that will be hard to maintain. Most importantly, always check your inbox and messages, whichever medium you choose!
5. Make yard signs.
Again, this may sound old-fashioned, but it's lasted because it works! When working onsite, make sure to ask the customer if you can put up a sign with your business name and contact details--even just for a week, or so. People passing by may be inspired. Or neighbors may remember to ask long after you're gone.
6. Use your t-shirt and truck.
You are a walking advertisement for your business. So make sure you have your business name and phone number printed on the side of your truck, as well as the t-shirt you wear on the job. Same goes for anyone who works for you. This not only serves as an advertisement; it also makes you and your team look more professional. Handyman marketing doesn't have to be more complicated than you'd like; by integrating any of these ideas into your business, you'll be moving forward towards growing your handyman business into the job of your dreams.