E-commerce sellers are always looking for ways to grow their online business. You've likely found that telling a story with product details is the key to converting interested visitors into paying customers.
But many sellers find themselves drawing a blank when optimizing their product pages and listings. Instead of spending hours attempting to figure it out, consider these practical tips to improve your e-commerce product listings and pages and boost your online store conversions.
If you own your e-commerce store
Many sellers have their own e-commerce storefront. You might have set it up on Wix, Squarespace, Shopify or a similar platform. There are pros and cons to building an e-commerce business, but the right tips can help you maximize the effectiveness of your listings.
Use consistent branding
Strong branding can guide customers to pick you over the competition. Because they'll recognize your brand, they're more likely to become loyal customers.
Since this is your store, your branding should show through on your product listings. This means much more than just including a logo — write your description and product title so that it matches your brand's persona. You might include humor, sarcasm or sophistication, depending on your brand and target audience.
Focus on SEO
E-commerce websites often rely heavily on Google and other search engines to pick up their products in search results. Unfortunately, there's no magic formula to ranking highly in the search results listing.
But SEO can help. That's why you need to optimize your online listings and product pages for maximum exposure. To start, download an SEO (search engine optimization) plugin. The plugin gives you tips on how best to customize your content and keywords and improve your page's rankings on search engines.
Your website builder should have downloadable SEO plugins available. Learning how to use it can significantly enhance your site's SEO with minimal extra effort.
If you have online marketplaces
Some people don't want the hassle of building their own site. Choosing to piggyback off a marketplace that already exists is a good option for an e-commerce business.
You can skip a lot of the upfront work of building your own site and get access to built-in traffic. The downside is that you have to use the platform's product listing template to customize your online merchandising.
A few of the most common online marketplaces to sell products are eBay, Etsy and AliExpress. You will mainly need to operate within the marketplace rules for these platforms, but you can improve your e-commerce listings.
Provide as much info as possible. Because visitors will return to the marketplace (instead of back to your store), your product listing needs to be as descriptive as possible. Have your e-commerce product listing service entice your viewers with details they're looking for, like height, weight, color, materials, features and benefits.
Focus on price savings. Customers can compare prices with one click and quickly switch to a different store with a better deal. If you offer price deals or discounted items, put it front and center. Your visitors shouldn't have to go to the product detail pages to see how much they can save.
If you sell on Amazon
Amazon is the largest e-commerce marketplace in the U.S Over 200 million shoppers browse the site every month, and Amazon sellers can tap into that traffic. But you'll also have plenty of competition from other sellers.
Making the most of your e-commerce listings can increase your chances of success on Amazon. Here's how:
Use a clear product title. Amazon lets you use 200 characters for the product title. Keep in mind that you can't use phrases like "free shipping" or "100% quality guaranteed" in the title.
Highlight main features. Use bullet points in the Amazon listing page to highlight the product's main features and benefits. This section appears close to the top of the page near the images, so it's more important than the full product description.
Generate good reviews. You may not have much control over product reviews, but they're an essential element of your Amazon listing optimization. Reviews drive sales — shoppers are much more likely to choose an item with positive reviews compared to an identical product with no reviews.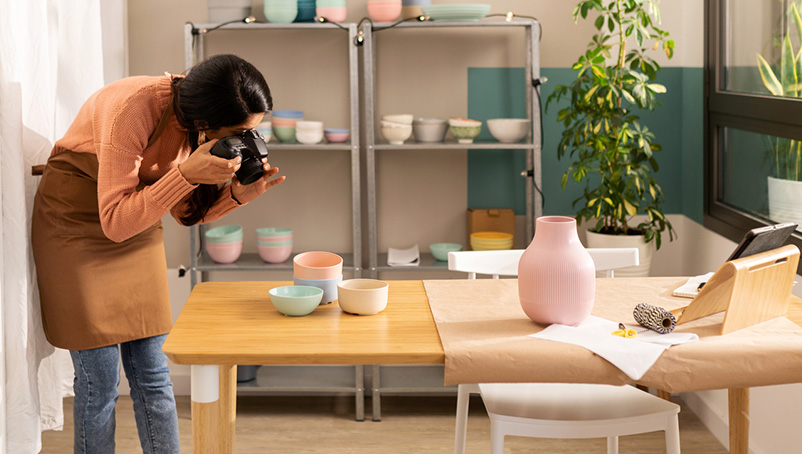 Tips for all e-commerce sellers
No matter what platform you use, you'll discover many universal tips when it comes to selling products online:
Use clean, professional images. This is by far the most important tip — 83% of shoppers are influenced by product images. Each product should include at least five high-quality images.
Build urgency. Always incorporate some urgency into your online store listing pages. You might offer a flash sale or a limited quantity of some items. Just be sure to ensure your offer is truly for a limited time, otherwise you could be accused of misleading customers or false advertising.
Include social proof. Popular, trending and best-selling products gain legitimacy when you include quotes, reviews and testimonials from your customers. Plus, people tend to see other people's actions as the right thing to do in a given situation. If a shopper thinks that other people are buying a product, they'll subconsciously be more likely to make a purchase.
One final tip that all sellers can incorporate: Never think of your e-commerce listings as complete. There is always room for improvement, and it's your job as the entrepreneur to look for new and innovative ways to update your listings.
How NEXT protects e-commerce sellers
E-commerce is an excellent business model to get into. Online sales are growing, increasing 32% in 2020 alone. To tap into the surge in online sales, product listing pages are important.
However, no matter how optimized or clear the listing and your policies are, e-commerce sellers should be mindful to protect themselves with business insurance.
NEXT is here to help you with e-commerce insurance. Sellers can purchase our customizable coverage for an affordable price, completely online. Getting a quote, reviewing your options and insuring your business only takes about 10 minutes.