Many entrepreneurs love Etsy because it's a quick and simple way to sell online.
Etsy's 2.8 million active sellers can set up shop with little or no startup costs, inventory or previous retail experience. Plus, the site comes with a built-in consumer base to start selling right away.
Amid the excitement of starting your shop, your most pressing question is likely what to name your storefront. However, there's a much more important question you should be asking: Do I need a business license to sell online?
Do you need a business license to sell on Etsy?
The beauty of Etsy is that anyone with an account can sell digital and physical products, from wall art you can print at home to handmade jewelry and vintage goods.
However, starting a business on Etsy is just that — starting a business. And starting a business comes with legal implications. For example, you may need to obtain various business licenses and permits to sell your goods on Etsy.
What does Etsy say?
If you aren't familiar with the local, state or federal business laws, you might turn to Etsy for guidance.
However, you'll quickly discover the platform offers little help. Enter the phrase "business license" in Etsy's Help Center search bar, and you'll see just one result: The Beginner's Guide to Selling on Etsy. 
The guide includes two short paragraphs about Etsy business license requirements. Simply put, Etsy doesn't require sellers to have a business license and suggests you "contact a qualified professional" if you have questions.
But here's where things get tricky: Just because Etsy doesn't require a business license doesn't mean that you don't need or shouldn't get one.
Business license considerations for Etsy sellers
So, do you need a business license to sell online? Unfortunately, there isn't a clear-cut answer. It can depend on:
Where you live. Some jurisdictions have stricter regulations than others. For example, California requires you to register and get a permit to sell online, even if your sales are temporary.
What you're selling. The type of product you sell can determine whether you need a business license. For example, you'll likely need different licenses and permits if you're selling digital printable planners versus handmade leather wallets.
How much you sell. Some states don't require you to have a business license unless your sales reach a certain threshold. For example, Oklahoma requires a seller's permit only if your taxable sales reach $10,000.
What about a home-based Etsy business?
Many Etsy owners operate their small businesses from their homes. If you're one of them, you might wonder if your home-based Etsy business needs a license.
Home-based sellers aren't exempt from business license regulations. Your county or local jurisdiction may require a home occupation permit or certification of occupancy for your home-based business to be legal.
What if your Etsy store is more of a hobby than a business?
Some sellers treat their store as a hobby rather than a job. In some locations, hobbyists may not need a business license or permit. Otherwise, the same considerations may apply based on location, products and sales volume.
Laws can vary from state to state, making it confusing to know if you need licenses or permits. The best course of action is to find your local Small Business Administration (SBA) office and inquire about local licensing requirements.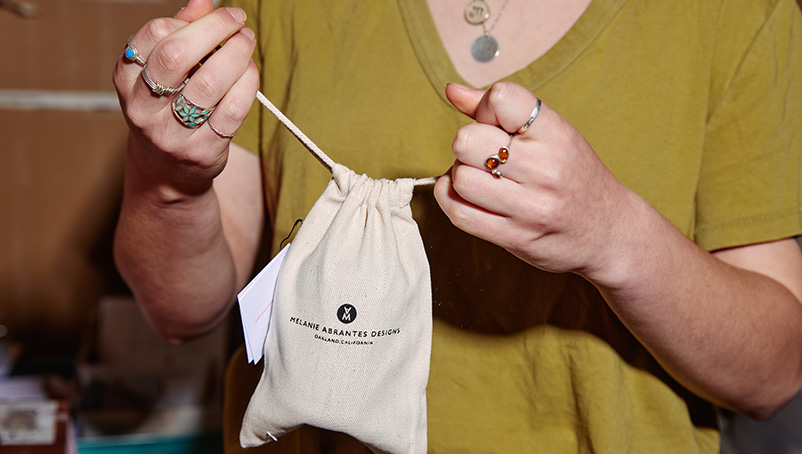 Other legal considerations of selling products and crafts on Etsy
Besides a business license, you may need to comply with other legal requirements. For example, you must never sell copyrighted material on Etsy — it's illegal and against Etsy policy. The only exception is if you have the creator or copyright holder's permission.
Some sellers believe crediting the original creator is how to avoid copyright infringement on Etsy. But that isn't the case. It's best to stick with your own original ideas and creations.
Other legal considerations for selling on Etsy include:
Etsy sales tax. You may have to collect sales tax even if your sales are online only. Remember that states can have different laws for collecting Etsy taxes on physical goods vs. digital products.
Business names. States or local governments can require you to register a DBA or "Doing Business As" if your store name differs from your legal name.
Federal tax ID. Also called an Employer Identification Number (EIN), you may need a federal tax ID for your Etsy business.
Selling food on Etsy. You can sell food on Etsy, but be aware of the many government regulations on making, packaging and selling food.
Protect your Etsy store with business insurance for e-commerce retailers
Do you need business insurance to open a store on Etsy? In a word, no. Etsy doesn't require it to sell your products. But think about this: Anytime you're selling products to other people, you put yourself — and your finances — at risk.
If you didn't read Etsy's terms of service, you might not know that you agreed to release the platform of liability — and place it squarely on your shoulders. Something as small as scented soaps could cause a harmful rash and potentially trigger a lawsuit.
E-commerce liability insurance can help. If you or one of your products causes an injury, illness or other damage, general and professional liability coverage can protect your personal assets.
How NEXT helps protect your Etsy shop
If you have an Etsy shop or are thinking of starting one, insurance protects your store and finances.
At NEXT, we believe insurance should be simple and affordable. Our e-commerce insurance starts at just $25 per month. The policy includes medical payments if a customer gets hurt and protection if a competitor claims you stole their ideas.
Our application process is 100% online, which lets you review your policy options, purchase coverage and get your certificate of insurance in less than 10 minutes, so you can start selling your stuff right away.