Did you become a real estate agent because you want to help people turn their dreams of owning a home into a reality? Or maybe you wanted to take advantage of a hot real estate market.
Whatever the reason, there's a lot at stake when you help people buy a home. And if things go sideways, you could be at risk.
Here are five of the most common real estate agent claims and what you can do to help prevent them.
1. Misrepresentation
When someone buys a home, they want to know what they're getting into. If you don't provide complete and accurate information, they can't make an informed decision about a property.
Misrepresentation can impact a client's decision to buy. That might mean telling them a house they're interested in is 2,500 square feet when it's 2,200 square feet. Or that the property line runs along the back of the flower beds when it actually runs along the front.
2. Failure to disclose information
As a real estate agent, you must disclose everything you know about the property — even if it means your clients decide not to make an offer. If you pulled a property history report or have previous experience with the property and know the house has structural issues, asbestos or lead paint, you have to tell them.
You are also responsible for ensuring inspections that might reveal this type of information are completed. When you get the reports back, it's important to review them with your clients to make sure they're aware of any potential issues.
3. Negligence
There's a lot of money at stake when someone buys or sells a home. If you don't do everything you can to help your clients get the best possible deal, they could lose out on thousands or even tens of thousands of dollars.
If you don't guide them through the buying/selling process, ensuring they fill out the proper tax forms and file the necessary paperwork by the appropriate deadlines, they might have to pay additional fees. Or the deal could fall through altogether, and you could be held responsible.
Mitigation strategies
Most real estate agents don't intentionally mislead their clients. But mistakes can happen. The best way to prevent real estate claims for misrepresentation, failure to disclose information and negligence is by doing your due diligence.
Tell prospective buyers about property defects that would affect the value of the property or their decision to buy.

Disclose background information you have about a property, whether you obtained it from a property history report or previous experience with the property.

If you give your clients information you obtained from a third party, disclose the source of the information.

Counsel your clients on issues that may affect the value of a property so that they can make an offer accordingly.

Disclose results of previous inspections of the property. Document visual inspections and your advice to the buyer or seller about those inspections, so they can't say you didn't tell them.

Keep accurate records of your communication with clients.

Make sure sellers understand disclosure requirements and sign all disclosure forms.

Get the proper signatures on all required paperwork.

Comply with all contractual obligations you have to your client.

Skip the hard sell. Make sure property descriptions are accurate and don't exaggerate the features and benefits of a specific property.
Having real estate errors and omissions insurance can help you defend yourself in case you're accused of making a mistake that causes someone to lose money. Also called professional liability coverage, many real estate brokers will require agents to have the coverage.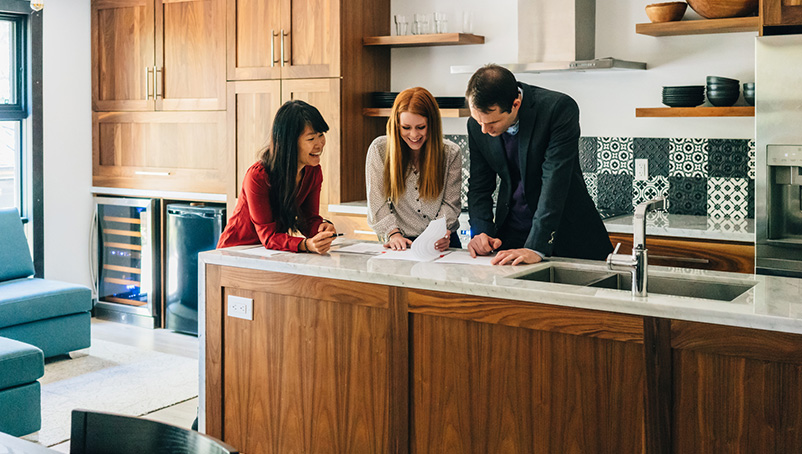 4. Slips and falls
Slips and falls don't just happen on wet floors. When you take someone to see a property, you're responsible for their safety, so it's important that you don't walk into a dangerous situation.
If you're showing a house that has a dog, make sure it's put away. If you're taking a client to see a commercial property that's been unoccupied, make sure it's structurally sound. Keep your eye out for slip and fall hazards such as low lighting, stairs and incline changes
It's also wise to carry general liability coverage which can help protect you from some of the most common accidents at open houses. It can help pay for an injured third party's medical expenses or pay for any damage to someone else's property up to your policy's limits.
5. Auto accidents
Any time you're on the road, you could get in an accident, including when you use your car to get to and from showings. To reduce your risk, engage in safe driving practices.
Obey all traffic signals.
Leave plenty of time between appointments, so you don't feel like you have to rush to avoid being late.
Don't speed and maintain a safe distance from the car in front of you.
Don't pass vehicles in no-passing zones.
Always use your signal when you change lanes or turn.
Since real estate agents spend significant time on the road, it's essential to have commercial auto insurance. Why? You probably already have personal auto insurance and drive your personal vehicle to showings. However, personal auto probably won't cover accidents that happen while you're driving for business purposes. Having commercial auto helps fill the coverage gap that a personal policy misses.
How NEXT helps real estate agents get the insurance they need
Every business is unique. At NEXT, you can mix and match policies to create a customized real estate agent insurance package based on the specific needs of your business. Choose from general liability, workers compensation, professional liability and commercial auto policies.
Our online application makes it easy to review coverage, get a quote and purchase a policy in less than 10 minutes.
If you have questions or need help during the process, our licensed, U.S.-based insurance professionals are available to help.
Get your free online quote today.