As a landscaper, your job is to make the outdoor spaces of your clients' homes and businesses look beautiful.
Keeping the grass mowed, hedges trimmed, trees pruned and flowers watered may not seem like a dangerous job, but landscaping businesses face their fair share of risks.
Here are five of the most common types of landscaping insurance claims and what you can do to avoid them in your own business.

1. Property damage from objects thrown by mowers and trimmers
A pebble may seem harmless when a child picks it up and puts it in their pocket to add to their collection. But objects like rocks and sticks can travel at high speeds when launched by a mower or string trimmer.
An airborne object can seriously injure innocent bystanders and damage property, leading to broken windows, cracked glass doors and dented cars.
Fortunately, there are things you can do to prevent these types of incidents when you're on the job.
Before you start, clear the space you're going to mow or trim by removing sticks, rocks, cans and any other debris that might cause an injury or property damage.

Know where nearby people and your co-workers are at all times so they're less likely to get hit by a flying object.


Wear personal protective equipment such as safety glasses, a face shield and long pants when operating a mower or string trimmer.


Stop what you're doing if someone walks by and don't start again until they're at least 50 feet away.


Add a canvas or chain guard to the back of the mower. Check the equipment operator's manual and online for recommendations.
Learn more about general liability claims at NEXT.
2. Property damage from tree-trimming operations
Trimming branches and cutting down trees can be dangerous.
If a branch or tree falls the wrong way or takes an odd bounce, it can land on a car, house, shed, fence or some other structure, damaging or destroying whatever's in its way. That's why it's important to check the area you're working in for things you want to avoid.
Move cars and other moveable objects out of the way before you start cutting to reduce the risk of damage. And check the direction of the wind to make sure it won't blow the branches in a direction you don't want them to go.
When you're trimming or cutting down trees, it's especially important to steer clear of power lines. If the tree is too close to a power line, you may need to have the utility company take care of it.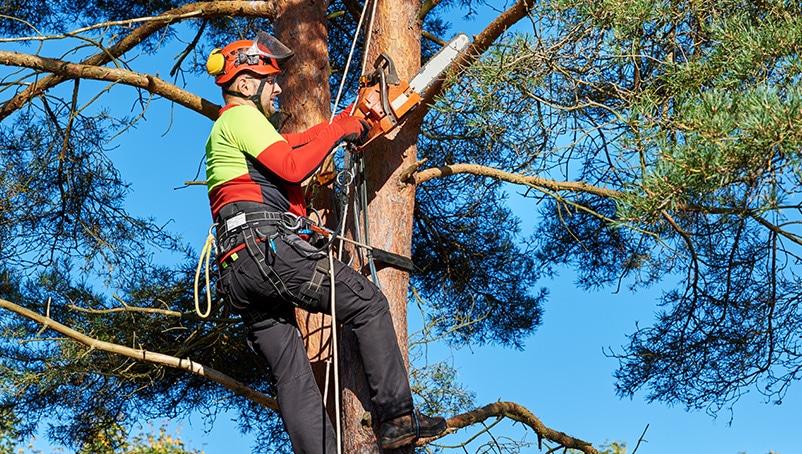 3. Property damage due to flooding from sprinkler damage
Flooding from a damaged sprinkler is typically caused by one of two things:
The sprinkler head was sticking up too high and it got run over by a lawn mower blade.
To avoid mowing a sprinkler head, inspect the area before you start. Find the valves and mark their locations with flags. Then you can raise the mower blade height or mow over them with the motor off, so you don't damage them.
A landscaper struck a water line while digging.
If you're planning to dig, it's important to locate the water lines for the sprinkler system before your shovel hits the ground. If you find the sprinkler heads, the water lines run in between them, which lets you know where not to dig.

4. Burglary and theft of tools and equipment
All businesses have a risk of theft. The best way to reduce your chances of becoming a victim is to make sure all of your tools and equipment are locked safely away when you're not using them.
Unfortunately, this is one of the most commonly denied claims at Next because many of our landscaping clients have a general liability policy without a tools and equipment upgrade.
A general liability policy alone doesn't cover theft. You need tools and equipment coverage for that.


5. An injury due to hazardous work
Landscapers experience many different types of injuries. Some of the most common include lacerations from chainsaw blades, broken bones from falling off a ladder or out of a tree and heat-related injuries.
To help prevent injuries, it's important to:
Train your employees on the proper way to use all tools and equipment
Use appropriate safety gear
Take breaks and stay hydrated
If your employees get hurt or sick on the job, workers' compensation coverage will typically kick in to help cover medical expenses and lost wages.
Workers' comp is almost always required by state law if you have employees. If you don't have any, you can still get business owner's coverage with your policy to protect yourself.


How Next helps you get the landscaping insurance you need
At Next, we make it easy for you to get affordable landscaping insurance to protect your business. Our customized insurance packages include just the right amount of coverage based on your unique needs.
It takes less than 10 minutes to complete our online application, review your policy options, purchase coverage and get your certificate of insurance.
If you have questions, our licensed, U.S.-based insurance professionals can help.
Get started now with your free quote.