As a handyman (also known as a handyperson, handyworker or fixer), you complete odd jobs around your clients' houses that they don't have the time or knowledge to handle themselves.
Painting, putting up wainscoting and replacing a new faucet may not seem risky, but working as a handyman has its share of pitfalls. In fact, every state approaches handyperson licensing and insurance, differently — along with the duties they can perform.
Here are five of the most common types of handyman insurance claims we see at NEXT and tips for how to prevent them in your own business.
A quick reminder about handyman services and insurance
"Handyperson work" is kind of a vague, catch-all term. We know a handyman fixes things or does tasks, but the actual scope of work can vary greatly from changing light bulbs to fixing washing machines.
We approached this blog post with minor repair work in mind. Because each state approaches handyperson work differently, it's best to check with your local contractor's association to understand what qualifies as "handyman work" and what needs additional permitting and insurance for more substantive work.
Also, as a handyworker, it's good to assess the services you perform regularly and be prepared with the right kind of coverage. (We can help you figure this out.) Now let's get back to the top claims.
1. Incidental property damage
You're installing new shelves in a client's family room when the hammer slips from your hand, knocking over an antique vase that falls to the floor and shatters. You're painting the nursery when you step back and knock the paint can over, spilling it on the floor. Accidents can happen at any time. But there are things you can do to mitigate your risk.
Perform a visual inspection to identify potential hazards and fragile property before you get started.


Move or ask the homeowner to move breakable and high-value items out of the way.


Cover floors, furniture and other large items you can't move with drop cloths to help protect them.


Pay attention to your surroundings when you move from one part of the house to another, or you're carrying tools and supplies from your truck into the homeowner's house.
Even if an accident happens, having general liability insurance helps you pay for unexpected expenses in case you damage someone else's property. Bonus: it gives clients peace of mind knowing that you will take responsibility for mistakes.
2. Water damage
Water damage can occur inside a client's home when you're replacing a faucet, installing a new washing machine or unclogging a sink. Before you start working on any project that involves plumbing:
Turn off the water.
When you turn it back on, check for leaks before you leave the job site.
If you need to cut into drywall, make sure there's no piping you can hit with a drill or saw.
The interior of a home isn't the only place water damage can occur. It can also happen outside if you're helping a homeowner with landscaping. If you need to dig in someone's yard, locate the pipes before starting so you don't hit them.
3. Property damage from mower or trimmer thrown objects
Mowing the grass may not seem like a high-risk activity. But if the blade on a mower or string trimmer hits a rock, stick or other object and launches it through the air, it could break windows, damage cars or injure someone. To help prevent property damage and injuries:
Inspect the lawn for rocks, sprinklers or other debris and remove them before you start.


Dress appropriately and use personal protective equipment such as safety goggles or a face shield.


If someone walks by while you're mowing or trimming, stop and wait until they're at least 50 feet away to start again.


If you're using a weed whacker, angle it away from nearby property to avoid damage.


Install shields or guards on your equipment to help catch debris before it can hurt someone.
General liability coverage for handypersons doesn't always include policies for lawn mowing services. If you perform lawn maintenance regularly, check to see what your liability insurance covers and make sure you add lawn care to your coverage.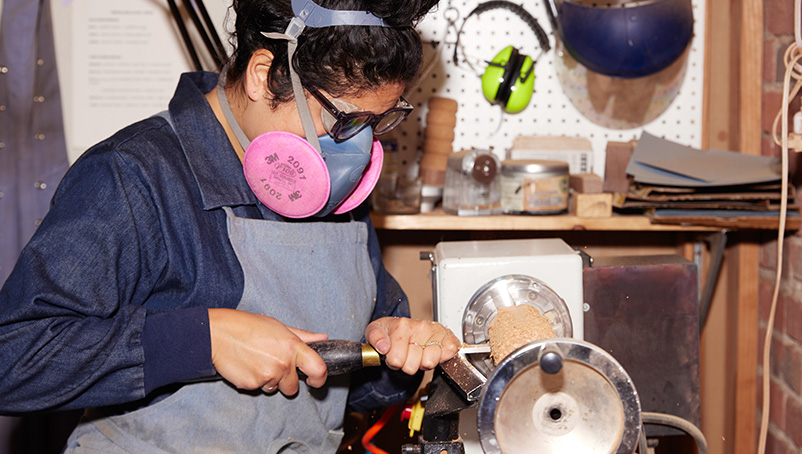 4. Theft of tools and equipment
You can't do your job without the proper tools and equipment you need to take back and forth from your home to the job site every day. Unfortunately, some people will help themselves to your stuff if you don't protect it.
To help prevent theft:
Don't leave your vehicle unlocked.
Set your alarm if you have one.
Remember to take everything home with you at the end of the day and store it in a secure location.
Getting your tools and equipment stolen is not only a big inconvenience, it can be costly to replace as well. While it doesn't bring your tools back, having tools & equipment coverage helps you get back to work faster by paying for replacements.
5. Bodily injury
No one wants to get hurt or hurt someone else on the job, but injuries do occur sometimes. Here are some ways to help prevent them.
Third-party injuries
Before you begin any job, mark the area where you will be working to keep other people out. Put tools and equipment away when you're finished, so no one slips and falls on them. Make sure your tools are secure so no one can use them without your permission.
Injuring yourself
To prevent injuries to yourself, don't take on jobs that are too big or complex for you to handle on your own. Make sure all tools and equipment are in good condition, so they function correctly, and you're properly trained on how to use them. When appropriate, don't forget to use personal protective equipment such as safety goggles, face shields, earplugs and gloves.
Also, know that general liability coverage doesn't cover injuries to yourself — only third parties. While it might seem odd to buy workers' compensation insurance for yourself, it's not uncommon through an optional owner's coverage. Even better: while your own health insurance provides coverage for your treatment expenses, workers' comp helps cover any of your lost wages.
How NEXT helps you get the coverage you need
At NEXT, we make it easy to get the handyman insurance you need to protect yourself from claims. Mix and match policies to get the right cost and right amount of handyman coverage, so you're never over- or underinsured.
With our streamlined application, you can get a quote, see policy options and purchase coverage — all in less than 10 minutes. When your purchase is complete, get your certificate of insurance online any time, day or night.
If you have questions, our licensed, U.S.-based insurance professionals are available to help.
Get started with your free quote today.