If you use a vehicle throughout the course of your business, you need to make sure it's properly insured.
Most personal auto insurance policies won't cover damage that occurs during business activities, such as carrying your equipment to a customer's house. In some states, you may be legally required to carry commercial auto insurance under certain circumstances.
Here's all you need to know about collision damage coverage for commercial vehicles:
What is Commercial Auto Insurance and Who Needs It?
As the name implies, commercial auto insurance is designed for businesses that use vehicles.
Whether you are transporting supplies or allowing employees to drive your car, commercial auto insurance ensures that you are financially protected if something happens. It keeps you within the law, and you don't have to worry that your personal policy won't pay.
Commercial auto insurance is highly recommended for anyone who uses a vehicle as part of conducting business.
What Are the Risks of Not Having Business Auto Insurance?
Modern cars are complex, and even minor accidents can result in significant and expensive damage.
For instance, what happens if you are on the way to a customer's house when you hit a patch of ice and your car rolls over? Maybe your top employee borrows your car to get supplies and is hit by an uninsured driver. You might hook a trailer up to your pickup truck to transport a heavy piece of equipment, only to have the trailer detach and go skidding down a hill.
If you have business auto insurance, you are protected. If not, you may find yourself on the hook for all the related expenses. You could also face legal penalties if commercial insurance is required in your area for the specific activities that were involved.
What is Collision Damage Coverage?
You've probably heard of it, but what does collision insurance cover?
Collision insurance coverage protects your vehicle if it is damaged in an accident. This includes not only collisions with other vehicles, but also with other objects such as a fence or a tree, as well as single-vehicle rollover accidents.
Collision coverage is typically required if you have an auto loan or lease, while it's optional for vehicles that are paid off. However, if you don't have it, then you're financially responsible for repairing or replacing your damaged vehicle.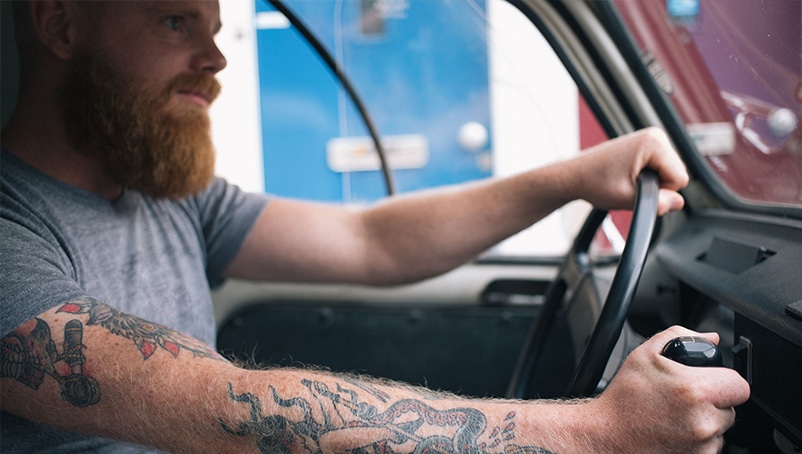 What's the Difference Between Comprehensive and Collision Insurance?
The difference between comprehensive and collision insurance is simple.
While collision insurance covers your vehicle in an accident, comprehensive insurance covers non-collision damage. For example, if your car is damaged by hail or stolen by a thief, your comprehensive insurance will provide coverage. If you don't have comprehensive insurance, you are on the hook for fixing or replacing your vehicle.
Be aware that neither comprehensive insurance nor collision insurance protects you against financial liability if you damage someone else's vehicle or property, or if someone is hurt in the accident. Those damages are covered by other types of auto insurance that are typically required by law.
Bodily Injury: Bodily injury insurance covers third parties (people other than you and your employees) who are injured in an accident that you or employee caused. It may be used for not only medical expenses, but also pain and suffering, loss of income, and other potential claims.
Property Damage: Property damage covers damage to vehicles, fences, buildings, and other objects in an accident caused by you or your employee. It can cover legal fees and other expenses that are directly related to the damage.
Personal Injury: Personal injury coverage is for you and your employees. If you or someone who works for sustains injuries in an accident, personal injury coverage can pay for related medical and other expenses.
Bodily injury, property damage, and personal injury insurance form the core of a commercial auto policy. Bodily injury and property damage are required by law, and 16 states also require personal injury insurance. Collision and comprehensive insurance are generally required for vehicles that are under a loan or lease, and optional for those that are paid off. However, both collision and comprehensive coverage can be extremely important for commercial vehicles.
Do I Need Collision or Comprehensive Coverage?
When deciding which coverages to choose, consider the age of your vehicles and the ways you use them to support your business.
If you have an old, beat-up pickup truck that you occasionally use to move equipment, it may not be worth adding collision or comprehensive insurance, especially if there's an alternate vehicle you could use. If you have a fleet of new company cars, it only makes sense to carry full insurance coverage on them.
Most small business vehicles fall somewhere in the middle. Only you can choose whether to add collision damage and/or comprehensive coverage to your vehicle. Before you decide, think about whether you could afford to repair or replace it at your own expense.
Also, consider how much risk you are willing to take. Make sure you are clear on the difference between collision and comprehensive auto insurance. Some people choose to add collision insurance but not comprehensive, as in many areas you are more likely to be in an accident than to have your car stolen or damaged by weather.
Fortunately, commercial auto insurance can grow with your company. Next Insurance offers clear, easy to understand policies that you can bundle right into your overall business insurance protection. We'll tailor your protection to your current needs, and you can update your protection online as those needs change.
Commercial auto insurance is one of the easiest ways to protect your business, whether you are operating independently or managing a large staff.
Putting It All Together
Commercial auto insurance is essential for anyone who uses a vehicle in the course of business. If you have a lease or an auto loan, collision damage coverage is likely required. Otherwise, it is optional but highly recommended, especially if you don't have another work vehicle. It will pay to repair or replace your car if it is damaged in an accident, allowing you to get back on the road without worry.