Among many others, one of the main advantages of being a self-employed electrician involves the sheer number of small business tax deductions that open up for you.
When compared to a W-2 employee, the opportunities to reduce your taxable income outweigh those that would apply if you were collecting a paycheck. Of course, knowing what to deduct and what not to deduct saves you some time and effort when tracking business expenses throughout the year and when tax time rolls around.
Your organization won't be able to claim personal expenses that include child tax credits, the full amount of real estate and home mortgage interest, and charitable contributions made outside the scope of your business. However, if you own a building strictly used for your electrical contracting business, many of the associated expenses are deductible. Also, you can claim the cost of tools or equipment that you purchase as well as any vehicle costs you incur for a truck or van used in the business.
Let's dive into a more detailed analysis by laying out an electrician tax deduction checklist.
Home Office Deduction
Many electricians who are sole proprietors choose to use their homes to store business property and manage the administrative side of the operation. Note that when we addressed expenses relate to homeownership, it's stipulated that the full amount of those costs can't be deducted. The Internal Revenue Service (IRS) does recognize allowances for the partial use of your home in a business capacity, however.
There are two ways to approach this and your accountant or tax software will reveal which method yields your largest deduction. The simplified option allows a deduction of five dollars per square foot up to a maximum of 300 square feet. You'll need to compare that calculation with the regular method, which divides the square footage exclusively devoted to your business by the total square footage of your home. You can then take that percentage and apply it to utilities, home insurance, property taxes and mortgage interest. Also, depreciation on your home can be deducted.
Vehicle Expenses and Mileage
In all likelihood, you'll own a vehicle to get you from job to job. Like the home office deduction, you have two options to consider.
During the calendar or fiscal year, you can track both mileage drive for business and expenses shelled out for gas, oil, tires, repairs, etc. When you compare the IRS rate of 58 cents per mile and the dollars you forked over to maintain your vehicle, you'll obviously want to use the one on your electrician tax deduction checklist that gives you the largest write-off.
Purchasing a light truck or SUV also affords you some huge tax advantages. Vehicles with a rating that equals or exceeds 6,000 lbs. in gross vehicle weight rating (GVWR) are eligible for a tax deduction that can amount to 100% of the purchase price. However, if you buy a $30,000 pickup and use it 80% of the time for business, you can only write off $24,000 or the percentage of cost related to business use.
Equipment and Supplies
Basically, as a self-employed electrician, you can deduct any tools, wiring, outlets, etc. that you buy for customer jobs but depending on the dollar amount of equipment, you may need to spread the deduction out over a number of years.
It all depends on the useful life of the asset. You can buy office supplies such as printer ink and take the total amount of the purchase right off the top of your taxable income. With an asset that's expected to last five years or more, such as a supply shed, you'll need to depreciate the item and spread the cost out according to the useful life in years that the IRS applies to the structure.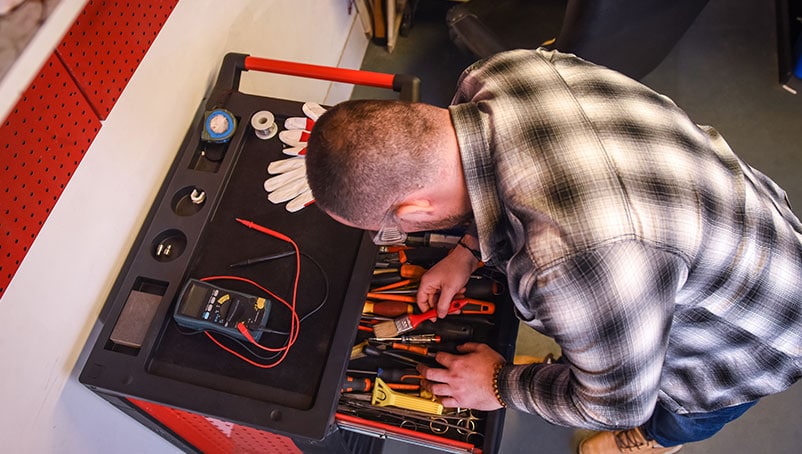 Utilities
We've covered utilities as part of the home office electrician tax deduction but the percentages change if you own a building devoted exclusively to your pursuits.
Maybe it's a small garage in which you store tools and park your van. You might also carve out space in that building for an office that houses your computer and some furniture. In this instance, every dollar you spend on heating, cooling, water and electricity can be deducted from your business income.
Self-employment Taxes for Electricians
By now, you're aware that paying taxes is all on you.
You will need to pay quarterly estimated income taxes based on the amount you've earned and expect to earn for the balance of the year. In addition to federal income tax obligations, you'll also notice that payroll deductions for Social Security and Medicare are supplanted by a self-employment tax, which is 15.3% in total of 2019 net earnings up to $132,900. Once the amount of self-employment taxes is calculated, you can deduct half of that figure from your taxable income.
Insurance
Part of your personal home insurance premium can be deducted if you have a home office but when it comes to your general liability insurance and workers' compensation programs, the whole cost can be written off.
No matter where your base of operations is situated, if you pay $10,000 annually for a business insurance program that protects your vehicles, tools and equipment, every dollar paid within your fiscal year reduces what you owe to Uncle Sam. That's one more item you can check off your electrician tax deduction checklist.
Sales and Marketing
You need to let the public know what you do and where you're located, so electrician marketing ideas are a worthy investment.
Whether you choose print, promotional items, radio or paid social media campaigns, know that the entire cost comes off the top of your taxable income. If you brought in $100,000 worth of revenue in a year, $12,000 in marketing and advertising costs decreases your taxable liability to $88,000, without even considering all the other deductions you'll get.
Maximizing Your Deductions
Self-employed electricians who once pulled in a paycheck will uncover a lot more opportunities to reduce their tax burdens. Laws change frequently, though. Thus, with any tax-planning strategy, you must consult with a tax professional before you determine which costs are deductible and which costs aren't. Electrical business insurance costs are a no-brainer and here at Next Insurance, we can put together a comprehensive electrician insurance plan designed to protect what's left after taxes.