s a photographer, you know how valuable your equipment is. Whether or not you are a full-time professional photographer, your photography equipment includes the tools of your trade and losing or damaging any of them could be catastrophic to your business. If you're serious about your business it's vital to have equipment insurance (technically this is referred to as "inland marine insurance") to protect your most important assets. So, let's explore why photographers need equipment insurance and what it covers.
Who Needs Photographer Equipment Insurance?
A photographer's job is unique because you're not tied to your office or business premises. Instead, you often find yourself taking your equipment with you and setting up office in the great outdoors, or at a wedding venue, or someone else's home.
Really, anywhere could be your workplace and you need insurance that will cover your equipment wherever it is. The technical name of this type of insurance will help us understand its unique benefit for photographers. This insurance was originally known as ocean marine insurance and it covered goods that were transported by ship, across the seas. As transportation of goods moved inland, the coverage followed and "inland marine insurance" now covers equipment and goods that are moved from place to place, such as your photography tools.
This is ideal for photographers who need insurance for camera equipment that they take with them to jobs on-location. From here, we'll just use the term "equipment insurance" to make things easier to explain.
What Does Photographer's Equipment Insurance Cover?
Getting the perfect shot isn't easy. Just imagine you drop your camera into a lake when taking wedding photos or your lens cracks in the middle of shooting a tennis match. Think about the possibility of your laptop being knocked off a bench and smashing or your camera falling down a cliff. There are so many scenarios that need to be covered by photography equipment insurance when you are out and about taking photos which explain why photographers need equipment insurance. This type of insurance will cover your cameras, lenses, computers, lighting equipment, rented equipment and any other electronics you use. It will also cover any bags or packs or trailers used to transport the equipment. So, just imagine you're on the way to a photoshoot and you get into an accident. You will be covered for the damage to the equipment and the transporting materials. This type of camera insurance is broad enough to cover you for damage or loss from theft, breakages, fire, vandalism, wind damage, water damage and more.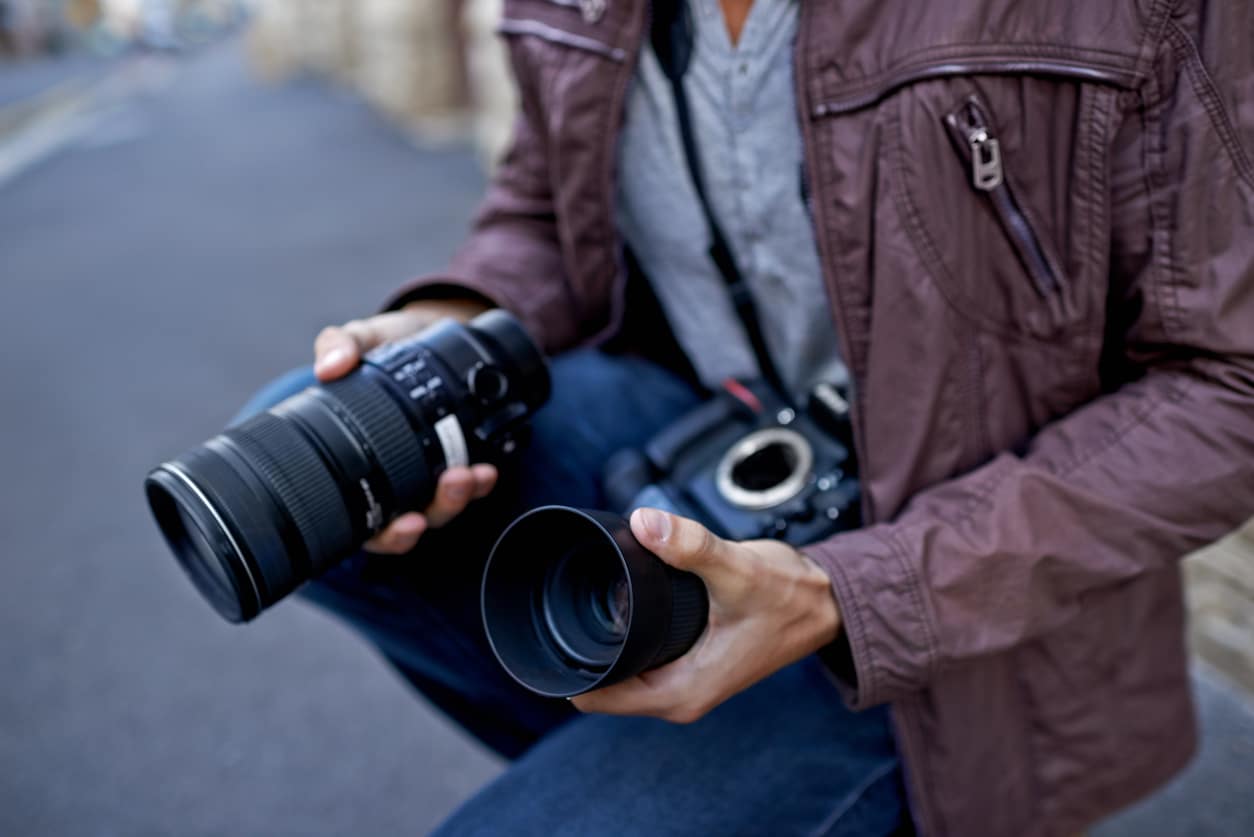 Just be aware that some policies have crazy exclusions like not covering your camera and equipment outside your home. It may sound hard to believe, but you do need to check the fine print. (If you choose to work with us at Next Insurance, you can rest assured that your equipment is covered anywhere in the US, Canada or Puerto Rico).
Why? Isn't Equipment Insurance the Same as Liability Insurance?
No. Equipment insurance covers your equipment and protects it from loss or damage. General liability insurance, while just as important if you have your own business, will not protect your equipment when you're out on a job. What it will do is protect a person if they get damaged because of you or it will protect your business if you're sued for damaging someone else's property or causing bodily injury. Imagine you're taking photos in someone's house and your tripod scratches the client's newly varnished floors. Or you bump over their expensive ornament when bending down to get just the right shot. This is where photographer's liability insurance becomes important.
Protect Your Business with Photographer's Equipment Insurance
As a photographer, your equipment is your trade and you need to be sure you're covered in case something goes wrong. You are in the unique position of doing your job out of the office and you are sure to find yourself and your camera in some precarious positions as you aim for just the right shot. With a tailored and affordable photographer insurance you can go for those crazy poses, even the ones that will see you dangling from the fence or leaning over a lake, without worrying about your camera and what will happen to your business if it's damaged. Now that you know why photographers need equipment insurance, you can get the right insurance and go for the golden shot, knowing your business is protected!