If things have felt tougher lately for you and your small business, you're not alone.
According to a new survey by NEXT Insurance, small business owners across the United States are frustrated and stressed about inflation and the state of the economy. More than one-third have considered shutting down in the last 12 months.
As prices continue to rise and supply chains continue to falter, many small business owners have been forced to work longer hours, raise prices, and even cut their own salaries just to stay afloat, our survey found. And a majority of small business owners believe the pain isn't over.
In March 2022, we surveyed 1,000 small business owners to understand their biggest challenges and how they're dealing with them. How do your experiences compare?
Inflation continues to have a big impact
One word keeps small business owners up at night: Inflation. Policymakers once said this would be a "temporary" problem — but now signs suggest it could be here to stay.
The surging price of materials means small businesses have less purchasing power, as experienced by retailers last fall. It forces owners to choose between absorbing more expenses or passing them on to customers through price increases.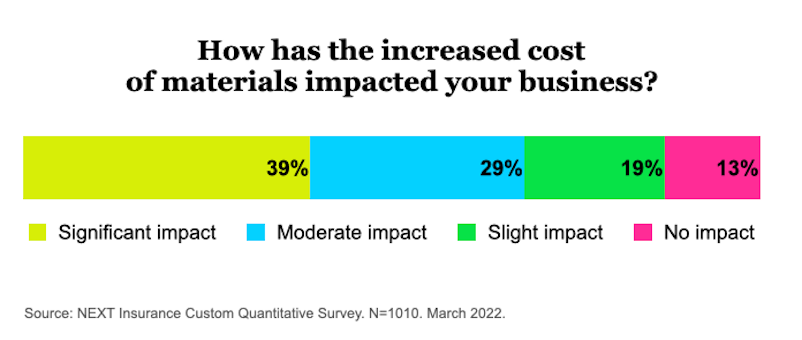 More than two-thirds of small business owners said rising material costs have had a moderate to significant impact on their business.
Nearly 4 in 10 owners said the rising prices have had a "significant impact" on their business.
Only 13% of business owners said they were unaffected.
In particular, business owners in the South (90%) are experiencing notable increases in the cost of raw materials compared to other regions, particularly the West (79%).

And despite the West having the lowest reported impact (85%), it's clear that the majority of business owners are feeling the pinch of increased prices for finished products and services.

Inflation also hits consumers' wallets and makes them less willing to spend, which spells trouble for small retailers.
Shipping delays are making things even worse
If rising prices weren't enough of a headache, persistent shipping delays continue to put small business owners in a bind.
When shipping resources are backed up, large companies have the volume and leverage to negotiate lower rates and higher priority for their orders. But that means smaller firms are pushed aside.
As shipping prices skyrocket, it's small business owners who are struggling the most to get the deliveries they need.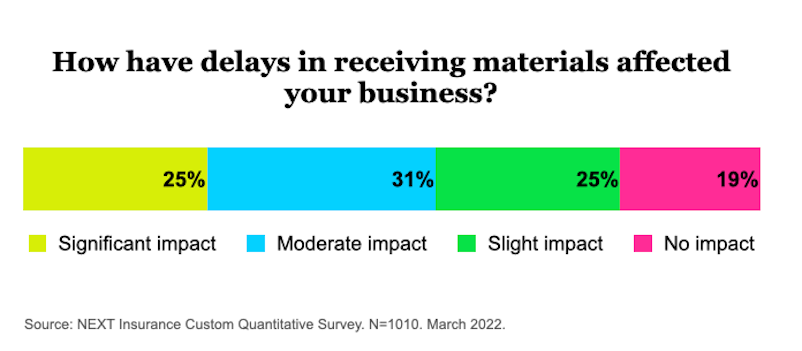 Eight out of 10 small businesses said they have been impacted by delays
One in four owners say they have suffered "significant impact" due to the delays
Only 12% of small business owners said they were not concerned with supply chain delays.
It's getting harder to hire and keep workers
When you have a small team, hiring and retaining the right employees can make or break your business. That's gotten trickier for small business owners as workers report lower satisfaction and change jobs more frequently — while labor costs continue to increase.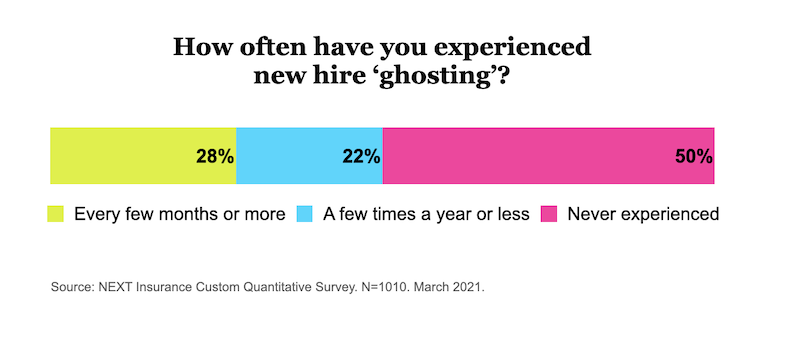 Half of all small businesses have experienced new hire ghosting — when an employee stops showing up to work without giving any notice.
Nearly three in 10 small businesses experience new hire ghosting every few months or more
Our survey found that more than one-third of small business owners feel that finding and keeping qualified employees will only get harder over the next six to 12 months.
Small business owners are also paying about $2 more per hour than they were one to two years ago. Back then, 19% of owners reported paying their employees $10/hour or less, but only 8% of small businesses do so today.
Midwestern businesses are seeing especially significant pay increases, with a doubling in the percentage of employees making over $21 (from 18% to 37%).
Small business owners are working more hours
It takes grit and resourcefulness to run a small business, and that's never been truer than now.
In these tough times, owners are doing everything they can to keep their small businesses going.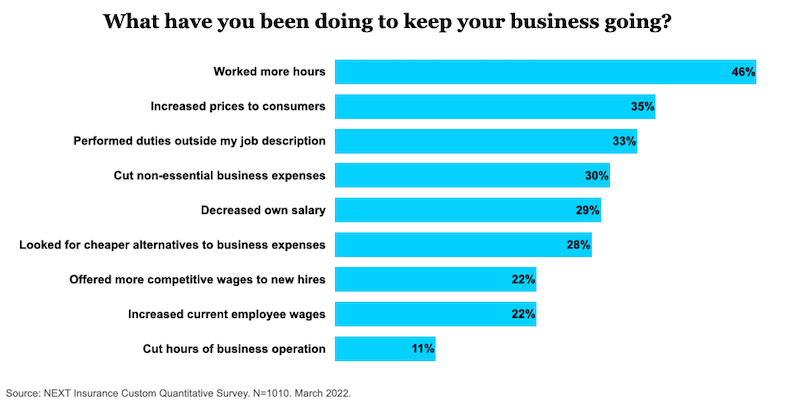 Nearly half of small business owners are working more hours
One-third of owners are performing duties typically handled by others
Nearly three in 10 small business owners have decreased their own salaries
Uncertainty about the future?
These have been uniquely trying times for small business owners.
After a shaky start to the year, we'd all like more good news. But with the pandemic not yet over, on top of new international conflict, it seems we'll have to hold out for a while longer.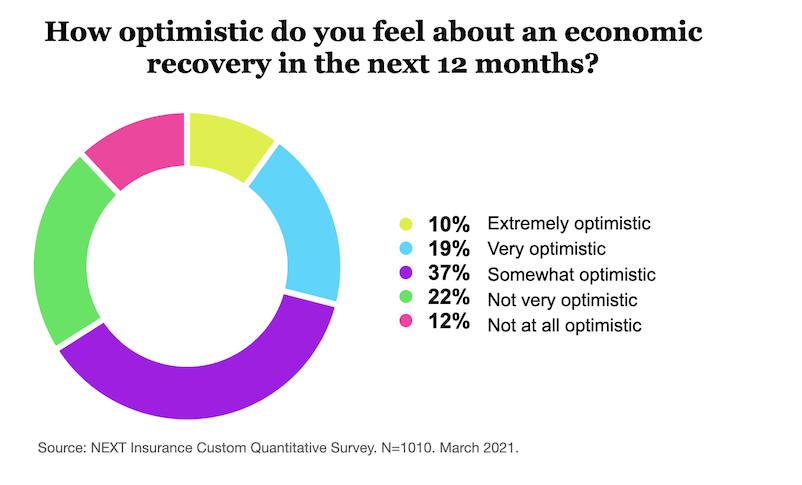 Only 29% of our respondents felt optimistic about an economic recovery over the next 12 months.
12% of respondents were not at all optimistic.
Not all businesses have been affected equally. Overall, half of owners said their businesses were "steady," and the remaining were split between "growing" (26%) and "struggling" (24%). We also found that businesses were more likely to report growth if they were closer to big cities.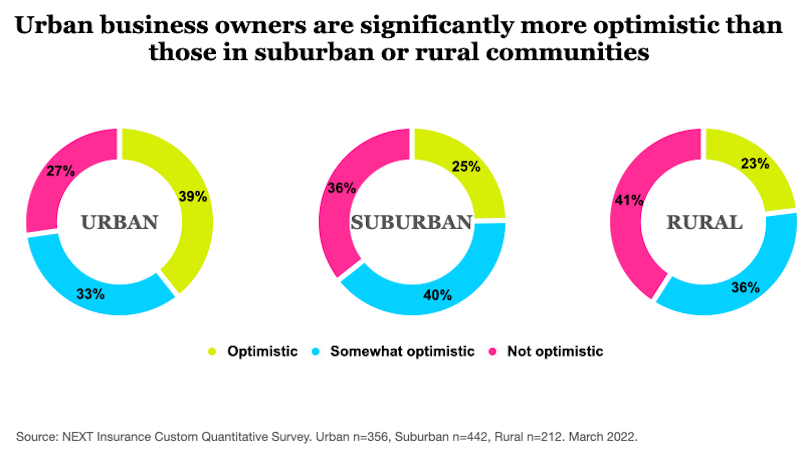 Similarly, 39% of respondents from urban areas felt significantly more optimistic vs. their counterparts from suburban (25%) and rural (23%) communities.
Larger businesses are faring better: Business owners with 20 or more employees were nearly twice as likely to feel optimistic (43%) as owners with 9 employees or less (22%).
And millennials are almost twice as likely as Gen X or Boomers to say their businesses are growing.
NEXT Insurance helps you roll with changes
In these uncertain times, you want to focus on what matters most: keeping your business going. Business insurance helps your small business thrive by protecting you in case of any unexpected setbacks. That includes on-the-job accidents, professional mistakes, and damage to your inventory.
At NEXT, we understand that things change with small businesses all the time, whether it's adapting to a challenge or trying something new. You don't need more to worry about, so we make it simple to get covered online.
We specialize in flexible, no-hassle business insurance: You can pay as you go and cancel anytime. You can get a quote, compare options, and get your certificate of insurance in less than 10 minutes.
And if you have any questions, our team of U.S.-based advisors is available to help.