It can be daunting if you've never prepared taxes for your small business before — especially if you are transitioning from being employed to being self-employed. Your former paycheck withheld money for things like Medicare and Social Security. Filing taxes can be a shock if you didn't plan to pay those all at once.
There are many nuances to filing taxes for a small business, and you should consult a tax preparation professional for your unique circumstances. But going through our small business guide will give you information on where to start.
In this post, we'll cover:
Consider your business structure before filing taxes
You decide on a legal business structure when you officially form your business. Each type of business entity has its own tax rules. Consider your business structure before filing taxes:
Sole proprietorship: A single business owner is the business's sole owner, who owns the income.
Partnerships: Partnerships are "pass-through" entities. This means your share of the business income passes through to your personal tax returns.
Limited liability company (LLC): LLCs share the tax characteristics of a sole proprietorship if there is a single owner or a partnership if there is more than one owner.
Corporations: Corporations pay taxes as a business. So your business pays taxes on its income. (There are some variations between S-corps and C-corps.)
We dive into the different types of business structures and how these structures pay taxes here:
Read more: Tips for filing small business taxes for the first time
Doing taxes the first time
There is a big learning curve to doing small business taxes for the first time, but once you understand the process, you can replicate it in future years. Take time to get a process down in year one, and it will pay off in the future.
Add the tax dates and deadlines to the calendar
Sometimes it can be simpler to work backward through your small business taxes. You can use tax deadlines to understand the different tax requirements better. You must also keep up with the major tax dates to complete your taxes on time.
Here are some dates to know:
Federal income tax deadline for 2022: April 17, 2023, aka Tax Day. This date applies to self-employed individuals, independent contractors or gig workers.
Federal income tax deadline for partnerships, LLCs or S-corps: March 15, 2023. Please note: this date falls before Tax Day.
Some business owners need to make quarterly tax payments. (We'll dive into the pros and cons of this below.) The official dates for these payments are:
April 18: payment for 1st quarter 2023 estimated business tax due
June 15: payment for 2nd quarter 2023 estimated business tax due
September 15: payment for 3rd quarter 2023 estimated business tax due
January 15, 2024: payment for 4th quarter 2023 estimated business tax due
If you're unsure whether a particular date applies to you, we wrote more about dates and deadlines here:
Read more: When is the business tax deadline in 2023?
Determine state small business tax obligations
Each state has its own state tax obligations and guidelines. Check with your state agency or a tax professional to understand your state small business tax requirements.
Calculate tax liability for your small business
Because many small business owners have to strategically save for taxes throughout the year, it helps to understand your tax liability beforehand. This provides an estimate for when you file your taxes. The goal for taxes is to know what you owe, minimize it through deductions and not overpay — income tax returns are just the government returning your money to you, after all.
Develop a system for keeping financial records
Every owner wants to minimize their business expenses, and paying taxes is a part of that. The key is to develop a system for keeping good financial records. Not only will you know how you spend your money, but preparing your small business taxes and utilizing deductions will be much easier.
No matter what system you use — paper ledger, bookkeeping software or professional accountant — make sure you keep your personal and business accounts separate. Understanding your business income and expenses is more straightforward and can protect you in the long run.
How do you calculate taxable income?
Before calculating- your tax liability, you have to work from your gross taxable income.
This equation calculates gross taxable income: Total Income - Deductions - Tax credits = Gross Taxable Income.
You take your gross taxable income and apply the federal tax rate for your business entity. This is what you pay in taxes.
Estimating taxes: How much does a small business pay in taxes?
Many small business owners will need to estimate their taxes to make estimated tax payments throughout the year. If you have a handle on your finances, you can look at your past earnings to gauge what your future earnings will be so that you can make estimated payments.
Find your tax rate if you're a sole proprietor, partnership, LLC or S corp
You find your small business tax rate by using your business entity. If you classify your business as a sole proprietor, partnership or LLC, then the IRS classifies your business as a pass-through entity.
This means your income passes through your business and is lumped in with your personal income. So you're merely adding your business income to your personal income. You would follow the personal tax brackets.
Tax Rate and Bracket for Single Filers and Married Couples Filing Jointly

| Tax rate | Taxable income (single) | Taxable income (Married filing jointly) |
| --- | --- | --- |
| 10% | Up to $11,000 | Up to $22,000 |
| 12% | $11,001 to $44,725 | $22,001 to $89,450 |
| 22% | $44,726 to $95,375 | $89,451 to $190,750 |
| 24% | $95,376 to $182,100 | $190,751 to $364,200 |
| 32% | $182,101 to $231,250 | $364,201 to $462,500 |
| 35% | $231,251 to $578,125 | $462,501 to $693,750 |
| 37% | Over $578,125 | Over $693,750 |
Estimate taxes as a 1099 independent contractor or freelancer
Other companies hire contract workers or freelancers as 1099 employees. The IRS often classifies you as a sole proprietor if you have not formally established a business entity.
Read more: How to file taxes as a 1099 independent contractor.
Find your tax rate if you're a C corp
Under the Tax Cuts and Jobs Act, taxes for C corporations have been simplified with a flat tax rate of 21%. So at any income level, your C corp pays 21% of its income in taxes.
If you're a small business owner who classifies your business as a C corp, your business will have to pay the 21% tax rate on its income, and you will also have to pay taxes on the dividends you receive from your C corp in your personal taxes.
Tax calculator for small businesses
The IRS recommends using Form 1040-ES to help calculate and estimate taxes if you're self-employed or run a small business. There's an alternative form for non-resident aliens to use called Form 1040-ES(NR).
Paying taxes quarterly vs. annually
You must pay taxes yearly for your small business, but you can decide whether to do it all at once or make smaller quarterly payments.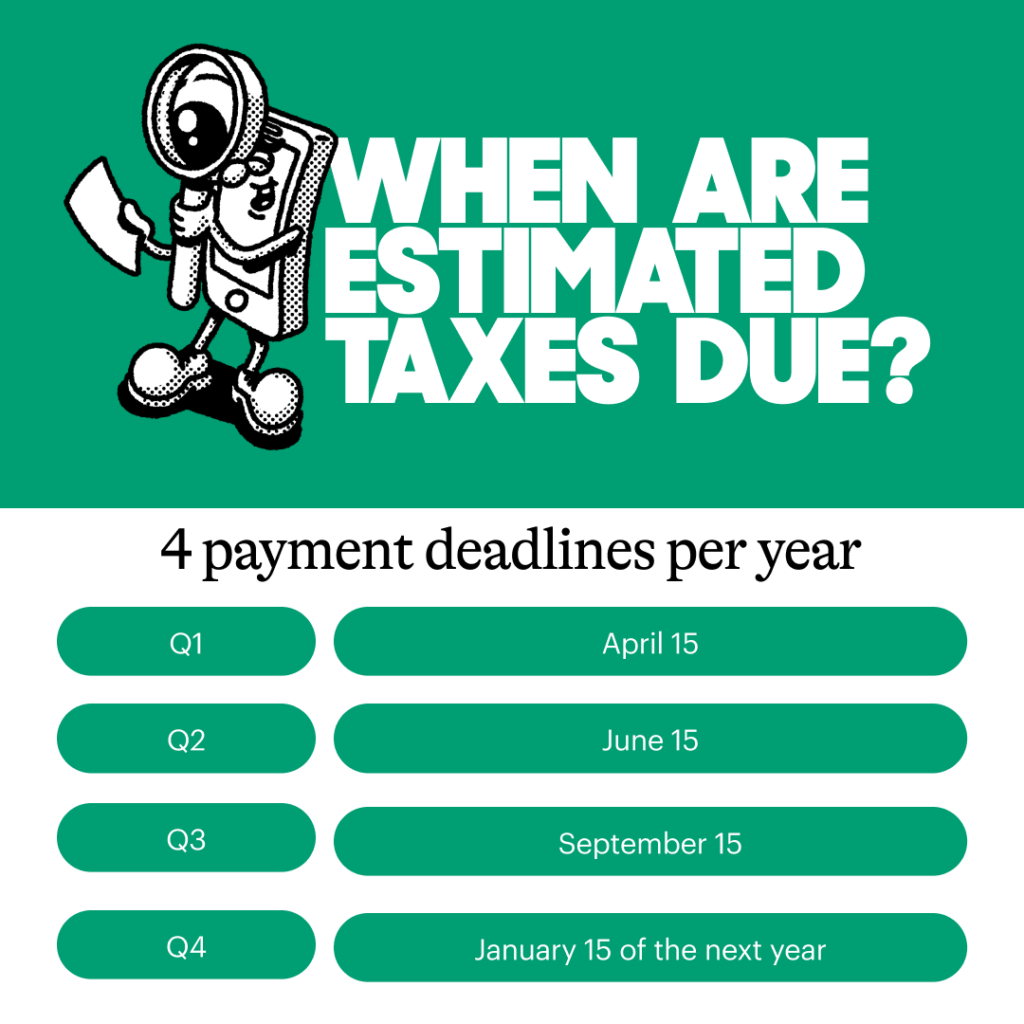 Paying your taxes annually can be difficult for small business owners and self-employed individuals. You have to set aside an estimated amount of money for your tax return, often much larger than expected. It can hit you hard if you don't account for typical items withheld on a traditional paycheck, like Medicare and Social Security.
That's why the IRS recommends that most self-employed workers pay their taxes quarterly. You generate an estimate using Form 1040-ES and pay the IRS as you go. Doing this helps you avoid penalties for not saving enough of your annual earnings.
Read more: Self-employed tax withholding explained.
Find deductions and lower your taxes
You can lower the amount of taxes you pay by utilizing deductions. A deduction allows you to subtract from your taxable income, so your taxable income is smaller. This translates to a smaller amount of taxes owed to the IRS.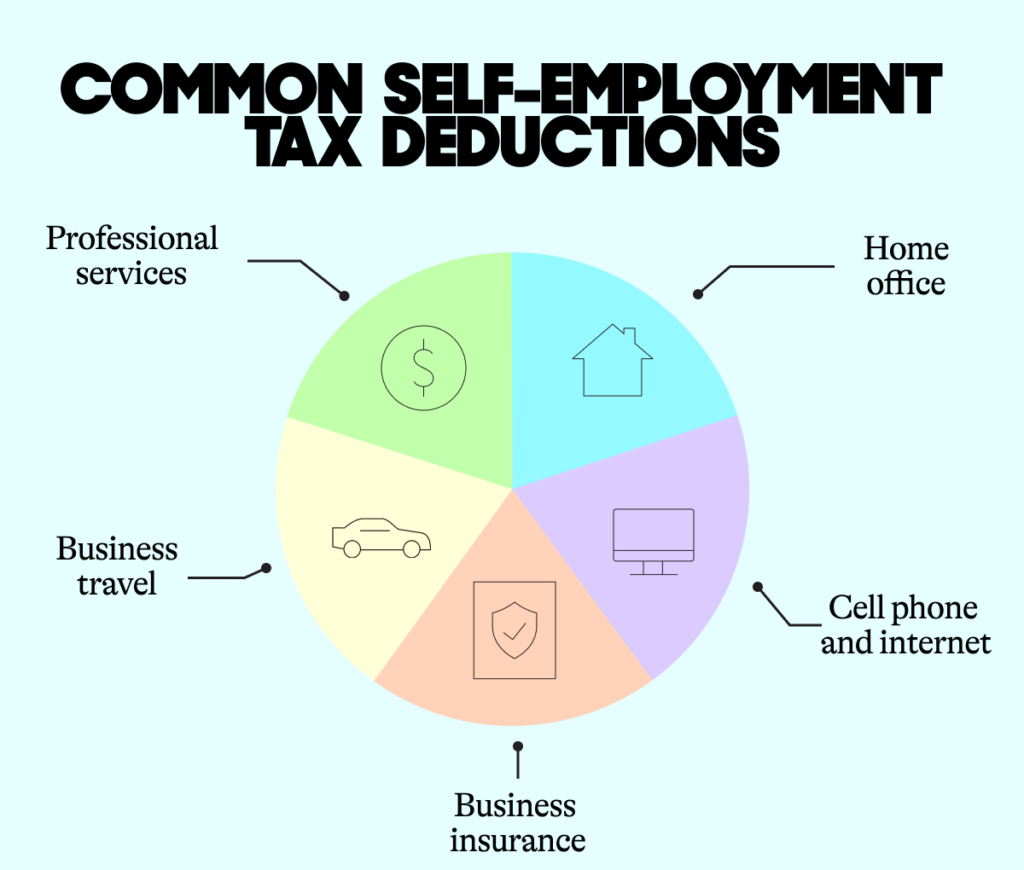 There are many relevant deductions for self-employed people and small businesses. The hardest part is knowing about them. An experienced tax professional can help you maximize deductions and plan for future tax years. Here are our guides on tax deductions that we put together for small businesses.


Filing your small business taxes
If you did the prep work, filing your small business taxes is a breeze. You won't have to overhaul your financial records or get organized.
Find the correct tax forms
Depending on how you file your taxes – paper forms, tax software, through a tax professional – assembling your relevant forms needs to come first.
The IRS website is an excellent resource for downloading small business tax forms.
Tax software will auto-populate your information onto the appropriate tax forms. So you won't have to worry about searching for the proper tax form.
A tax professional can guide you through which steps to take.
Get an EIN
An Employer Identification Number (EIN) identifies your business entity. You may already have an EIN when you established a business. But you must put your EIN on your tax forms as you fill out the information. You can apply for a free EIN through the IRS if you don't have one.
File your small business taxes
Every small business must pay taxes, but not all small business taxes are the same. Here are the five types of business taxes you may have to pay when you file your small business taxes.
Income tax: You have to pay tax on your business's income, but how you do this will vary based on the business entity you choose to operate.
Estimated tax: Estimated tax is a combination of income and self-employment tax.
Self-employment tax: Many self-employed small business owners don't pay Social Security and Medicare tax through withholding, so they pay this tax through self-employment tax.
Employment tax: There are additional taxes related to having employees, including payroll taxes.
Excise tax: certain kinds of services and goods require an additional tax. For example, you may have to pay an excise tax on fuel if you operate a trucking company.
Read more: How to file self-employment taxes – step by step
Lean on small business experts for help
If it's your first time filing small business taxes, we recommend contacting a small business tax professional for help. Small business experts understand the complexities of operating a business and the challenges ahead.
Surround yourself with small business experts. At NEXT, 420,000 small businesses trust us for their business insurance coverage. We help business owners start and grow their businesses with our easy online tools that can help you get a quote.
Start an instant quote and get an online insurance quote in minutes.