The restaurant industry has been transformed by technology in the past year as diners have grown accustomed to ordering online and contactless pickup. While you might not be ready to invest in a robot to bring food to your customer's cars, there are a host of digital tools to answer the current challenges of owning and operating an eatery.
By finding the right cloud-based restaurant management software, you can not only improve your customer's experience, you can also find and keep new employees and improve your margins. Cloud software is easily customizable, more cost-effective and not tied to a single device like traditional tools.
If you're thinking about exploring new technology, here's a look at the digital tools that are the key to running your restaurant.
Quick jumps
Customer service has gone digital
Want to keep current customers happy and find new regulars? Consider options for digital orders both in and out of your dining room. Here are four pieces of technology making a real impact on customer service:
1. Mobile takeout order apps
Whether it's curbside or counter pickup, there's an appetite for food to go. A recent Deloitte study showed that 60% of people had ordered takeout at least once a week, which has more than doubled in the past year and tripled since the start of the pandemic. An app ensures ordering from your restaurant becomes a weekly habit that's hard to break.
2. Connecting online ordering with your point-of-sale system (POS)
If you have a high volume of delivery orders, restaurant software that syncs multiple third-party delivery services and your POS system is crucial for managing orders and the flow of your kitchen. With an order aggregator, you don't have to be overwhelmed when you experience a spike in sales, and you can learn how to adjust your staffing levels to demand over time.
3. Contactless ordering and payments
Take a page from fast-casual restaurants that lets diners order and pay from their table with a few clicks on their phone via an app. According to Deloitte's study, almost two-out-of-every three customers would prefer to order this way for one simple reason: it's convenient. Also, unlike QR codes, an app doesn't have to be static.
4. Rethink reservations and your waitlist
By taking reservations online or automating your waitlist, you can help provide a better picture of your dining room to customers. Both types of digital tools come with automatic reminders saving your host valuable time and managing your customer's expectations. They also make the flow of sales more predictable.
Look closer: See if a given app or digital platform offers a loyalty program or ways to capture customer information, so you can develop targeted marketing strategies and turn diners into regulars.
Your POS system can centralize management tasks
Your point-of-sale software used to be a clunky touchscreen that handled incoming orders and kicked out credit card receipts. It sat somewhere between the drink station and the counter where staff folded pizza boxes.
Today, restaurant POS software platforms can handle many tasks, from hiring to ordering to marketing. And POS systems are now often portable, available on a tablet that moves with a server around the dining room or rests in a fixed holder with a cashier.
Robust POS system software can tell you lots of information about your daily sales and customers. You'll want to balance the value of that information against re-training your team on a new system and the cost of the platform.
Here are some of the key features if you're considering a technology upgrade:
Onboard new hires
When it comes to hiring new employees, you need a system that makes it simple for them to start working. New hires can fill out paperwork digitally before they start, so you can focus on training and getting them out on the floor sooner.
Manage payroll
While you might opt for separate restaurant accounting software, POS systems can often tabulate hours and generate payments for your staff. You can get a quick glimpse at your costs while knowing exactly when an employee is getting paid.
Track sales transactions and information
Get a better handle on the daily sales and average customer check amount. Then, use that data to examine your cash flow and determine whether your customers prefer to dine-in or get takeout.
Develop targeted marketing campaigns
With some POS systems, you can see how often someone visits your restaurant, what they order and how much they spend. You can take that information, in turn, and create marketing campaigns to entice them to come back for the butternut squash ravioli they love.
Keep an eye on costs: POS systems can be expensive. Make sure you understand the costs associated with each transaction, as well as whether you'll have to purchase additional hardware (tablets, stands or card readers) for your restaurant.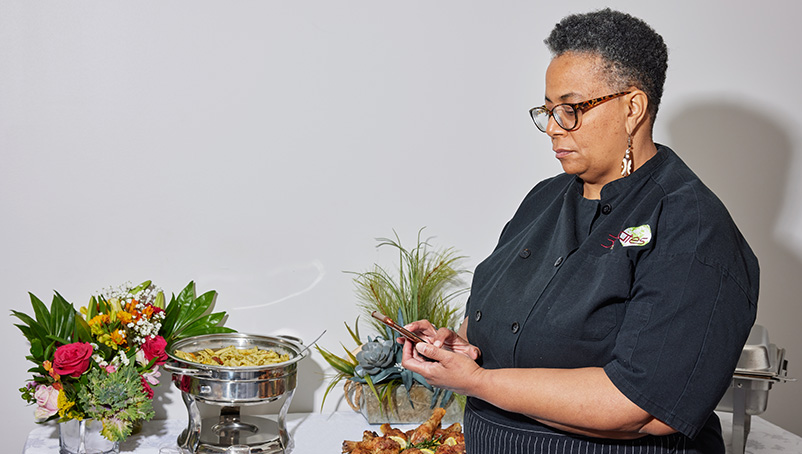 Scheduling apps can help you retain employees
The current labor shortage doesn't just make it hard to find people; it can also make it difficult to retain talented employees. That's why you might consider cloud-based scheduling programs that support your team by improving communication.
Restaurant scheduling apps can also eliminate one of your biggest headaches: getting shifts filled. Instead of a (potentially inaccurate) whiteboard or a spreadsheet in a locked manager's office, chefs and servers can use scheduling software to see shifts in real-time. They can choose how they want to be updated – whether that's a text or email – if there are changes.
Better communication around scheduling lets your team rely on each other and builds trust. With some scheduling tools, you can even opt-in to allow your employees to swap shifts, empowering them to solve problems themselves — one less task on your to-do list.
When everyone is working with the same, accurate information, you can find replacements faster when emergencies happen. You'll understand immediately who is available from your current pool of workers. Digital tools help you become more responsive to your employees, which will help build a relationship with new hires and long-standing team members.
Keep in mind: Look to see if your scheduling software includes an option for timesheets, if you need to track employees' hours or know when your team clocks in and out.
Inventory management is cost management
With uncertainties in the supply chain and rising ingredient costs, managing your inventory could be the difference between making a profit and losing money in the coming year.
Inventory management software gives you data to avoid overstocking or understocking ingredients because you know exactly whether or not the fish is selling. You can also know when you might have to raise menu prices or switch out an item if costs are too high.
As a bonus, inventory management tools give you insight into labor costs, making sure you have as much staff as you need for prep without being overstaffed.
Pro tip: Make sure you can integrate any new software with your POS system or accounting software.
NEXT is the digital answer for restaurant insurance
Digital tools will help streamline your business, just like the right insurance coverage. At NEXT Insurance, we created a digital solution to provide customized restaurant insurance packages to match the exact needs of your business. 
You need a business that can keep up. That's why our online application lets you get a quote, choose a policy, and get your certificate of insurance in a process that can take less than 10 minutes.
Want to know more? Our team of licensed, U.S.-based insurance professionals are ready to help.
Get a free quote today.