Property managers play an essential role in local real estate markets. Once sales are done, it is the property manager who takes care of the building and grounds. Typically, he or she also handles the building's budget and may recommend rental and sales rates to the owner.
Many property managers obtain specialized certification. However, according to the Bureau of Labor Statistics, official licensure is only required in eight states and the District of Columbia. Many people ask, do property managers need a real estate license? The answer is often yes — but it depends on where you live.
Working as a property manager
Property managers may work for residential or commercial properties. They typically handle all aspects of on-site maintenance, as well as the financial aspects of the complex. That includes collecting rent, handling payroll, showing the property to prospective renters and paying the bills for repairs and landscaping.
They also handle all complaints from tenants or members of the community. The property manager is the first point of contact for most issues to do with the building, including compliance with anti-discrimination laws when it comes to unit accessibility and entering into tenancy contracts.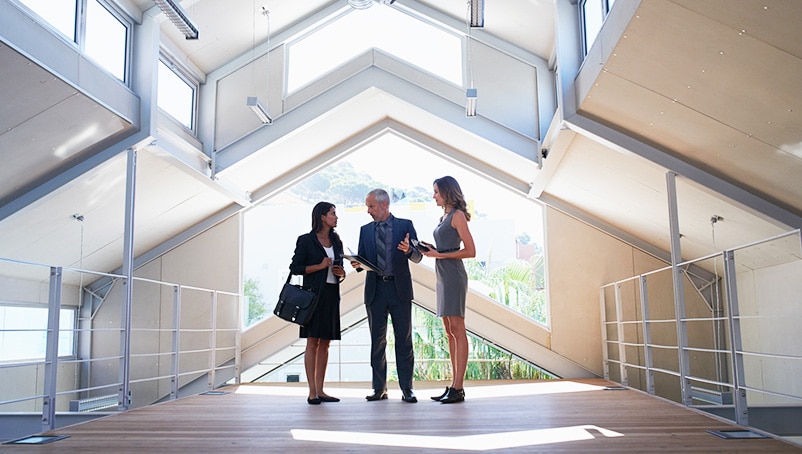 Real estate agent education
In Alaska, Delaware, Florida, Georgia, Hawaii, Illinois, Nevada, Virginia and the District of Columbia, property managers must get a specific license. The requirements vary according to each state, but typically you must have a real estate license before getting a permit to work as a property manager. You might also have to get an education specific to property management, but that also depends on where you want to work.
Take Nevada as an example. Prior to applying for a property manager permit, you must have a Nevada real estate license and complete 24 hours of pre-licensing education for property management. By law, those 24 hours of classroom instruction must include specific topics that cover the legal, administrative and financial aspects of being a property manager.
In Florida, by contrast, you need a real estate license to be a property manager, but there is no specific property management license. In California, you do not need to be a real estate agent to be a property manager, but the California Association of Realtors offers optional Property Management Certification, designed for real estate agents who want to develop a property management business.
If you are a property manager who also buys or sells real estate, you must have a real estate license — regardless of where you live in the U.S.
Although you may not need to get a property management license, you may choose to get certification through an organization like the National Association of Residential Property Managers (NARPM). This gives the graduate access to a network of fellow professionals and perhaps a leg up when seeking employment in the industry.
However, NARPM certification does not necessarily meet the property management license requirements in every state — check your local rules before signing up. Nevada, for example, has a list of approved schools where one may obtain real estate or property management education.
If you try to work without a license where that is required, you may face legal action. In Nevada, you can be fined for acting as a property manager without a license. That's why, in all states, asking "do property managers need a license?" is always a sensible question.
Licensing routes for real estate agents
So, if you do want to become a property manager, you should contact your local state real estate division and ask how to get a property management license. You can typically find this information on the state attorney general's website. Getting a license usually entails a few specific components:
Completing specific education
Passing a licensing exam
Filling out a state application form
Paying a fee
You will have options of where to get your education. Even states like Nevada, which has a list of authorized schools, offer a selection of online and offline courses.
Start with your state's list of approved schools for real estate management licenses. You can then select one that allows you to get your property management license online if that's your preference.
Starting your property management business
Once you have determined how to become a licensed property manager, you may want to think ahead about what you need to run your business. Many managers join an existing firm to learn the ropes before striking out on their own. Here are some things to think about, such as developing a business plan and researching the appropriate licenses or permits.
Purchase business insurance
To protect yourself and your business activities, it's a good idea to get property management insurance. This includes a number of different policies that may apply to your work. For example, if you hire employees, you may be required to buy workers' compensation insurance. Business insurance can cover you for losses that range from injury to others on your property to loss of income in case your business is interrupted for a period of time.
To protect your company against lawsuits and accidents that happen to other people's property, you'll benefit from general liability insurance. This type of policy gives you coverage for a number of different types of liability. That may include when you unintentionally damage another person's property while on the job, or when someone is hurt while visiting your business.
Of course, a lot goes into starting a business as a property manager. You can find assistance through relationships with colleagues in the industry. NARPM has a list of approved mentors who can help you get your footing in the profession, especially as you are on the path to specialized certification.
Property management can be a lucrative and exciting career. Get started on the right path by learning all you need to know about education, licensing, and the tools you need to build a solid business.
How NEXT helps property managers get the insurance they need
Every business is unique. At NEXT, you can mix and match policies to create a customized property management insurance package based on the specific needs of your business. Choose from general liability, workers compensation, error & omissions, commercial property and commercial auto policies.
Our online application makes it easy to review coverage, get a quote and purchase a policy in less than 10 minutes.
If you have questions or need help during the process, our licensed, U.S.-based insurance professionals are available to help.
Get your free online quote today.