Working as a nail technician can be a very rewarding job. Being a nail technician is ideal for anyone who enjoys making others look and feel beautiful.
To be a successful nail tech, you'll need to know:
How to care for the customer's hands and feet

How to recognize a problem that needs medical attention

How to use tools and chemicals safely, such as clippers, nail files and nail polishes

How to clean the tools you're using between customers

How to make your client feel comfortable
To become a nail technician, you'll need to complete nail tech training and get your nail technician license. Those are two separate processes you have to undertake in order to start off your career.
What are your nail technician training options?
You can learn nail tech as a full or part-time student on a state-approved training program or apprenticeship program.
Your local college or cosmetology or beauty school may offer training programs, which teach both the ideas you need to understand as well as practical work. Make sure the program is fully approved by NACCAS (the National Accrediting Commission of Cosmetology Arts and Sciences). Many nail technician courses also require you to get experience in a salon before you can graduate.
Apprenticeship programs are taught in accredited nail salons. Experienced nail technicians teach you the techniques and knowledge you need to know. As you improve, you'll work with customers for hands-on training.
Because nail tech requires so much practical work, you can't do all your training online. Some courses are taught partly online — for example, you might learn nail care theory and nail health online, but then come into campus for practical sessions.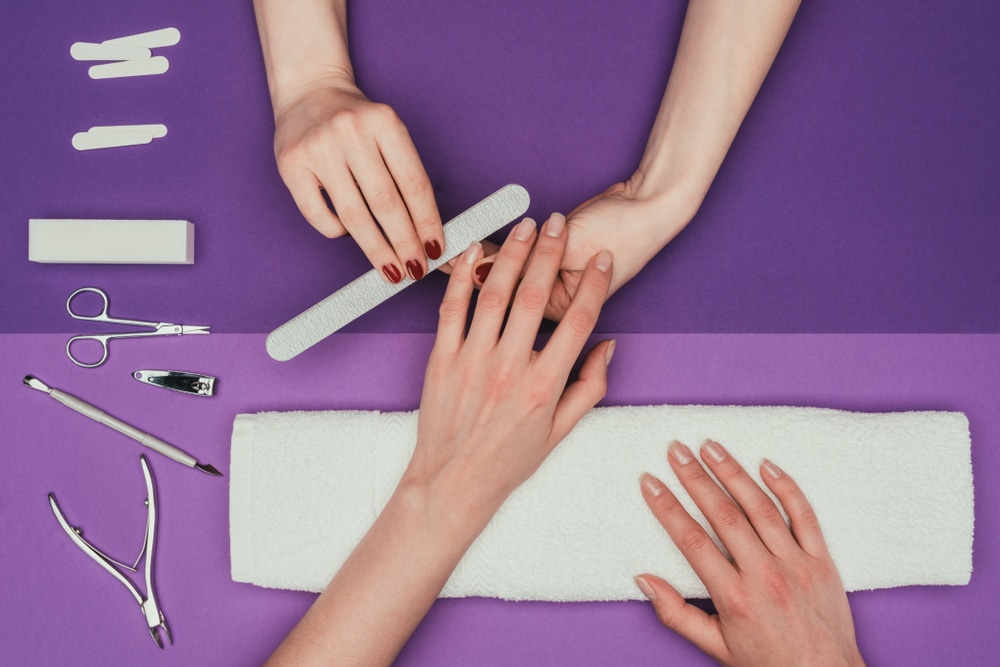 How to get your nail technician certification
In most states, in order to get your nail technician certificate, you'll need:
To be at least 16 years old

To have your GED or high school diploma

To graduate from a state-approved training or apprenticeship program

A

minimum number of hours

of practical experience

To pass a

state board exam

or

NIC

(National Institute of Cosmetology) exam, or meet the state's requirements for apprenticeship hours
There are some variations between states. For example, Connecticut is the only state that doesn't have any licensing requirements for nail technicians. In Florida and Illinois, you don't have to pass an exam, just show that you've completed your training. It could vary in your state, so it's wise to check into local regulations.
You can apply for a nail technician license online or at your local government office by completing the forms and paying the license fee. The nail tech license cost is different in each state.
How to prepare for nail tech license exams
You'll find plenty of video and study guides for your nail technician license exams. There are also practice exams from the NIC or other institutes. The more experience you get, the more confident you'll feel about your nail tech certification exam.
How much does nail tech school cost?
The cost of nail tech school depends on:
How many hours of training you'll get

Where it is — courses in New York City cost more than courses in rural areas

Whether it's a specialized nail tech course or a full cosmetology program

What supplies and equipment are included in the course
Most full nail tech programs cost around $3,000 to $5,000, including textbooks and supplies. Some cost up to $9,000. If this is more than you can afford, see if you qualify for financial aid.
How to renew your nail technician license
In some states you'll need to renew your license every 12 months, in others every two to three years. The state board will usually send you a reminder before your license expires, telling you what to do to renew it. Usually, you'll just have to complete the form and pay the renewal fee to renew your license.
It's illegal to work as a nail technician after your license has expired. If your license expires and you forget to renew for a long time, you'll probably have to do the exam again to get a new license.
Your next steps as a nail technician
Once you finish your nail technician training program, pass your licensing exam and get your nail tech license, you're ready to start work! Here are your next steps:
Buy

nail technician business insurance

! Having your own business insurance shows that you're professional, covers you in case something goes wrong, and makes it easy for you to work in any salon.

Decide whether to work in a salon or set up your own business

If you choose to open your own nail tech business, you'll have to:

Pick a business name

Create a business plan

Open a business bank account
How NEXT Insurance helps nail technicians
At NEXT, we make it easy to get the nail tech insurance you need to protect your business. Our customized insurance packages allow you to mix and match policies to get the right amount of coverage.
Our online application streamlines the purchasing process. You can apply, get a quote, see policy options and purchase coverage — all in less than 10 minutes. When your purchase is complete, you'll have immediate access to your certificate of insurance.
Get an instant quote today.