If you've decided to become a personal trainer you've made a big decision. It's great to be able to use your love of fitness and health to help other people and becoming a personal trainer will give you all the right tools to be able to do that. Now, you need to take the next step of deciding which personal trainer certification program to join. Choose according to the features of the program, the cost, the prerequisites, and the recertification requirements. Here we'll take a closer look at the International Sports Sciences Association (ISSA) and their program. Use this guide to decide if the ISSA personal trainer certification program is right for you. You can also take a look at our 
ACE certification review
, 
AFAA certification review
, our
 NASM certification review,
 our 
AFPA certification review
, our 
NFPT certification review
 and our  
NSCA certification review
 for help making this decision.
About ISSA
The ISSA was founded in 1988 and over the past 30 years, they have certified more than 200,000 trainers in more than 90 countries. It has become a leader in fitness education, offering 12 fitness certifications, along with advanced programs, although their personal trainer course is their most popular. The ISSA is the first and only fitness organization that is accredited by the Distance Education Accrediting Commission (DEAC) who has also approved all its educational programs.
The Program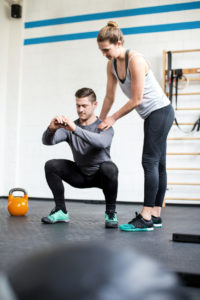 The ISSA Personal Trainer Certification course allows you to study at your own pace, with all study materials and testing available online. Despite being a fully online program, there is unlimited educational support and customer support available before and after you're certified. The course material includes:
Program Development
Physical Fitness and Health
Kinesiology and Biometrics
Anatomy and Physiology
Nutrition
In addition to the study materials, the program also includes practice examinations, a marketing and business guide, an online student forum, an online exercise lab with 250 animated 3D exercises, and a free professional website to support their certified personal trainers. The final exam can be taken from anywhere (including from home) and it is an open-book, untimed exam that can be completed over multiple sessions. You must score 75% or higher on the final exam to become certified. You have four months to complete the coursework, with some extensions available if necessary. There is also a guided study program that offers structure with weekly tasks, smaller units, and multimedia lectures that help you finish the course work in 10 weeks.
Prerequisites
To be eligible for the Personal Trainer Certification course, you must have a current
Adult CPR and AED
certificate, and hold a high school diploma or the equivalent.
Pricing
The ISSA Personal Trainer Certification course costs $599 with interest-free payment plans available to those who enroll online. A guided study program is available for a full price of $299. If you fail any section of the exam, you will be able to retake that portion at no cost. If you fail again, to retake any sections beyond the second attempt, will cost $50. You are required to complete the course material within four months, although a two month extension can be requested at no extra charge. An additional two month extension will cost $99. If you still don't complete the course in time, you will need to re-enroll in the course.
Special Certifications
Besides the popular ISSA Personal Trainer Certification course, the ISSA offers a number of other courses and certifications that can boost your knowledge and skills to give you a step up in the industry. These courses include:
Corrective Exercise Specialist - Learn how to correct common movement dysfunctions.
Fitness Nutrition Certification - Learn how to combine nutrition and exercise for ideal results.
Specialist in Group Fitness - Learn how to design and lead group fitness training sessions.
Exercise Therapy Certification - Learn about fitness and exercise for post-rehab clients.
Senior Fitness Certification - Learn how to develop and implement exercise programs for seniors.
Youth Fitness Certification - Learn how to design fitness programs that are safe for children and adolescents.
Strength and Conditioning Certification - Learn to develop training programs that will help professional and amateur athletes excel at their sport.
There are also advanced certification programs that are ideal for personal trainers who are looking to advance their business. These include the Elite and Master Trainer Certification Programs. These are comprehensive programs that teaches personal training, fitness nutrition, and programs for special populations. They include lessons on assessment, training and motivation for the general population, youth, seniors, athletes and those with chronic conditions.
Recertification
All ISSA personal trainers must renew their certification every two years. You will need to pay a renewal fee of $99, complete 20 Continuing Education Units (CEUs) and show proof of a current CPR/AED certificate. If all 20 CEUs are earned through ISSA, the renewal fee will be waived.
ISSA Certification and Your Business
With your ISSA personal trainer certification under your belt, you will be ready to start your business as a personal trainer. This involves finding a gym or training space to work in and getting your
personal trainer insurance
organized. A comprehensive, affordable and easy-to-use insurance policy will allow you to follow your dreams of training clients to achieve their best, without having to worry about accidents that might impact your business. Once this is all sorted out, you'll be ready to take on the industry!