If you work in certain professions or types of jobs, you'll be regularly asked for a certificate of insurance or COI, whether it's by a potential partner, client or commercial landlord.
A COI shows your insurance coverage. Think of it as a snapshot of information with your business insurance limits, deductible and more. This document is often requested in some industries. It may make the difference between being hired or not for a job.
While NEXT customers already have access to their live certificates 24/7, our newest innovation — the COI Analyzer — makes getting the certificates you need even easier.
We're excited to launch this feature because of how much faster our customers will get the COIs they need. "The COI Analyzer makes getting certificates a breeze. With it, we continue on NEXT's path to simplify insurance for small business owners and help our customers thrive," said NEXT product manager Hasse Lienert.
NEXT's COI Analyzer is a new, simple way to generate custom-made COIs. Even better, these COIs, which can be personalized for specific needs, can be generated in under a minute.


"A customer simply uploads or takes a picture of a sample document, and we take care of the rest. Within seconds, a customer can review that everything looks correct and go ahead and use their new certificate. As far as we know no other insurance carrier matches this ease of use," Lienert says.
Let's dig into why this matters and how it will help you.
Why are certificates of insurance important?
Sometimes having business insurance isn't just a nice to have.
Depending on your profession, it can be a requirement to get hired for jobs. Showing proof of insurance is so vital that it's often requested as a first-step prerequisite before anything else happens.
For example, if you're a contractor, many clients will want to see your proof of insurance before letting you so much as pick up a hammer.
The same goes for fitness professionals. Say a fitness studio owner asks you to fill in for a sick yoga teacher. There's just one catch: You must bring a COI to the studio.
This is where an easily accessible COI comes in handy. Having proof of insurance available to show in a flash goes a long way in showing your suitability and professionalism for jobs.
How the COI Analyzer helps small business owners
But accessibility isn't always enough. For some businesses, a new and personalized COI is required for every single job. In fact, based on our own internal data, we know that some construction business owners share COIs nearly 200 times a year.
In 2022 alone, on average, NEXT's customers created 16,314 COIs per month, with 9,215 coming from construction businesses, 1,204 from retail and 984 from cleaning professionals. If every single one of those COIs needed to be customized, that's a lot of time spent inputting data and completing a COI.
However, in under a minute from start to finish, the COI Analyzer speeds up the process, eliminates errors and ensures a modern experience. Customers only have to upload a sample certificate, and they'll receive an automatically generated COI within seconds via the 24/7 self-service portal on desktop or mobile app.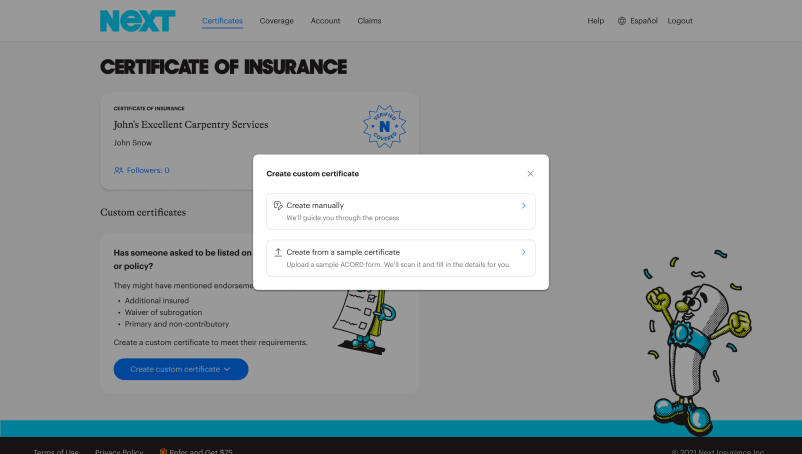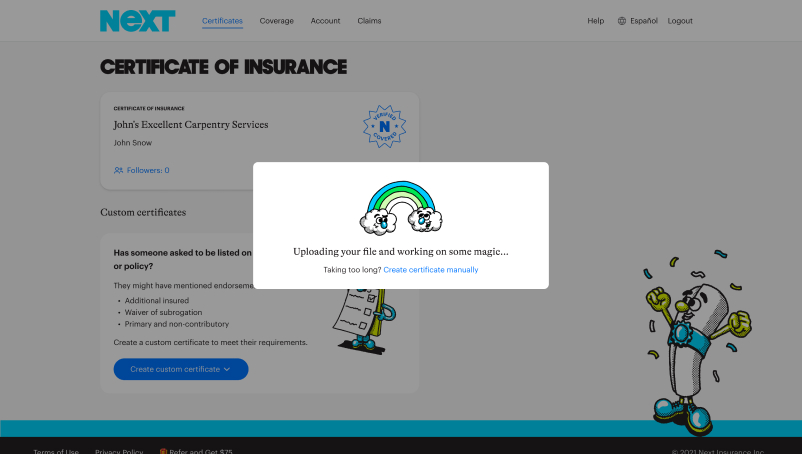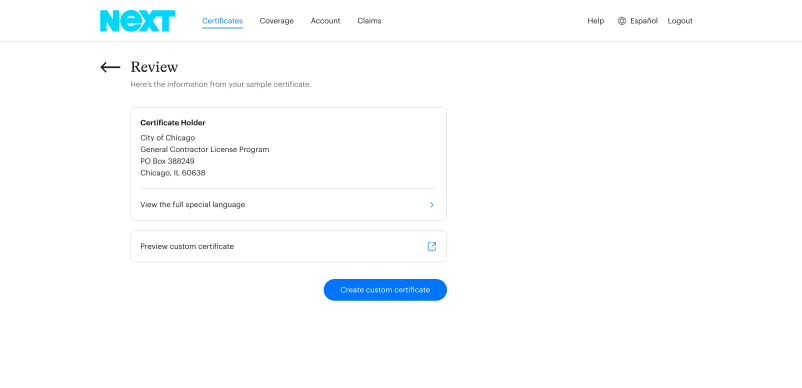 The COI Analyzer also benefits insurance agents who regularly receive COI examples from customers reviewing new job opportunities. Agents must both verify that their clients have the correct coverage and also create their COI for them. NEXT's new feature can now save agents time on both fronts.
NEXT's COI Analyzer: What's under the hood?
Because NEXT is committed to helping solopreneurs and small business owners thrive, we're always looking for ways to simplify and streamline insurance processes so customers can get back to running their businesses.
So when we saw the inefficiencies in getting a custom COI — such as contacting an agent to request one and dealing with slow turnaround times — we knew technology could do the heavy lifting.
"The COI Analyzer is built on state-of-the-art OCR (Optical Character Recognition) and object detection models, fine-tuned with our in-house machine learning expertise. Building the tool in-house allowed us to tailor it to our customers' needs and integrate it seamlessly with the customer portal," said Yuxi Chen, machine learning data scientist at NEXT.
Our Analyzer uses advanced machine learning models that read the sample document using OCR and an Object Detector Network. Or, in simpler terms, it converts an image's text into a machine-readable text format. If you've ever deposited a check via snapping a photo with your phone, it's the same type of technology.
"One of the interesting challenges we faced during the development of the COI Analyzer was finding a way to handle the wide variety of document layouts that our customers were using," says Chen. "To overcome this, we had to develop a flexible parsing system that could handle a range of different layouts."
After uploading a sample certificate, NEXT's COI Analyzer can accurately extract and understand the certificate holder details, including any special requirements listed in the sample certificate.
Get the certificates of insurance you need anytime, anywhere
We don't think insurance should be time-consuming or frustrating for small business owners. After all, you've already got a lot on your plate, so we want to make getting a COI whenever you need it as easy as possible.
NEXT offers flexible, no-hassle business insurance: You can get a quote, compare options and get your certificate of insurance online with NEXT in less than 10 minutes. And if you need to learn more, our online resources and licensed advisors are ready to help.