In Georgia's warm, humid climate, keeping cool is a top priority. According to the U.S. Energy Information Administration (EIA), nearly all homes in the state have air conditioning.1
With weather that swings from hot and muggy in the summer to nearly freezing in the winter, Georgia HVAC contractors are in high demand. In fact, the U.S. Bureau of Labor Statistics ranks the Atlanta metropolitan area among the geographical locations with the highest employment rates for HVAC professionals in the country.2
Heating and cooling is big business in Georgia. But to work as an HVAC contractor in this state, you'll need a license from the Georgia Construction Industry Licensing Board's Division of Conditioned Air Contractors.3
The process to become licensed involves a number of steps, including passing an exam. Follow this guide to learn more about how to get an HVAC license in Georgia, including:
Do you need a license to be an HVAC contractor?
If you're hoping for a loophole in the licensing requirement, you're out of luck. All Georgia HVAC contractors must have a license.
This has been state law since 1949, and it applies to any individual who works in the "business of conditioned air contracting as a conditioned air contractor."4
Georgia HVAC license requirements
The following is an overview of the general Georgia HVAC license requirements:
Four to five years of documented work experience
Three professional references
A passing score of at least 70% on the HVAC contractor exam
Application and exam fees
Georgia business insurance, specifically workers' compensation and general liability insurance
A $10,000 cash or surety bond
More details on these requirements can be found in this guide.
Georgia HVAC license classifications
Georgia offers two types of HVAC licenses for contractors:
Class I Restricted
This license limits HVAC contractors to working on equipment that does not exceed 175,000 BTU of heating and 60,000 BTU of cooling. You need four years of documented experience for a Class I license.
Class II Non-restricted
HVAC contractors with a Class II license can work on any type of heating and cooling equipment. To qualify for this license classification, you must show five years of work experience that includes installations of conditioned air systems exceeding 175,000 BTU of heating and 60,000 BTU of cooling.
EPA license requirement
When you apply to become a licensed HVAC contractor in Georgia, you'll also need to show that you have a Type II or higher certification from the Environmental Protection Association (EPA). This certification demonstrates that you've been trained to handle refrigerants properly according to the Section 608 of the Clean Air Act.5
How to get an HVAC license in Georgia
To get your license, you need to complete three steps:
Step 1: Submit your application
Step 2: Submit an exam scheduling form
Step 3: Pass the exam
Let's dig into what you need to do for each step.
Step 1: Submit your application
The application includes the following sections:
Personal information: Include your name, Social Security Number, address, etc.
Qualifying licensee registration: Indicate whether you will serve as a qualifying licensee for a conditioned air company.
Experience record: List the details of your past employment.
References: Provide three notarized reference forms from professionally licensed individuals with knowledge of your work experience.
Education: Submit proof of your education in the field, such as completion of a certificate program from a vocational/technical school and a copy of your EPA card showing Type II or higher certification.
Personal history: Answer questions about previous licensing in other states (if applicable) and include a criminal background check.
Applicant affidavit: Submit a copy of your driver's license, passport, immigration papers or other related citizenship documents.
In addition to the completed application, you'll also need to submit a $30 non-refundable application fee. You must also pay a $5 processing fee to submit your application online or a $10 processing fee to submit your application by mail.
Step 2: Submit an exam scheduling form
If Georgia Construction Industry Licensing Board determines that you are eligible to take the HVAC contractor exam, you'll receive instructions on what to do next, including:
How to register for the exam
What to review in preparation for the exam
How much you'll need to pay for the exam
Follow these instructions to select your exam day, time and location and submit your exam scheduling form. Fees vary based on the type of license you're pursuing.
Step 3: Pass the exam
You'll go to a PSI/AMP testing location to take the exam via computer. If you pass, the Georgia Construction Industry Licensing Board will update your status on their website. If you fail, you'll receive information on how to retake the exam.
How long does it take to get your HVAC license in Georgia?
After they're received, most applications are processed within 20 business days, although processing times may vary according to application volume. Incomplete applications take longer, so make sure to include all necessary documents when submitting your application.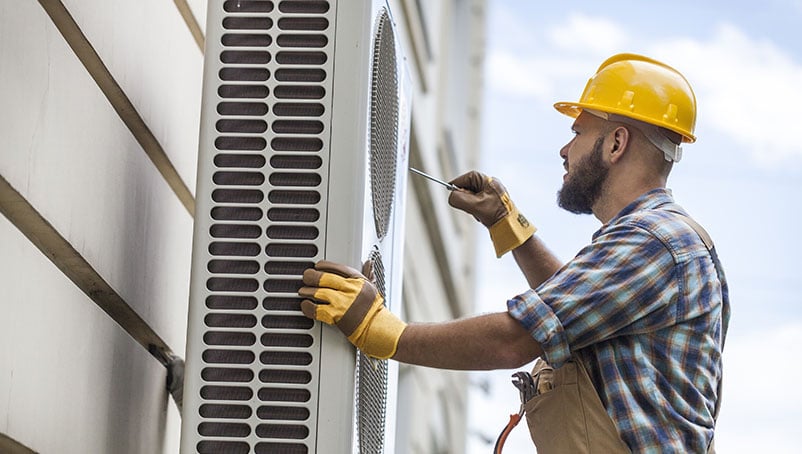 HVAC license renewal requirements
You must renew your Georgia HVAC license every two years to keep it active. To renew your license, you'll need to:
Pay the license renewal fee: Currently, the renewal fee is $75.
Complete continuing education courses: Georgia HVAC contractors must complete at least four hours of continuing education courses per year. You'll need to provide documentation with your license renewal application.
Georgia HVAC license reciprocity
Georgia HVAC license reciprocity may be available for licensed HVAC contractors from the following states:
Louisiana
Texas
South Carolina
When applying, you must include a certification letter from the state board verifying that you have an active license and passed the state's HVAC contractor exam.
License bond requirements
Georgia HVAC contractors must secure a $10,000 surety bond. Check with your local county government to find out how to submit proof of your bond.
What kind of insurance does an HVAC need in Georgia?
Consider getting the following types of insurance to help protect your HVAC business.
Workers' Compensation insurance
All Georgia HVAC contractors with three or more employees must have workers' compensation insurance. If you or one of your HVAC technicians gets hurt on the job, this insurance can help provide wage protection and other benefits.
General Liability insurance
General liability insurance in Georgia can help provide coverage if someone other than an employee claims that your company's actions caused them injury or property damage.
Tools and Equipment insurance
Tools and equipment insurance can help provide repair and replacement coverage for damaged or stolen work gear.
Commercial Auto insurance
Commercial auto insurance can help cover costs related to auto accidents, such as property damage and medical expenses.
Commercial Property insurance
Commercial property insurance can help provide coverage for certain causes of physical damage to property you own or rent.
What is the certificate of insurance requirement?
Georgia HVAC contractors must show proof of general liability insurance and workers' compensation insurance. You'll need to provide a certificate of insurance for each policy.
How NEXT supports Georgia HVAC contractors
At NEXT, we specialize in small business insurance for HVAC contractors and can put together a custom package based on your unique needs.
With our online service, it's easy to apply for coverage and get a certificate of insurance in just minutes. We also offer an unlimited number of digital certificates at no extra charge.
NEXT offers convenient and affordable service whenever you need it. We're available to help, and you can get things done quickly and efficiently with your easy-to-use online account.
Get an instant quote online today to take the next step in your HVAC career.
Looking for more information on what states require HVAC licenses? Check out our summary of HVAC contractor license requirements across the U.S.


Sources
1 U.S. Energy Information Administration
2 U.S. Bureau of Labor Statistics
3 Division of Conditioned Air Contractors of the Construction Industry Licensing Board
4 Conditioned Air Association of Georgia (CAAG)