It's not only true for carpenters, but it is true that the success of your carpentry business will heavily depend on you finding and using the best supplies. Quality products will lead to a more efficiently run business and to you delivering higher quality work to your customers.
Any customer who's ever had a piece of furniture fall apart knows the frustration of poor quality work, and anyone who's ever admired a beautiful custom bookcase built decades ago knows the difference. Clearly you want to be the kind of carpenter customers return to over and over again, known for outstanding work that stands the test of time.
But how do you know which carpenter supplies you'll need, where to get them, and what to look for when deciding between brands?
The following tips will help you choose the right tools to optimize your carpentry business' success.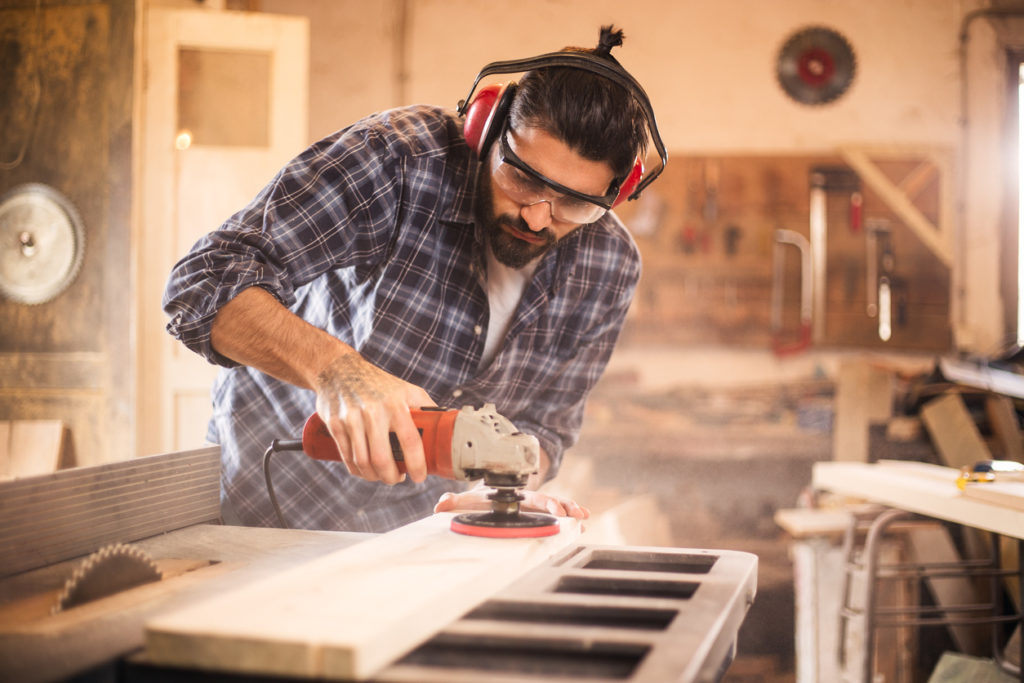 Understand the "Price vs. Quality" Debate
You don't have to spend a lot of money opting for one brand over the other – frequently, it's the tool's features and not the brand name or price tag that give a product its value, so be sure not to fall into the trap of thinking that a brand name means higher quality. You do want to consider the longevity of your tools. If you have to replace a tool soon after you bought it because of poor quality, then it wasn't worth the initial savings you received from buying a cheaper model.
Buying Tip:
You don't have to spend more money on a tool because of a brand name if a lesser-known name can give you the same reliability and features, but you should spend more on quality if it will last you longer and save you money in the long run.
Save Money with Multitasking Carpenter Tools
You may want to consider spending more money on a single piece of equipment because if it is multi-functional, and so it will save you money by not having to purchase several other pieces of carpentry equipment. For example, it might be more economical to spend more money on a handsaw because this is a multi-purpose tool, instead of buying several other types of saws for each individual task. In that case, you would be well-advised to invest in a more expensive handsaw since you will be using it for a lot more work.
Buying Tip:
Buy one tool that will work on multiple projects to save on buying several different tools to get the job done.
Buy the Right Carpenter Materials for the Job
It's often relatively easy to figure out which tools you'll need for a particular job. Most carpenters require hammers, saws, nails, etc. Don't be fooled into thinking that all tools in a single category are the same, though. For example, you need a hammer to complete most jobs, but you need the right hammer in order to facilitate a good finished product. If you buy a sledgehammer that is too heavy, the work will wear you out quickly and your end result will be sloppy. On the other hand, a hammer that is too light will not deliver sufficient power to produce smooth, even blows. A 20 oz. hammer is a good middle ground piece, but this may vary based on your work habits and projects. The point is that you need to consider your options and choose the one that will provide the most efficient tool to work with effectively.
Buying Tip:
Select the right tool for the jobs you generally accept for more efficiency.
Don't Forget the Details
While carpentry often requires heavy-duty tools, don't leave the smaller items off of your carpentry equipment list. This is true in all industries, but particularly with carpentry, and these smaller items can make all the difference. Things like clamps, the quality of nails, spirit levels, and even pencils are imperative to your carpentry business, so spend time considering the finer details of your projects before you get started. If you're mid-project and you run out of one of these items, you are likely to buy from anywhere that is closest or fastest on delivery so you can finish the job without delay. This could cause you to spend more out of desperation. Bulk ordering these items will work out much cheaper than buying them in smaller quantities from a local retailer. And since you use them all the time, they won't go to waste.
Buying Tip:
Buy regularly-used items in bulk to save.
Understand the Difference Between Carpenters' Equipment Warranty and Equipment Insurance
A product warranty is limited to malfunctions or faulty hardware. This means that even a good warranty will only cover you to a certain extent. Warranties are not always a great investment, either. Tools and equipment insurance, on the other hand, covers you a lot more thoroughly, insuring you against theft, damage, and normal deterioration (wear and tear). If you plan on using your carpentry materials frequently, then insurance is a good idea regardless of your warranty terms.
Buying Tip:
Don't solely rely on manufacturer's warranties. Cover yourself with a reliable equipment insurance policy, as well. In addition to an equipment insurance policy, you'll also want to make sure you have solid carpenter's insurance.
The Best Apps and Software for Carpenters
Any business that wants to succeed in the 21st century has to have some level of technological know-how. Even if you are working entirely with your hands, carving door frames and shaping wood pieces, there's software to help make your job easier and your business run more efficiently.
Here is a list of some of the best carpenters' apps to help you stay ahead of the competition:
iHandy Carpenter: Comes with five virtual carpentry tools including a bubble level, surface level, protractor, steel ruler, and plumb bob. At $1.99, it won't hurt your budget. Additionally, iHandy has a free level app that you can download as well. It may not be professional grade, but you never know when you may find yourself needing a level unexpectedly.
Basic Angle Finder: Helps you find any angle and make on the spot calculations. App comes complete with gyroscope and recalibration.
Tiny Flashlight + LED: This app is extremely helpful when you need better lighting and a closer look.
ConvertPad: An easy app for making quick conversions between units of measurement.
Photo Measures: This lets you take a picture and draw your measurements directly on the image, which can avoid costly mistakes.
Also look for apps to help you with advertising, social media management, client management, and zoning/permits. Consider these apps some of the important carpentry tools in your toolbox.
When and Where to Buy Your Carpentry Tools
If you aren't pressed for a particular tool, wait for it to go on sale. You can always rely on annual sales like holiday sales and Black Friday blowouts, or you can wait until the end of the season, and try to pick up several items for a fraction of the price.
These are the times to really stock up on tools that you might need both now and ones that you might need in the future. There are few things that are more time and budget-depleting than not having the right carpenters' materials on hand when you need them, so checking a few of these items off your carpenters' equipment list when prices are low can really save you a lot in the long run.