If you enjoy working with people and are fascinated by skincare and beauty, becoming an esthetician could be the career path for you.
Estheticians work with the skin, and their job is to make it as beautiful and healthy as possible. From skincare treatments and skin-refining technology like lasers, to applying makeup and advising clients on skincare regimens, estheticians are all things beauty when it comes to the skin, the biggest organ of the body and one of the most noticeable indicators of beauty and health.
Challenges and Benefits of Becoming an Esthetician
You won't be alone if you're considering becoming an esthetician.
As of 2018, the Bureau of Labor Statistics (BLS) reported there were about 71,800 estheticians, also known as skincare specialists, in the U.S. The profession will grow about 11% between now and 2028, with about 7,800 more estheticians needed. Estheticians don't need a college degree, and their job outlook is strong.
While the mean esthetician annual wage was $36,350 a year in 2018 according to the BLS, estheticians can establish their own businesses. Estheticians working in a hospital or medical office earned over $46,000 a year on average, and estheticians in Hawaii and Colorado, two of the highest paying states, earned over $50,000 a year in 2018, the BLS reported.
Estheticians should be comfortable working with people, and they can meet a lot of interesting people in the course of their work. If you're an aspiring esthetician with a family, you can also make your own schedule. Being an esthetician offers you the opportunity to have a flexible and non-traditional schedule. It's not a 9-5 office job.
Esthetician Requirements and Benefits Can Vary
You can also work in a non-traditional environment, and form partnerships with other beauty and health/wellness practitioners.
Estheticians also have opportunities to continue with ongoing education and training. New products, skills, and technology constantly emerge in the field of skincare and esthetics. It feels good to help people to look their best, so being an esthetician can be personally enjoyable and rewarding.
Like any professional, being an esthetician also has potential drawbacks. Skincare is important and the field is growing, but your business could be vulnerable to economic downturns. You may also need to build your own clientele whether you work at a salon or not. Some estheticians find it challenging to get established, especially if they've just completed their training and become licensed.
The flexible schedule that many estheticians enjoy also has a downside: you will need to work nights and weekends to build your business. And finally, you're working with the public, so you'll need to keep up a cheerful and professional appearance. You will need to "wear a smile" to work even if you're having stress in your personal life. Fortunately, a good esthetician training program can help you learn how to balance your personal and professional life.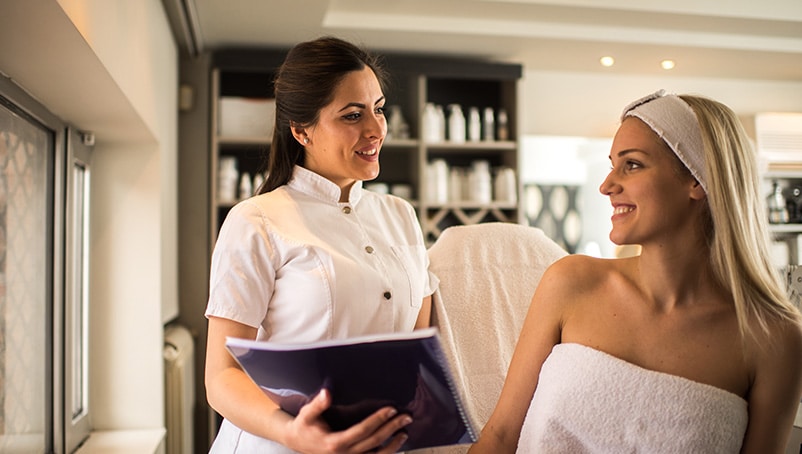 What Qualities Should Estheticians Have to Be Successful?
If you're investigating how to become an esthetician, you've probably already heard that estheticians need strong "people" skills, because they need to be able to interact successfully with all of their clients. They also need to be precise and have good attention to detail. Other important qualifications and esthetician requirements can include:
Creativity
Industry knowledge
Constant desire to learn and grow
Strong business ethics and desire to succeed
Licensing and insurance
Which Legal Requirements do Estheticians Need to Complete?
Until January 2020, in every state except Connecticut, you will need to complete a state-approved program of education to become an esthetician. Connecticut introduced a licensing requirement starting in 2020.
The program can be an online esthetician course. Cosmetology schools and esthetician-specific schools offer esthetician classes online, along with in-person programs in esthetics. The alternate path to becoming an esthetician is completing an apprenticeship. Apprenticeships are usually administered by state departments of labor and they are another formal way to get the training and experience you need.
How to Become a Licensed Esthetician
You can complete some of your requirements to become a licensed esthetician through online esthetician courses, which offer training and education.
After you complete your training and education, you'll need to fulfill your state's practice hour requirement before you take a state board examination to receive your esthetician license. How long does it take to become an esthetician? The number of hours varies. Different states require a different number of practice hours to qualify: for example, California requires 600 hours of practice for estheticians.
If you'll be operating your own esthetician business, you'll also need a local business license, including if you have a booth at a local salon or are part of a health and wellness cooperative business.
Although it's not a requirement, the National Coalition of Estheticians, Manufacturers/Distributors & Associations (NCEA) offers a national-level program that allows you to document your experience and receive national esthetician credentials and certification. The NCEA program offers a pathway toward advanced esthetics training.
How Can You Get Established as an Esthetician and Build Your Career?
You should use your esthetician training and education as an opportunity to learn which specialities are a good fit for your talents and interests.
You can decide whether you prefer to work in a medical environment, or in a beauty-oriented salon or spa. You could find job opportunities through your school, as well as through esthetician expos and product demonstrations. Local, regional, and national professional associations for estheticians and related careers also offer job opportunities. Advanced esthetics training can guide you toward a specialty that will reward you both personally and financially. For example, some estheticians specialize in helping people to look their best after they've recovered from burn injuries or reconstructive surgery.
Whether you work on your own or as part of a salon or other cooperative business, you will need professional liability insurance, also called esthetician insurance, to protect yourself against any risks as part of your esthetics practice. Business insurance for estheticians can cover any losses or damage to your equipment in case of a fire or break-in at your salon. The professional portion of esthetician insurance will provide coverage for any problems that could arise in your treatments or services.