Did you grow up working on cars or watching the adults in your life change their own oil and repair worn-out parts? Or maybe you like the idea of using the latest technology to diagnose and solve automotive problems.
If you don't mind getting your hands dirty and you're interested in a career that doesn't require a four-year college degree, becoming an auto mechanic may be right for you.
Here's what you need to know to get started.
What are the steps to becoming an auto mechanic?
You don't need years of higher education to become a mechanic, but you do need the right training and hands-on experience to be successful. In general, you can get the education and experience you need in one to two years.
Here's a closer look at what it takes.
Finish high school or get your GED
High school provides valuable math, science, critical thinking and communication skills necessary for the job. You'll need to finish high school or get your GED before beginning an automotive training program.
Get the right auto mechanic training
You don't need a four-year college degree to become a mechanic, but you will need some specialized training to learn how to properly diagnose, maintain and repair vehicles. There are multiple ways you can get the training you need, including trade school, community college or the military.
If you attend community college, you can typically earn an associate's degree in automotive maintenance and repair in two years. The length of time it takes to complete a trade school program varies depending on where you go, but you can complete some in less than a year.
Some educational programs offer apprenticeships or internships to help you gain the practical experience necessary to become a successful mechanic, while others don't. If your program doesn't, you may need to complete one before someone hires you to work as a mechanic.
Earn your auto mechanic certification
Many states don't require mechanics to obtain professional licenses or certifications. However, having them can make you more marketable and instill confidence in your customers that you have the technical expertise and experience you need to maintain and repair their vehicles properly.
The National Institute for Automotive Service Excellence (ASE), an independent non-profit organization dedicated to improving the quality of the vehicle service and repair industry, offers many different types of auto mechanic certifications. Some you can earn as soon as you finish your training program, and others require you to have a few years of experience.
Entry-level certification
This type of certification is designed for students. You don't need any hands-on experience to earn an entry-level certification, which is available in three categories — automobile, collision repair/refinish and medium/heavy truck (M/H).
These certifications are designed to assess what you learned during your auto mechanic training program and ensure you're prepared to enter the workforce.
Entry-level certifications expire after two years and are not renewable.
Professional technician certification
The ASE offers 52 certification tests. To become ASE-certified in a particular area, you must pass the test and have the required experience. The type and amount of experience you need varies based on the kind of certification you want to achieve.
You must retake the test every five years to stay certified.
Master mechanic certification
This is the highest level of certification ASE offers, and it's available in 16 different automotive specialties. You must pass a series of tests in the specialty you choose to achieve master mechanic status.
To maintain your "master" status, you need to pass a recertification test every five years.
EPA refrigerant handling certification
The ASE also offers a certification in refrigerant handling that covers the proper procedures for handling and recycling coolant to minimize the environmental impact. The Environmental Protection Agency (EPA) requires anyone who works on vehicle air conditioning systems to maintain this certification.
Depending on where you live, there may be additional requirements for working on vehicle air conditioning systems. Check with your state and local jurisdiction to learn about the requirements in your area.
Get some experience
Working at a dealership or repair shop can give you the experience to specialize in certain areas or gain more advanced certifications. This can lead to more technical and higher-paying jobs. It can also help prepare you to open your own business.
Setting up your car mechanic business
Once you have a few years of experience under your belt, you may consider opening your own repair shop. Going into business for yourself gives you the flexibility to set rates and specialize in specific areas.
It's a big undertaking that can be both exciting and nerve-wracking. If you choose to start your own business, here are some things to consider.
Licenses and permits. You'll likely need a business license and occupancy permit to get started. Check with your state or local jurisdiction to find out if there are any other licenses or permits you need to operate legally.
Space. Check listings in your areas to find garage spaces that are available to lease. Many mechanics also start operating out of their own home garages until they gain enough clients or capital to move to a dedicated space.
Equipment. You can't repair cars without the right equipment. You'll need to buy vehicle lifts, air compressors, jacks, engine hoists and anything else you need to service customer vehicles.
Financing. If you don't have the cash on hand to cover your expenses, you'll need to secure financing for equipment and supplies before you can open your doors.
Employees. If you don't plan on starting out as a one-person shop, you'll have to hire qualified employees you can trust.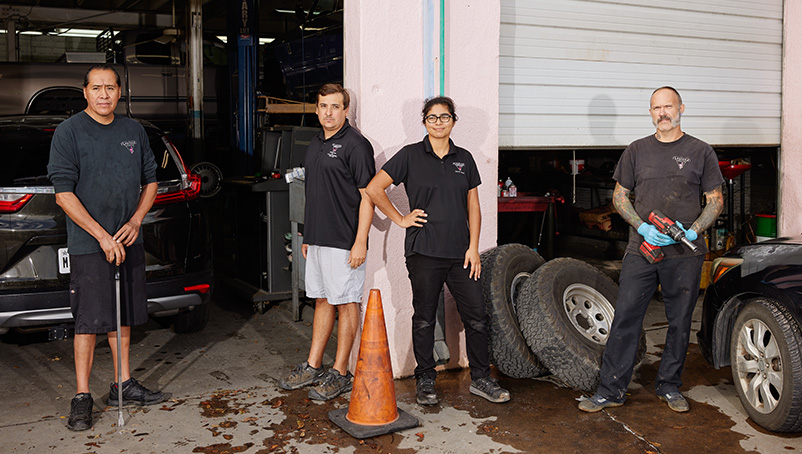 Protecting your auto mechanic business
Having adequate auto service and repair insurance can help protect your business from the unexpected. Without it, you could experience a financial loss you may not recover from. Here are some types of business insurance that can help protect you as you get started.
General liability. This type of coverage can help protect you from some of the most common types of risk businesses face, including third-party injuries and property damage.
Garagekeepers liability. This type of insurance covers damage to cars that you are servicing.
How to find clients for your auto mechanic business
It can take some time to build up a steady pool of repeat customers. Here are some tips to help you get started.
Grand opening. Hold a grand opening for the community to let them know you're open for business.
Word of mouth. Ask friends, family and neighbors to spread the word. Many people prefer to work with mechanics referred to them by someone they trust.
Social media. Create a social media page for your business and promote it on the channels where your target customers hang out.
Contact local companies. Businesses with fleets of vehicles can make great long-term clients because they have a ton of repeat business. Contact companies in your area to find out if they're interested in setting up a service contract with you.
Establish partnerships. Work with local towing and insurance companies to become their go-to provider for repairs.
Continuing your education
Automotive technology is continually changing, and more vehicle components than ever before are computerized. So, it's important to stay on top of the latest developments.
Check out organizations such as the Automotive Service Association (ASA) and The National Alliance of Automotive Service Providers (AASP). They offer training, conferences and events that can help you stay up-to-date with the latest changes in the industry.
How NEXT Insurance helps auto mechanics
At NEXT, we make it easy to get the auto mechanic insurance you need to protect your business. Our customized insurance packages allow you to mix and match policies to get the right amount of coverage.
Our online application streamlines the purchasing process. You can apply, get a quote, see policy options and purchase coverage — all in less than 10 minutes. When your purchase is complete, you'll have immediate access to your certificate of insurance.
Get an instant quote today.