When you first got into the yoga business, and trainer to become a yoga teacher, you probably did so for the love of the practice and a desire to share. But the business of yoga is actually larger than you might have imagined. And there are lots of channels to explore, to find the right fit for you, just like there are lots of business opportunities for yoga teachers. So once you've got your
yoga certification
(from a reputable place!), taken out some
professional yoga insurance
to keep yourself covered, and assessed your salary expectations (note the
national average
is $37,900 per year), you're ready to consider what you could call your very own yoga teacher business plan.
Yoga Business Ideas
1. Work in a Gym
Working in a gym is often a good place to start your yoga business. True, the pay here is usually on the lower-end of the scale, but the gym is great for getting practice and meeting potential clients. Plus, if you teach other disciplines, like spinning or Pilates, you can easily get in more hours, on more fronts.
2. Work in a Dedicated Yoga Studio as an Employee
Working in a professional yoga studio is another great option. It guarantees you hours, exposes you to different types of practitioners, and affords you the opportunity to specialize, as yoga studios tend to offer members more types of yoga.
3. Start a Business of Your Own
After gaining experience in a gym or studio, you may be interested in starting a yoga business of your own. Of course, you can do this as a first step, but it's generally best practice to first learn onsite at an established business. Keep in mind, when setting up a yoga business, you'll be assuming full responsibility for registering your business, providing your own income, paying any employees and all associated expenses (workers' comp, health insurance), renting a space, filing taxes, and the likes. When considering business opportunities for yoga teachers, this one comes to mind, but it can be complicated.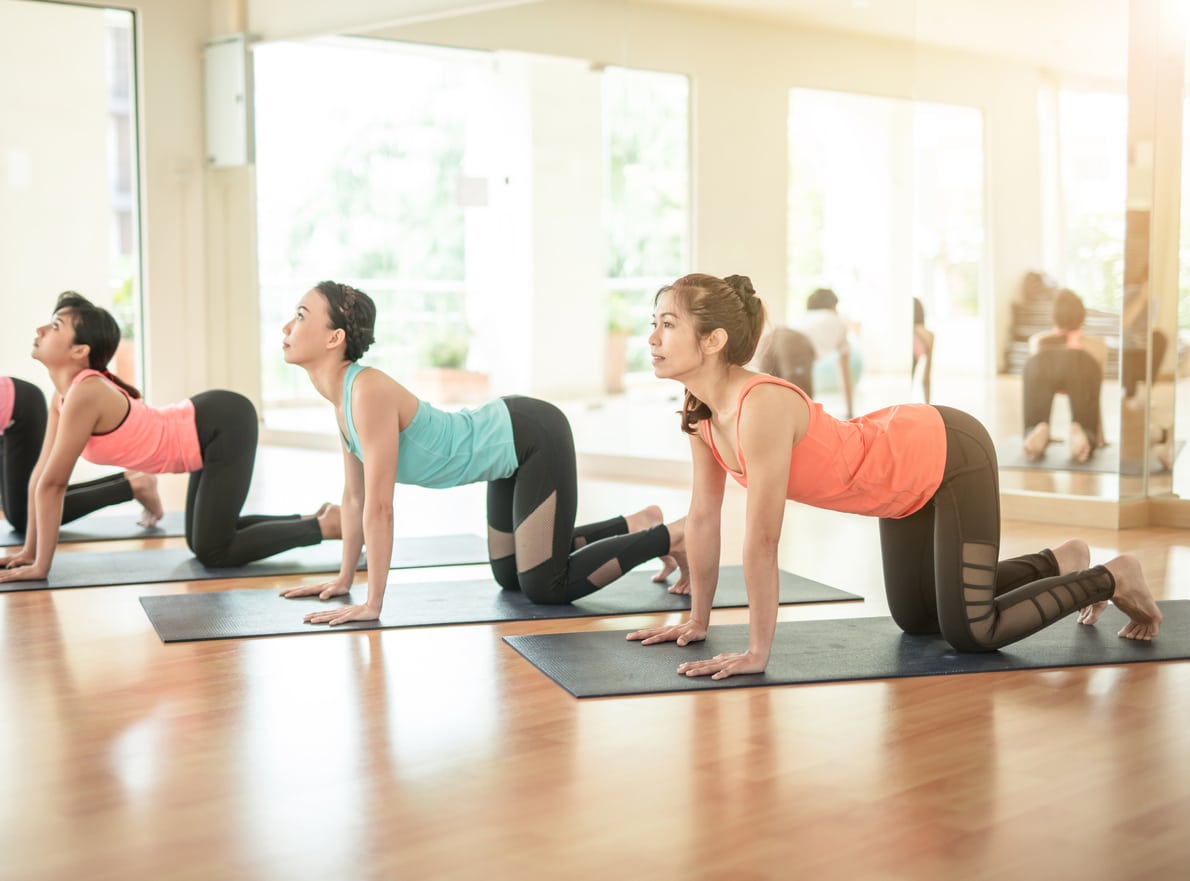 In fact, according to a recent Yoga Alliance
report
, these costs can consume about half of your income. On the other hand, as your boss, you determine your own salary, and if your yoga business booms, you'll be profiting from the revenue.
4. Start a Home Yoga Studio
Under the category of starting a yoga business, there's the option for opening a yoga studio in your home. This is in many ways the easiest path, as it cuts down tremendously on both initial and ongoing overhead costs. But in order to succeed, you'll need to have a space big enough to accommodate at least 8 people per class (most would say) to make it viable, unless you're charging on the upper-end of the pay-scale for private classes. You'll also be opening up your private residence to all sorts of people, so consider the impact on your family as well.
5. Rent a Studio
If you've decided a home studio isn't for you, for whatever reason, then renting a yoga studio might be the way to go. While renting a yoga studio is a big commitment, and ongoing expense, it also opens more avenues for revenue. For example, you can now offer classes around the clock, with more teachers. In fact, you'll want to maximize your space by offering as many classes as you can fill. In so doing, you can also have your studio work for you; that is, you can be generating income while you're offsite.
6.  Offer Outdoor Classes
Another type of yoga business you may want to consider is teaching outdoor classes. The downside here, as you know, can be the weather, which isn't always predictable, and in some cities is either too warm or too cold most of the year. But if you live in a relatively temperate climate, outdoor yoga classes are a lot of fun to teach, and well-received by practitioners who enjoy the added element of the elements themselves. Nothing beats yoga and fresh air! Just keep in mind, if you're teaching your class for free (perhaps as an extra to loyal customers or to draw new faces), you usually don't require a permit to teach in the park. If, however, you're charging money for your class, you may want to get in touch with your local Parks and Recreation department first.
7. Teach at Yoga Retreats & Holidays
Starting a yoga retreat business is another interesting option for you to explore. For example, you can start your own yoga retreats from start to finish, hand-picking the place, setting up the staff, selling the rooms, and worrying about the food. Or you can jump onboard with a health and wellness business or travel operator and offer a yoga holiday stream, sharing the load of filling the slots and dealing with the logistics. The advantages offered by yoga retreats and holidays include a couple of solid days of work guaranteed, the opportunity to really connect with people, and adding different dimensions to your business. Whichever yoga business path you choose, know that there is going to be competition out there. You'll need to market yourself, dedicate yourself to building your name and clientele, and persevere in order to succeed at whatever business opportunities for yoga teachers you decide are right for you.