Becoming a CrossFit instructor is an exciting step. If you love living a healthy life and want to share that passion with others, it's a natural choice. Being a CrossFit trainer is fun and enjoyable, but it also involves hard work. Here are all the things you need to think about when you become a CrossFit instructor.
The Joys and Challenges of Being a Crossfit Trainer
Being a CrossFit instructor isn't just about the take-home pay, although at around $46,000 annually, it's a lot higher than the national average. Here are some more benefits to being a CrossFit instructor:
You have excellent job prospects, with demand for athletic trainers predicted to rise by 23%
You'll get to meet many new people
You'll enjoy a sense of achievement when your clients hit their goals
You'll help people change their lives for the better
You'll get free perks like gym membership so that you can spend more time doing what you love
But there are also challenges to being a CrossFit instructor:
You need an L3 certification to earn the best salary
It takes a lot of time and hard work to learn the most important CrossFit instructor skills
Sometimes your clients will be grumpy, angry or frustrated and it will be up to you to encourage them to try again
How to Become a CrossFit Instructor
To become a CrossFit instructor you will need:
CrossFit certification
To be at least 18 years old
Emergency medical knowledge like CPR and first aid
To agree to follow the CrossFit Standard of Professional Practice
A commitment to continuing your education by watching CrossFit training videos and going to workshops
To keep up your own fitness level
Although CrossFit certification matters, your coaching experience is much more important. Most new CrossFit instructors work as assistants before they start as independent trainers, so that they gain experience.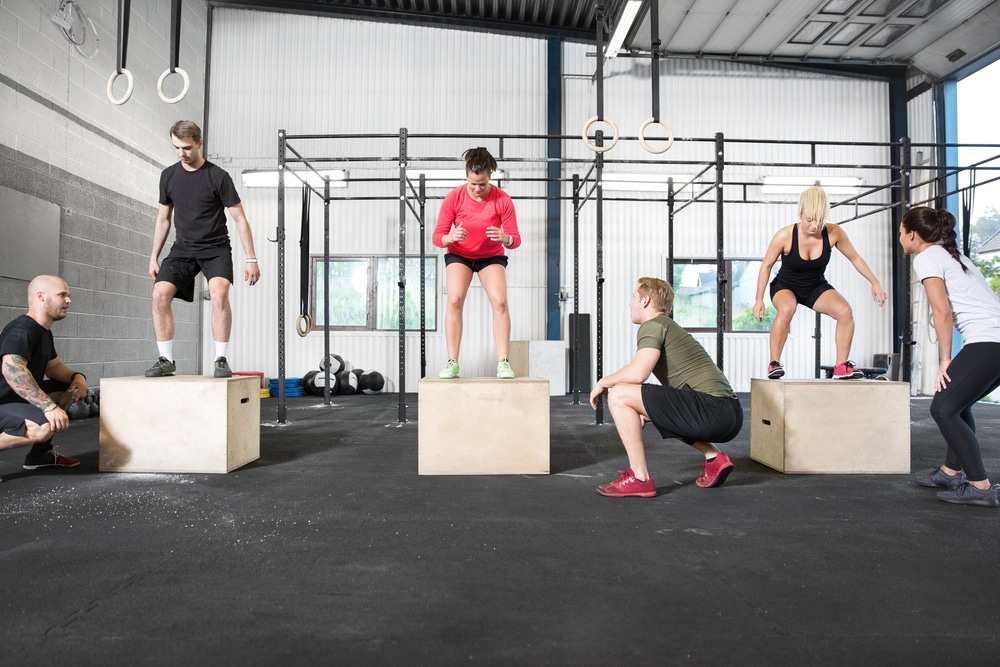 Getting CrossFit Certification
Level 1 CrossFit certification means that you attended the two-day L1 course and passed the test. It costs $1,000 to take the course and you must be at least 17 years old. The Level 2 course also costs $1,000 and lasts for 2 days. Many gyms will pay for their assistant trainers to take the L1 and L2 courses. Experienced CrossFit instructors usually have L3 or L4 certification as well. To get L3 certified, you'll need to either:
Pass the L1 and L2 certification
Show at least 750 hours of coaching experience
Pass your L3 exam.
Or:
Pass the L3 exam
Show 1,500 hours of university or professional-level experience coaching athletes in strength and conditioning training
To get the L4 certification, you have to be L3 certified and also pass an intense day-long examination of your coaching abilities.
Why You Need Crossfit Instructor Insurance
There's one more thing that no CrossFit instructor should be without -
CrossFit Instructor insurance.
Solid insurance should include both
General Liability
and at least some
Professional Liability
. In addition to giving you financial protection in case of something unforeseen such as an injury or accidental property damage someone holds you responsible for, CrossFit insurance also proves to your gym owner and your clients that you take your role seriously. It shows that you are responsible in planning for the unexpected and that you care about your clients' safety.
Business Tips for CrossFit Instructors
As with so many things in life, the difference between being an average CrossFit instructor and being an excellent instructor lies in the details. Here are some tips to help you reach your goal of being an outstanding Crossfit teacher:
Be humble. Don't forget that you always have more to learn.
Genuinely care about your clients. They are trusting you with their dreams of fitness and health, so you should be worthy of that trust.
Keep up your CrossFit certification. That means meeting the minimum coaching hours per year, earning enough continuing education credits and retaking your certification course every 3-5 years.
Always have a valid Certificate of Insurance easily available so that you can show it to your employers and clients; if you're a Next Insurance customer, it's always just a click away.
Devote just as much time and attention to helping someone perfect their air squat as you do to helping with a clean and jerk.
With these business tips, CrossFit instructor insurance and plenty of hard work, you can soon and successfully become a CrossFit instructor.