Amid the excitement of preparing for and attending Money 20/20 — the premier U.S. fintech conference — we dropped our big news: NEXT Connect is here.
Now that the event has wrapped up let's unpack this news, get you up to speed on NEXT Connect and give you an insider's look at the event.
What is NEXT Connect?
NEXT Connect is an embedded insurance solution for our partners. It's a way for them to give their customers more choice and simplicity when purchasing insurance policies — right from their own platforms.
Simply put, NEXT Connect helps our partners make affordable, customizable business insurance more accessible to small businesses.
"NEXT Connect creates an unmatched opportunity for our small business ecosystem partners to embed insurance offerings directly into their platforms," says Steve Hauck, VP of Partnerships at NEXT.
Under the hood of NEXT Connect
So how did we come up with NEXT Connect? Let's rewind. Earlier this year, we acquired AP Intego, which advances our mutual goal of creating the best insurance experience for small businesses.
NEXT Connect results from the collaboration of our combined strengths. By adding AP Intego's partner-based, multi-carrier model with NEXT's user-friendly technology and customer experience, we knew we could enhance our mission of helping small businesses thrive by meeting customers where they already are
NEXT already leverages new technology, such as artificial intelligence (AI) and machine learning to deliver simple and affordable purchasing experiences. NEXT Connect further scales this offering by empowering partners to serve even more small businesses owners in meaningful ways.
What NEXT Connect means for our customers and partners
In developing this solution, we kept both the customer and partner experience at the forefront.
First, NEXT Connect enables business owners to purchase coverage in a convenient way for them — either completely online or with the assistance of a licensed insurance agent. By meeting customers where they are and simplifying access to insurance, we give customers more choices, options and better pricing.
"We are entering an age where our customers want and deserve the opportunity to purchase the best insurance policies for their business, from a trusted source, and with this new NEXT Connect offering, we're able to provide that solution," Hauck says.
Giving customers choices provides an unmatched opportunity for small business partners. In leveraging multiple insurance carriers — including NEXT — partners can address the coverage needs of virtually any type of small business anywhere in the U.S.
And what's good for our partner's customers is also good for our partners. With AP Intego's cross-industry expertise, our partners can improve their bottom lines with a new revenue source, increase their customer retention and reputation.
Small business ecosystems in industries including payroll, point-of-sale (POS), accounting, e-commerce, payments, banking, fintech and more can easily embed NEXT's insurance offerings into their existing platforms.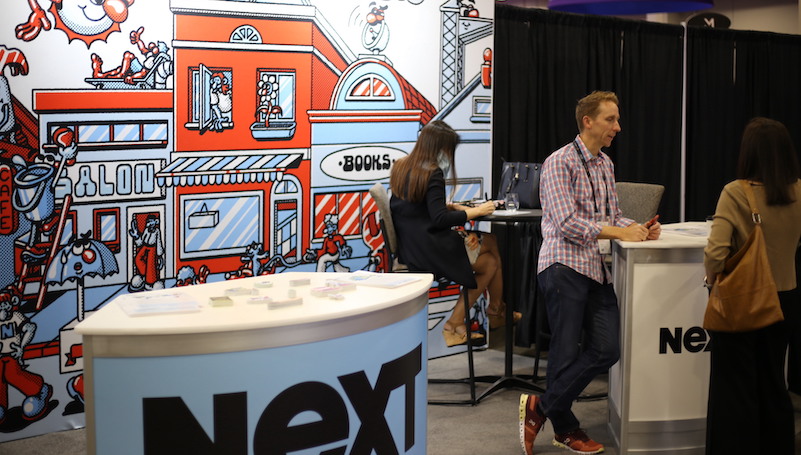 Unveiling NEXT Connect at Money 20/20
We headed to Las Vegas excited to meet with customers and partners, learn more about the latest fintech innovations and hear about the challenges our peers are facing.
We set up shop with a highly-graphic booth designed to catch people's eye, using our striking illustration style. Our strategy paid off through many attendee compliments, and booth pictures snapped. (Overheard: "Best booth of the show" more than once. 🎉)
Our booth wasn't the only hit of the show; NEXT Connect also had many attendees talking. People were curious about how it works, how partners can embed it and how it taps into multiple carrier markets to satisfy demand. Aside from keeping our on-the-ground team busy, these kinds of questions and the interest shown in NEXT Connect over the event's course tell us that we're on the right track in terms of fulfilling both partner and customer needs and preferences.
Based on the positive feedback we've received at the event, our partners and customers are just as excited for a trusted embedded insurance solution as we are. Together, we can make affordable, customizable insurance coverage much more accessible so more small businesses can thrive.

Want to learn more about NEXT Connect? Become a partner.
See for yourself how NEXT provides simple, affordable and customized insurance solutions for business owners. It takes about 10 minutes. Start your instant quote now.