How do you accept credit card payments? It's one of the most basic first steps for many companies, but it can be a hurdle for many small businesses. Fortunately, there are a lot of ways you can start accepting credit card payments.
It's an excellent convenience to offer your customers. Unfortunately, setting up your business for credit card payments can include fees that eat into your profit margin.
With this guide, you'll discover what you need to know about setting up credit card payments, processing fees and the best way to accept credit cards for your small business.
1. Determine how you will accept credit card payments
Adding credit card payments can boost your business — allowing you to close larger sales and speed up cash flow.
Before starting to accept credit card payments, you need to look at how your customers do business with you. Does your customer:
Call over the phone for service?
Come into your store?
Buy products through your online store?
Do you meet them at their house?
Make sure the method you choose integrates well with how customers typically pay you for goods and services.
Online payments
If your small business offers products through your website, you're likely already set up to take online payments.
E-commerce stores and online service providers typically focus on accepting credit card payments online. That's because taking cash or checks can be inconvenient and time-consuming for both you and your customers.
Credit card-powered gateways offer an automated process. Payment gateways let you accept credit card payments by acting as a middleman between your merchant account and a payment processor.
Review your options carefully — setting up your business to accept online payments can introduce fees that cut into your bottom line.
In-person payments
Small businesses with traditional storefronts, such as retail stores and hair salons, can benefit from accepting credit card payments in person.
According to a study by the Federal Reserve of San Francisco, most customers choose credit or debit card payments — consumers use cash only 26% of the time. Instead, you might consider a POS (point of sale) system. It lets you easily accept payments from customers and track in-person sales.
Mobile payments
On-the-go businesses like notaries, dog groomers and food trucks might prefer mobile credit card payments. Mobile credit card systems also offer greater flexibility to businesses that traditionally operated in cash only, such as flea and farmer's market vendors.
A card reader attaches to your smartphone and lets you accept card payments instantly. The downside is that mobile payments are tied to your phone. If your battery dies, you're out of luck.
Over-the-phone payments
While over-the-phone credit card payments are not as common thanks to ecommerce, some companies still rely on them.
However, small businesses can pay higher processing fees for a "card not present" transaction when accepting credit card payments over the phone.
2. Choose the best credit card service provider for your business
Traditionally, credit card merchant service providers contract with businesses to set up credit card processing through their banks.
When accepting credit card payments, small businesses have a wide selection of options. The first decision is to choose between:
Merchant account provider
Payment service provider
Payment processor
A merchant account is a specific bank account that transfers the proceeds from credit card payments before customers pay off their card issuers.
The downside of setting up a merchant account is the lengthy application process. They also sometimes require credit checks. However, merchant accounts often provide a higher level of customer support and are less likely to face account holds or interruptions.
Payment service providers offer a plug-and-play solution that gets your company set up to accept payments fast. Rather than having an individual merchant account, the payment service provider combines all of its clients into one large merchant account.
While payment service providers pool many clients into a single merchant account, your business has the option to set up its own merchant account.
Payment processors handle the entire transaction, from start to finish. They typically provide the credit card machines and other equipment you need to accept payments by credit card.
3. Set up your payment system
If your customer physically provides the credit card, you need the proper hardware to accept payment.
Make sure any hardware you use includes an EMV option. EMV stands for Europay, MasterCard and Visa. It's the embedded chip in credit, debit and prepaid cards. Using the data on chips is more secure than "swiping" using the magnetic stripe.
Another popular feature your customers may want is contactless credit card payments. It doesn't require you to insert your card chip. Instead, you touch the card to the reader and go.
If you accept online payments, you may also need to link your website with the processing system. You might consider accepting credit card payments in QuickBooks to simplify your bookkeeping and credit card processing. The company has over 80% market share for helping small businesses and larger companies.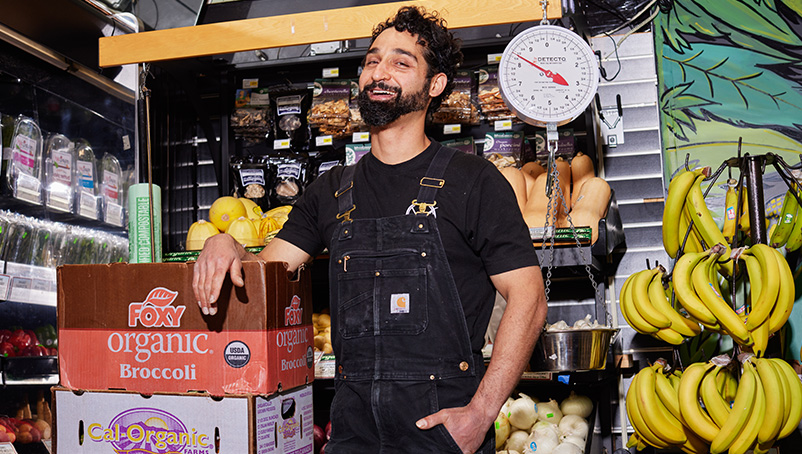 How to accept credit card payments without a merchant account
Usually, your business benefits the most from a merchant account if you have a high sales volume. This is because credit card merchants are less likely to limit transaction amounts or volumes.
However, most small businesses choose to start accepting credit card payments without setting up a merchant account. Payment processors like Square, Stripe and PayPal are popular options and don't require merchant accounts to use their systems.
Square
Known for its square-shaped card reader, Square offers a simple payment solution for any small business.
Once you set up Square, accepting credit cards is easy using the card reader paired with your Android, iPhone or tablet. It can also provide robust Point-of-Sale (POS) systems for restaurants, retail and appointment services.
Stripe
Stripe is another stand-out candidate for electronic payments. It powers credit card processing for enterprise businesses like Amazon, Lyft and Ticketmaster, but aims to help small businesses process payments online.
Their platform includes numerous features, particularly for e-commerce businesses and those who conduct international transactions.
PayPal
PayPal is a veteran payment service provider. Initially, it focused on helping individuals send money to each other. Now, small businesses can benefit from accepting credit card payments through PayPal.
Shopify
Shopify works differently from the previous businesses. Rather than providing service to many platforms, Shopify specializes in ecommerce.
Suppose you are a retail shop ready to shift to online sales. Shopify can provide the website, hosting and layout for your website.
If your business is a conventional brick-and-mortar store, you'd likely benefit from an option other than Shopify.
Credit card fees every small business owner should know about
Accepting payments by credit card isn't free. No matter which option you choose to accept credit card payments, your business will pay a fee when you process a transaction.
It's important to note that the merchant, not the customer, pays the charges. Before you include credit cards as a payment option, consider how the fees will affect your profits.
You might adjust your prices to cover all your business costs, including credit card fees. Or you may choose only to allow credit card transactions above a specific dollar amount. (Usually $5 or $10 spending minimums.)
Some businesses charge customers a convenience fee for processing credit transactions. However, this practice is restricted in some states, so check your local laws before implementing a surcharge.
Accept credit cards and help your small business grow
If you run a small business, you know it's hard to manage everything on your own. However, accepting credit cards and managing the associated fees can be worth the cost and effort involved. Even if you are a micro-business with one employee, you can benefit from accepting credit cards.
Setting up small business credit card payments does not have to be complicated or expensive. Take some time to see which provider meets your and your clients' needs best.
Hello, we're NEXT Insurance
In addition to learning how to accept credit card payments, you'll want to take proper steps to protect your business. NEXT Insurance offers a seamless way to find the right business insurance package online d. A general liability insurance policy can protect against many risks small business owners face and starts at $25.
Just start an instant quote, share details about your business and mix and match different options before purchasing coverage. It takes about 10 minutes, and you can access your certificate of insurance online immediately.
Start a free instant quote today.