For Next Insurance and for insurtech more broadly, 2018 has been an amazing year. Over the past half year, we've been fortunate to advance our mission of making insurance simpler, affordable and more tailored for our customers, whose trust is the essential ingredient to our success. As we did both at the
end of 2017
and
last summer
, we want to provide a closer look at our performance over the past six months, so here's a glimpse at our key metrics from the first half of 2018.
Exponential Growth
Just a couple of weeks ago, we were incredibly excited to announce our
Series B funding round
of $83 million. In about
two years, we've raised $131 million
to transform
small business insurance
. We deeply appreciate our investors' trust, and their belief in our mission. Obviously, we couldn't do this without their support, which goes far beyond the financial realm. Our investors have been indispensable partners in our work, providing us with invaluable counsel and advice, aiding our growth, and helping Next Insurance lead the insurtech field.

The primary measure of our growth is the volume of written insurance premiums we would sell per year, based on the number sold in a given month.
One year ago, in June 2017, we were at an annual written premium run rate of just under $3 million. We're proud to announce that as of this June 30th, our
annual written premium run rate stands at just over $22,000,000.
That means that as a company we've grown nearly
eightfold over the past year.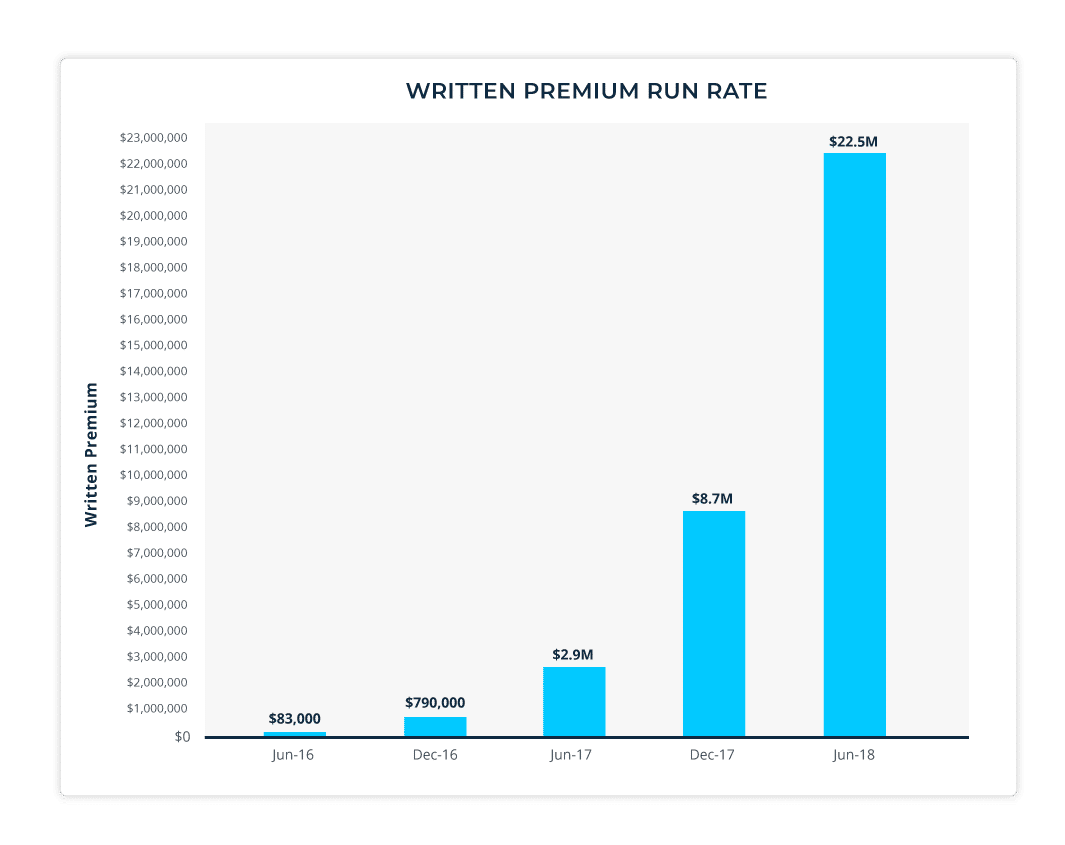 Another favorite measurement of ours is calculating how many days it takes us to sell $1 million worth of premiums. If you've been following us for some time, you may be aware that it took us 400 days to sell our first $1 million in premiums. These days, we're selling $1 million in premiums in far less than a month; over the past half year, our record for reaching the magic million was just
14 days.
Serving More Businesses
A year ago, we were serving 10 classes of business, and by the end of 2017, that number was up to 18.
Today, we're proud to offer tailored policies to
more than 40 different types of businesses,
including contractors, cleaners, fitness professionals, beauty professionals, entertainers, and more. In the first six months of 2018 alone, we added almost one new class of business per week and you can be sure we won't stop here.
We're adding new types of insurance and new businesses to our lineup all the time. Our team spends months researching each product before we launch, to be sure it will be exactly what our customers need to thrive. We push more than
10 changes to our system every work day-more than 50 per week.
We are growing, and our commitment to serving a wider variety of customers is growing right along with us.
Changing Shape
In May, we announced that
we are now a
licensed insurance carrier
. So far, we're licensed in eight states, and are moving quickly to become licensed in all 50 states. As a carrier, we can now write our own policies, with significantly more control over underwriting, setting prices, and determining coverage.
This is a big step in our dream to become the leader in small business insurance, and to provide entrepreneurs with the insurance that's right for them.
Selling All the Time
One of our key commitments to our customers has been making insurance available all the time, by selling 24/7, with no need for in-person meetings, phone calls, or faxes that take away from their business or personal time.

Our customers clearly appreciate that effort, with
11% buying their policies on weekends, and 21% during the night
(9pm-9am EST).
In addition, our work to simplify the process of applying for insurance continues and is succeeding. A surprising
50% of our customers bought their policies from their cell phones
in the last six months--and for the month of June, the number was 53%! It's literally so easy to get insured that our customers do so on the job, while grocery shopping, whenever.
Happy Customers, Happy Company
What's the Next Insurance customer experience like? Consider a recent customer call we received. This customer had bought a policy from us, and the process was so easy, she thought she had done something wrong. One of our agents was delighted to inform her that she wasn't wrong--insurance is now this easy!
Our customers continue to buy their insurance completely online, and
90%+ buy their policies without ever speaking to our Customer Support
team.
Despite the fact that the vast majority of our customers never speak to us, they seem to enjoy working with us; our reviews are overwhelmingly positive, and our
overall customer satisfaction is at a solid
4.7/5 stars
on our site, and an amazing 4.8/5 stars on
Google.
We're committed to providing a great customer experience, and our statistics reflect that fact. In June,
we replied to 74% of customers with a problem within an hour, and 87% within 8 hours.
That's far beyond the industry average. Most of all, reviews like this tell us we're on the right path:



Leading the Way
It's no secret that the
small business insurance market is incredibly fragmented.
One of our goals as a company has always been to become a leader in the industry, showing our customers and competitors that insurance can be a tool to make businesses more successful and help their owners thrive. We're happy to report that  we are truly becoming the market leader in the small business insurance world, and beyond.
One way we measure our market leadership is by how well business owners recognize and search for our brand. More and more entrepreneurs are hearing about Next Insurance, and
60% more people searched for our brand
in the last six months compared to one year ago. That tells us that people are learning about what we have to offer, and seeking us out. Even better news is that of the people searching for and finding us, far more are now clicking through to our site than ever before; the number of
clicks to our site from searches for us went up by a whopping 236%
year over year.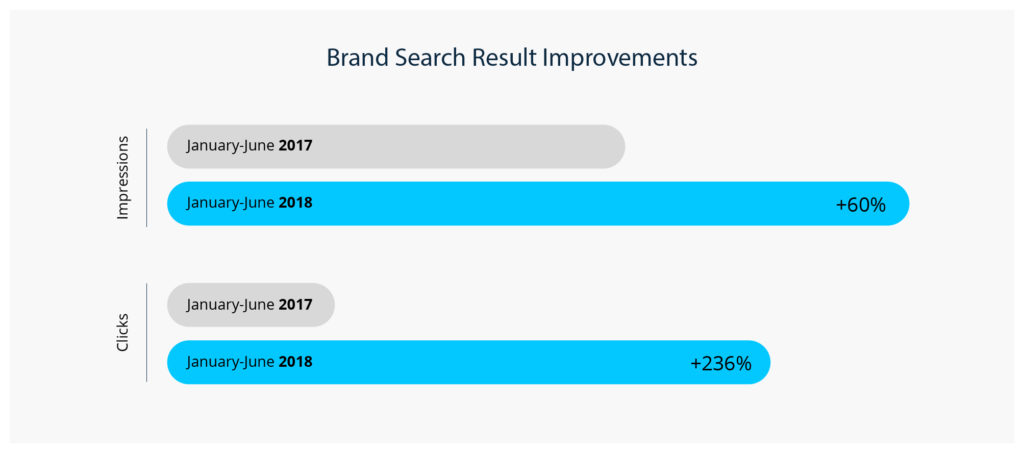 The Key Component: Our People
As we grow, we constantly strive to is maintain our high standards for our team. We really believe in finding outstanding people, and we're proud that our team comes from a variety of backgrounds, with a wide variety of experiences. They are as diverse as our customers, but there are a few things they have in common: all
members of our team are incredibly bright, hard-working, and committed to excellence for our customers.
While we've grown to nearly eight times our size over the last year by premiums sold, our team has only become more efficient: one year ago, we were 32 people. Today our team is just under double the size we were a year ago, with 62 people total in our offices. That means that
our business has grown more than four times faster than our personnel count!
That's the power of innovation and technology.
Conclusion
As wonderful as 2018 has been for Next Insurance and insurtech, we are even more excited about where we're headed from here. We will roll out new ways to serve our existing customers, and aim to provide our simple, affordable, and tailored policies to more entrepreneurs than ever before. We aim to become the source of insurance for business owners across the US, and will strive to move towards that goal as we go forward.
Powered by our stellar team, our incredible partners and investors, and our commitment to innovation and customer service, we will propel Next Insurance to further growth and success in the months ahead.