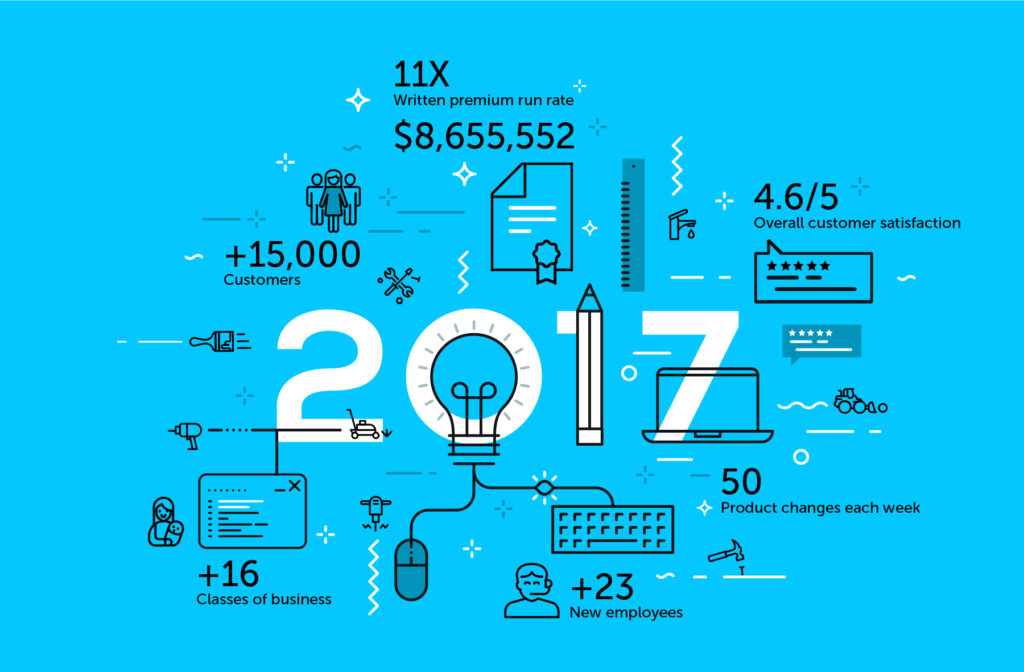 2017 was a whirlwind here at Next Insurance. We are very proud to fulfill our mission to help entrepreneurs thrive by providing simple, affordable and tailored business insurance for their needs. As part of our promise to be the straightforward, honest insurance company, we want to share our numbers with you. We've done this before and we'll keep doing it. It's part of what we believe in, and what makes us who we are.
Even as we prepare to share our numbers, it's important to us to point out one thing we've always known: it's all about building a team full of incredibly smart, talented people. Our employees and our work as a team are what drive us forward. Without our people, there is no way we could achieve the results we have until now, or achieve the goals we're setting for our future.
Next Insurance: 2017 Year in Review
Growing, Fast, Fast, Faster:
2017 was our first full fiscal year as Next Insurance, and we couldn't be more excited about the results, which show that our customers are as delighted with our product as we hoped they would be.
Our written premium run rate from December 2016-December 2017 increased exponentially: 11-fold!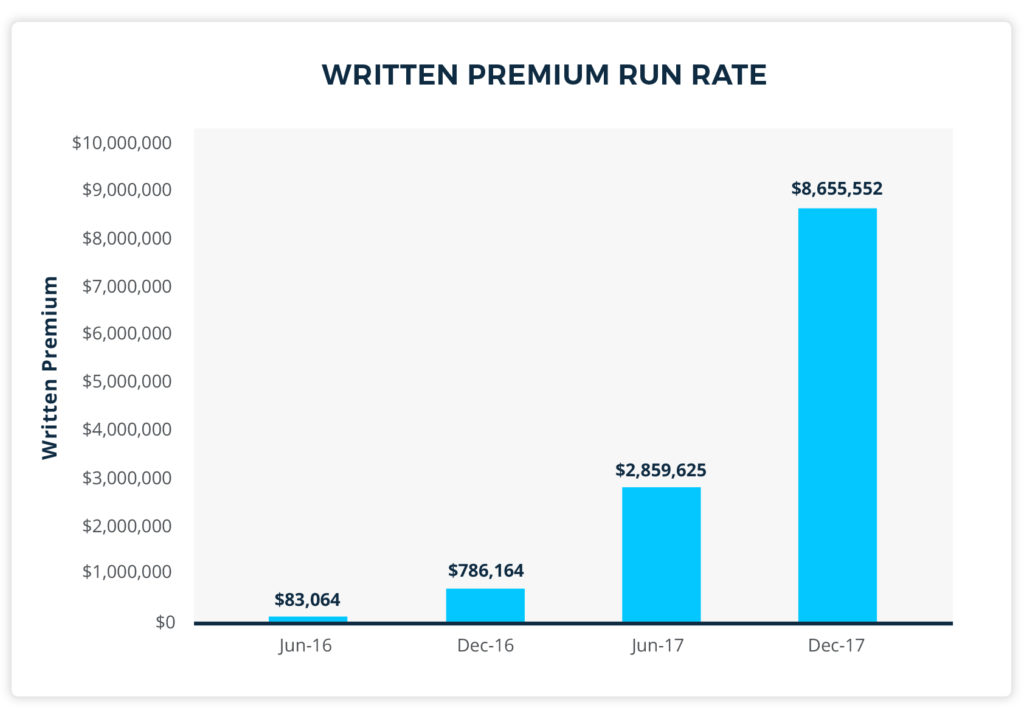 By run rate, we're referring to how much in written premiums we sell per year, if the year was consistent based on one month's figure. So if every month was like December 2016, our run rate for the year would have been predicted to be $786,164.
As of December 2017, our written premium run rate was $8,655,552, just over 11 times where we were, only one year before. We are proud to have grown our business so much, with more than 15,000 customers, and thousands more buying policies every month.
One of the best ways to understand this is by looking at the number of days it took to sell every one million dollars worth of premiums.
To date, we've sold more than five million dollars in premiums and this chart shows that it took us 400 days to get to our first million, and just 33 days to get to our fifth million: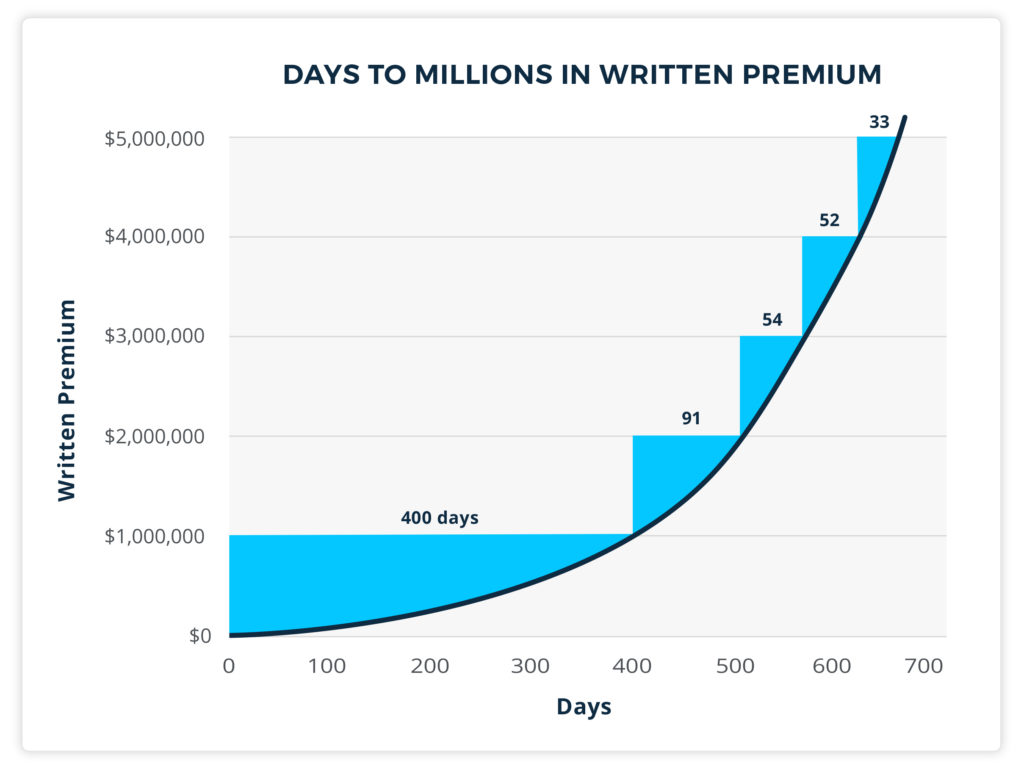 Becoming the Market Leader in Small Business Insurance:
One of the main ways we can measure our growing influence in the small business insurance market is to see how much of the traffic to our website is from people who are looking for us specifically.
Throughout 2017, our brand became much more recognizable. As a result, search volume for "Next Insurance" increased by 239%. More and more businesses are buying policies from us and are telling their friends and family, and we see those results.
Expanding Our Offering:
At the beginning of 2017, we only served personal trainers and photographers. We started with two classes of business because we wanted to really focus on learning how to serve them in the best possible way before expanding. By working hard on those two, we learned what our customers want, what they need and what drives them to buy from Next Insurance.
Since then, we've expanded our offering, and by the end of 2017, we had 18 live classes of business, including different types of sports professionals, 12 different classes of contractors, and in-home daycares. In 2018, you can watch for us to be adding numerous new classes of business, types of insurance, and more. We're just getting started!
We're moving fast to build out new products and improve our existing products. Our team spends months customizing each one before we bring it to customers.
In addition to all the work that goes into crafting new policies for new industries, our Product, Insurance and R&D teams make an unbelievable 50 changes to our product each week--an average of almost 10 changes per work day!
Selling, Day and Night:
While other insurance companies tend to sell policies only during a standard 40 hour week, we sell constantly, regardless of day of the week or time of day, and our customers appreciate it. They run their businesses 24/7, and they don't stop needing insurance just because it's the weekend.
In fact, over the course of 2017, we sold nearly 19% of our policies overnight (between 9pm-9am).
We also sold almost 15% of our policies on weekends. Our customers need access to insurance on Saturdays and Sundays, too, and they've got it with Next Insurance.
Keeping Our Customers Happy
We are committed to providing outstanding customer service and high quality insurance that stays strong as we grow. Our highlights:
100% of our customers are buying their policies online, and 93% of them do so without ever speaking to our Customer Support team. They are very happy to be able to buy their insurance when it works for them, with no need to wait for an agent or an office to open. We see reviews like this one, from earlier this month:


Our overall customer satisfaction rate is a solid 4.7/5 stars, and new reviews are pouring in all the time.
Our customers are satisfied with the speed at which we offer our service as they are with the service itself, as it enables them to grow their businesses and meet their goals. Travis G. put it well:

Our customer support agents have an average of seven seconds to answering phone calls and customer satisfaction rates of upwards of 90%.
Perhaps best of all, while our customer base is growing, the customer support inquiries we're getting aren't growing nearly as fast. Customers are taking advantage of our self-service options on our website, getting the service they need in the manner that's most comfortable to them.
3am close a deal and need to email a Certificate of Insurance? No problem. 10pm need to switch credit cards? Handled, all via our Next Insurance customer portal.
Our Best Asset-Our Team:
One of the pieces we're most proud of is the team that we're building. Without them, nothing would run as quickly or smoothly as it does and we're proud to be growing our team with the highest standards for professionals.
In December 2016, we were 18 people and at the end of December 2017, we were 41. The company's run rate grew more than 11 times its size, but our team just doubled. We invest in technology and automation to keep our team as small as possible while still being incredibly effective. All of our team members are efficient, which enables us to grow the company without growing our staff as quickly, and without making any compromises on the quality of our people.
Conclusion: The Last Act
If 2017 was magical, we hope 2018 is going to be even better. We're working on learning new tricks, and perfecting those we've got, always buoyed by the reviews we get from small businesses who have had great experiences working with our whole Next Insurance team.
We're already on track to our best year, and look forward to sharing more of what's happening with us as time goes by.