As an electrician, you know that you can't do your job without the right electrical tools and equipment. While there's no substitute for your knowledge, without your trusty tools both basic and advanced, you'll be limited.
After all, no matter how talented you are, you can't exactly strip wires with your hands or install a new fixture without a tool belt full of everything you'll need for the task. There's a reason there's a whole market for tools for professionals like yourself.
The market is full of tools that claim to help make your job easier, but it can be overwhelming to sort through all the information.
In order to try to help you make sense of it all, we've reviewed the most important things to look for when you buy the best electrician's tools and equipment.
Follow this advice and you'll be well on your way to knowing that you always have what you need for whatever task comes up over the course of a day, a week or even a year.
How to Choose the Best Electrical Tools and Equipment
Choosing the right electrician tools is difficult because there is such a range of quality. You want to fill your electrician's tool kit without spending too much money for a fancy brand name, but you also don't want to end up with a screwdriver that snaps when you first use it. Here are the main things to keep in mind to choose the best electrician tools:
Comfort
Some of your electrical hand tools are going to be used again and again, all day, every day, so comfort matters. When choosing a screwdriver, hammer or pair of pliers, for example, you should look for a handle with a soft texture and a comfortable rubber grip that fits your hand well. Squeezing your hand against a hard handle will be uncomfortable and make it much harder for you to work. Your electrician tool belt should also fit you well and be comfortable to wear, so that you don't hurt your back or your hips on the job.
Durability
There's no point saving money by buying poor quality tools, especially when replacing them will mean spending extra money. You may want to consider an SBA loan so that you can get better-quality equipment. Many of the tools you'll use are sold both in household, occasional-use versions and as heavy-duty industrial tools. Although they might look similar, a professional screwdriver will last longer, stand up to harder use and make your job easier than the same screwdriver marketed at home DIY people.
Safety
Although you don't need every top-of-the-range tool when you're just starting out, don't neglect the tools that keep you safe. Voltage detectors protect you from possible electrocution by live circuits. Work gloves protect your hands from sharp screws and rough surfaces and safety glasses save your eyes from debris.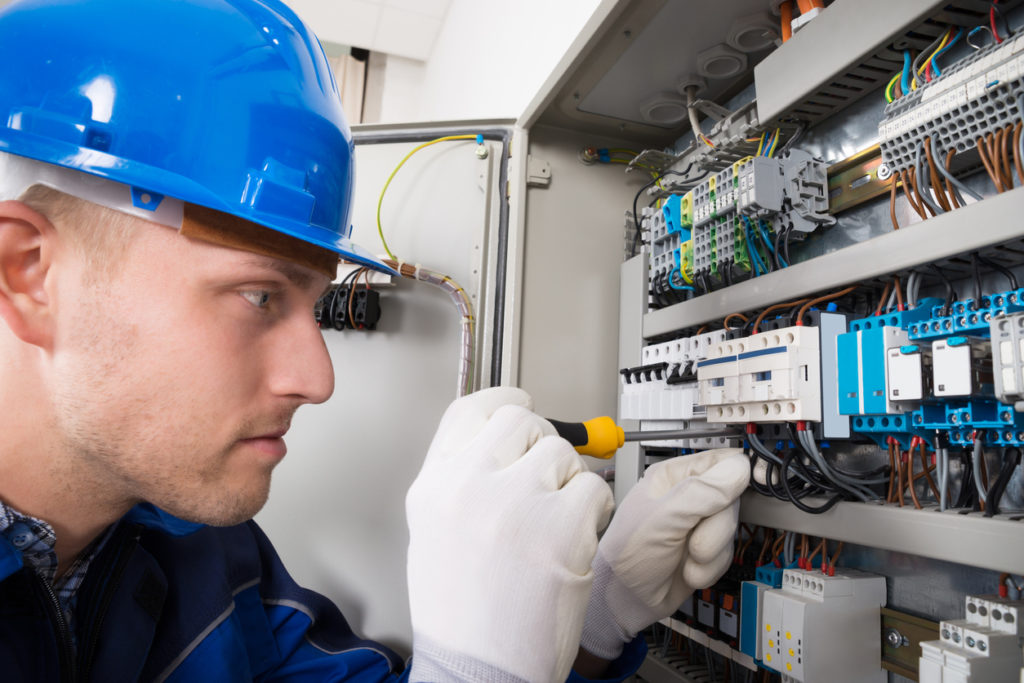 Where to Find the Best Electrician Tools
Although you don't need to spend money on branded tools, Klein and Greenlee are particularly known for their quality, comfort and durability. You can find these brands in regular hardware stores, but tool dealers and electrical and building supplies stores sell a full range of high-quality non-branded tools that are equally good. Whenever you can, choose the option marked 'heavy-duty' since it will last longer.
High quality tools can last for years, or even decades, so it's worth looking on second-hand sites like eBay or Craigslist to see if someone is selling their old tools. Many online tools stores sell heavy duty electrical tools, so check online if you can't find what you want locally.
Protect Your Electrician Equipment
Once you've filled your electrician's tool bag you need to look after it. As well as the warranty that comes with your tools, consider getting electrical equipment insurance. A warranty only lasts for a few years, but you could still be using your tools after 10 years or more. Tools and equipment insurance will pay up if your tools are stolen from your van or intentionally damaged by an angry customer or employee.
Electrician Apps and Software
The right apps and software are tools that are just as important for your business as the ones in your electrician's tool pouch. You should look for:
A scheduling app like Tradify, 360e or FieldPulse that streamlines scheduling jobs and makes it easy to see your availability.
An estimating program like Accubid or Intellibid that makes it easier to calculate estimates and quotes on the go.
Accounting software like QuickBooks, Tradify or FreshBooks that helps you monitor employees, track expenses, generate estimates, invoices and receipts and accept payments all in one app.
Project management software such as ProContractor or eSub, so that you can stay connected with employees, track time management, enter expenses and generate estimates and reports.
Marketing software like MadMimi or MailChimp that stores customer contact information and streamlines email and social media marketing.
Don't forget that your most important electrical tool is your own two hands. Make sure that your electrician insurance covers you for accidents or injuries just in case anything happens on the job.