Simple
Buy your policy 100% online in minutes, whenever and wherever you choose
Affordable
Pay monthly, with amazing prices and absolutely no extra fees
Tailored
Your business insurance coverage is designed to meet your needs
Being a therapist is all about giving. Your clients seek your help when they are experiencing physical or emotional distress and in need of relief—or perhaps for ongoing maintenance or preventative treatments. Whatever the case, they are literally placing themselves and their well-being in your hands when they are at their most vulnerable. They trust that the work you do with them will set them on a path to healing and help them overcome their obstacles.
Everyone needs someone to rely on when they're vulnerable—and that includes therapists like you. If you don't feel like anyone's protecting or taking care of you, how will you take care of your clients? Having therapy insurance is one important element of self-care. It releases you from worrying about what might happen to your business if something goes wrong. It's not just for you, either. When your clients know that you have insurance, they can also rest easy, knowing that you're a true professional. Your having insurance makes it clear that their physical, emotional and financial well-being are a top priority for you. Therapy insurance protects your business and allows you the freedom and peace of mind to continue healing and helping your clients.
Who Trusts Us? Therapists Like You
Rated 4.7 out of 5 stars, based on 3376 reviews.
Just hop on the computer and done
I was impressed with how easy it is to sign up and the convenience of setting it up at home. No need to call just hop on the computer and done within 10 mins.
Kristi J.
Quick quote, easy process
This was so easy. Quick quote, easy process to get low price for the amount of coverage that I needed
David O.
Would definitely recommend them
NEXT made it a simple walk through process to get insurance. Prices were very good, would definitely recommend them to anyone looking.
Ben N.
Why Do Therapists Need Insurance?
Is therapist insurance required by law?
Depending on what you do, where you live, how you practice, what type of equipment you use and whether you have employees, there may be some types of therapy insurance that the law requires you to carry. You'll need to check your local regulations to find out what the law says in your area. In any case, even if you aren't required to have liability insurance by law, it's always a good idea.
Why do I need insurance for therapy?
As a therapist, you know the truth of the old saying that "an ounce of prevention is worth a pound of cure." You work with your clients not only to deal with acute problems, but to help them create optimal conditions for a healthy life. That's exactly what insurance does for your business: it creates optimal conditions for you to thrive. When you have therapy insurance, you can focus on your upcoming session without needing to think about what will happen if something goes wrong.
How will having insurance impact my business?
Your clients come to you because they know they can trust you and that you have their best interests at heart. Having insurance is a powerful way to reinforce that impression, especially for prospective clients who haven't had a chance to get to know you yet. Letting potential clients know you have insurance tells them that you care about their well-being and want to make sure someone will take care of them. You can think of it as similar to your professional therapist license in that way. But unlike a license, insurance can actually give you an edge over your competition—proving to clients that you're serious about what you do. And showing that you're insured has never been easier than it is with Next Insurance, thanks to our Live Certificate. You can share your Live Certificate with the click of a button, leaving your competitors behind to deal with annoying paperwork.
The Next Insurance Advantage
Simple
Buy online in minutes
Available 24/7
Instant proof of general liability insurance
No passwords to remember—just your email and zip code
Send certificate of insurance instantly to anyone
Affordable
Insurance premiums you can afford
Pay monthly at no extra cost
Low deductibles
No extra fees for certificate of insurance or additional insured
Instant cancellation anytime with no further charges
Tailored
Policies based on your activities
No coverage you don't need
Policies tailored around your needs
Get the exact coverage you need
What Kind of Therapist Insurance do I Need?
You may have heard of several different types of insurance you can have for your therapy business. The two most basic kinds of therapy insurance to cover the most common issues faced by professionals like you are general liability insurance and professional liability insurance. Read on to learn about the differences between them.
General liability insurance can offer financial protection when there's a covered accident and someone blames your business. General liability insurance generally covers three types of incidents: bodily injury, if someone gets hurt, personal injury, if someone incurs non-physical damage, like to reputation or privacy, and physical property damage.
So if a client trips on a rug in your clinic, sprains an ankle, and then demands that you cover their medical costs, your insurance could take care of that for you. Or if a publication has interviewed you and you let slip something unflattering about a competing therapist, and he sues you for defamation, insurance can help cover your legal fees. If you're renting a space and accidentally spill coffee on an expensive chair, general liability insurance can help cover the cost of a replacement.
Professional liability insurance is another common type of insurance, and it covers professional mistakes. In the medical field, people often call this type of insurance "malpractice" insurance. You likely entered your field because you care about people. We're sure you take every precaution to keep them comfortable and safe during your treatments. But you're only human, and accidents happen, even to the most experienced therapists. If your client sues you claiming your massages weren't effective and now they need to pay to have additional ones, you'll be glad to have professional liability coverage. Having professional liability insurance means you can work on growing your business, not thinking about your insurance.
Our Solution: One Policy for Therapists
Not entirely clear on what the difference is between general and professional liability insurance? You're not the only one—the difference can sometimes be very technical! So how do you know what kind of therapy insurance is right for your business?
You probably don't need the headache of figuring this out, and you definitely don't need to be paying for unnecessary insurance. That's why we at Next Insurance offer one combined policy for therapists, including what you need from both general liability and professional liability insurance. We've done careful research about the types of claims that are most often made in your field, and we developed your policy based on that data. Our goal is to offer you insurance that is both affordable and effective—leaving out the extras that only drive up your costs, and including insurance coverage that will really protect your business and help you focus on providing relief and healing to more clients.
How Much Does Therapist Insurance Cost?
We are committed to providing you with great therapy insurance at a price that just might surprise you. Just like our policies vary depending on the needs of your specific business, the cost of therapist insurance also varies. Factors that impact the cost of your therapist insurance include the size of your business, your location, what exactly you do, and more. Most of our therapist customers pay around $30 per month for their insurance, but your price may vary. The best way to know exactly what your policy will cost is to go online and get a personalized therapist insurance quote, in just a few minutes.
How Do I Know I Can Trust You?
We know it's not easy to put your trust in a company. There are so many decisions involved in running your business that it can be overwhelming. Selecting insurance shouldn't be one of them. We hope you'll take the chance to get to know us, but in the meantime, it might help to hear what our clients have to say about our service. You can check out our customer reviews to learn about the experiences of other therapists and business owners just like you.
Still Have Questions?
If you're still not clear on some of the things we've explained here, maybe it will help to read our FAQ page, where we go more in depth about the things we've addressed here.
Get Coverage
Tailored to Your
Business Now!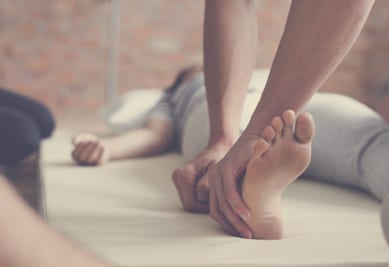 x
Thank you for choosing Next Insurance! It seems like we don't offer insurance for your professional work at the moment.
We're always growing and looking to expand our options Please enter your email and we'll keep you notified.
x
Thank you for choosing Next Insurance.
We wish you and your business lots of success!
x
Oops!
Thank you for choosing Next Insurance! Unfortunately, we can't give you a quote if we don't know what you do.Tell us what your profession is, so we can see if we have a product that's right for you.
x
Thank you for choosing Next Insurance.
We hope we can work together in the future!